No recent updates in this category.
Why not...
Miya Bailey hasn't earned any badges yet... have you?
General

***Make sure your "TURN OFF THE MUSIC" before you look at the video... This is our REAL life...our REAL struggles in ATL. We are humans..we are artist and we want to share out lives with you...CITY OF INK POST THIS UP SPREAD THIS AROUND....CIty of Ink the MOVEMENT CITY OF INK is a Movement!

It's 2007, freehand and custom tattooing is the only way to go!

My clients are the BEST..they inspire my artwork!

A Tattoo Style for ALL races and Skin Tones...ART UNITES THE PEOPLE!

Doing a tattoo with a clean outline, smooth shading, and laying it out nicely on the curves and bends of the skin is #1 to me in tattooing. Also never copy or repeat a tattoo, custom or freehand is the only way to go!

..

.. I would like to thank Eva and her cousin Terell for all the support, see yall at the top.

CITY OF INK: Tattoo and Art Gallery "Castleberry Hill" if you are a visual artist and would like to sell your artwork though our Art Gallery please call 404-525-4465.

All my tattoos are done in a private closed off area. Making the customer comfortable in a clean surround should be all tattoo artist goal...Healthy and SAFE.

***Make sure your "TURN OFF THE MUSIC" before you look at the video...

Heroes

..
Play

Play Next

Add to queue

Play

Play Next

Add to queue

Play

Play Next

Add to queue

Play

Play Next

Add to queue

Play

Play Next

Add to queue
About me:
EXPRESSION * LOVE * ART * TATTOOS BY MIYA 678-754-3253
To set an appointment just read my BLOG. You can find me at "City of Ink" everyday except sundays. Call the shop at 404-525-4465 or call me direct at 678-754-3253.
Props to DJ Wildlife for letting me do my thing on his back. As you can see Pulp Fiction is his favorite movie.I will see you at the next session bruh.
The FIRST and original "Life Tree" tattoo was created back in the 90's when me and musician, E.J. put our heads together for his first tattoo...it started a TREND!
Painting, Drawing, Tattooing, Business, and my Family are my life! I feel blessed to be able to feed and help the people around me through this gift. I'm honored that you guys have taken the time to visit my page...thank you!
I did this angel tattoo up in DC @ Pinz-N-Needlez on my homie, Jade. In this piece I want to focus on the eyes of the angel. I wanted to express, passion, love, lust, happiness, saddness, and BEAUTY...The Eyes of an ANGEL.
I never copy other peoples artwork.I just do whats in my heart and soul. From angels to gothic I do it all.
Thanks Mike for letting me express myself with your tattoo. Lions don't always have to be angry and full of rage. These animals are symbols of beauty and strength.
I want all my tattoos to look like FINE ART. I'm a big fame of tattoos that look like "tattoos". I want my work to glide the curves of a person like a fine painting on canvas. Thank you Leah for letting me "paint" on your ribs.
If a cover-up looks like a "cover-up" then you went to the wrong tattooist (or tattoo Artist). When doing a cover-up you shouldn't be able to see the old tattoo that was covered. And you don't always have to use panthers,roses, or tribal in a cover-up job. Just think outside the box.
I also do lettering. I take my time to do them right everytime.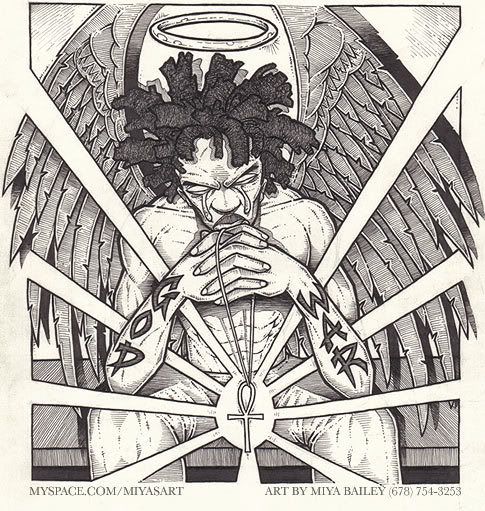 This is an OLD Pen and Ink piece I did back in 2002. I'm wayyyy better now...just a throwback classicfor the folks who been following my art career...THANK YOU!
Status:

Married

Here for:

Networking, Friends

Hometown:

Asheville NC

Orientation:

Straight

Body type:

5' 7" / Average

Ethnicity:

Black / African descent

Zodiac Sign:

Pisces

Children:

Proud parent

Education:

College graduate

Occupation:

Tattoo Artist / Painter
Asheville High

Asheville, NC

Graduated:

1993

Student status:

Alumni

1991 to 1993