Play

Play Next

Add to queue
Play

Play Next

Add to queue

4,441 plays

Play

Play Next

Add to queue

3,376 plays

Play

Play Next

Add to queue

3,706 plays

Play

Play Next

Add to queue

5,314 plays

Play

Play Next

Add to queue

4,318 plays
Genre: Alternative / Indie / Pop

Location Bad Bergzabern, Bitte Bundesland/Region auswählen, De

Profile Views: 158732

Last Login: 5/8/2011

Member Since 1/14/2007

Website moneomusic.com moneo-music.de

Record Label unsigned

Type of Label Unsigned

Bio

FACTS: • 2007 gegründet • 2008 Regionalfinale beim größten int. Newcomerfestival Emergenza • Herbst 2008 US-Tour durch Ohio und Kalifornien • 2009 Finalisten beim Rockbuster und • New Band Festival und Supportshow für • Luis and the Laserpower und Auletta • Im Sommer 2010 entsteht das Debüt-Album "Sometimes it's better not to party hard!" • 2010 Shows in der Schweiz und Supportshows für Emil Bulls und Jennifer Rostock Wir schreiben das Jahr 2007. Es ist Oktober. Ein neuer Stern erhellt den Rock-Pop Himmel! MONEO nennen sich die drei Jungs aus Bad Bergzabern. Anfangs lassen sich Sandro (Vox, Guitar), Julian (Bass, Vox) und Ben (Drums) noch wie ein Blatt im Wind von pubertären, schulischen und motivationsbezogenen Geschehnissen herumwirbeln, doch bald merken sie was sie wollen: die Bühnen dieser Welt erobern! Aus einem Gig im Quartal werden mehrere und aus Mamas und Papas vor der Bühne wird eine eingefleischte Fanbase inkl. tanzender Jungs und kreischender Mädels. Nicht umsonst werden MONEO nicht selten mit dem Spruch "Mütter kettet Eure Töchter an! Töchter, kettet Eure Herzen an!" auf die Bühne geholt. Doch nicht nur unendliches Selbstbewusstsein und Charme zeichnet die Jungs aus Rheinland-Pfalz aus, sondern auch ihr unvergleichbarer Sound aus eingängigen Popmelodien, gemischt mit Rockgitarren und Texten mit denen sich jeder identifizieren kann. So gehörten sie 2008 zu den Emergenza Regionalfinalisten im LKA Stuttgart. Da MONEO keine Gelegenheit auslassen Menschenmengen zu unterhalten, rockten sie sich 2009 dann auch beim Rockbuster und New Band Festival ins Finale. Zudem können die drei Jungs stolz behaupten in Amerika, genauer in Ohio und Kalifornien 2008 eine Tour gespielt zu haben. Nach dem jüngsten Support für Emil Bulls und Jennifer Rostock, planen die Jungs ihre Releaseparty für ihre Debüt-CD Sometimes it's better not to party hard!, die im Herbst 2010 erscheinen wird. Der Name ist selten Programm, also lasst Euch einladen zum Tanzen und Feiern! Und wenn die Jungs dann ein bisschen müde werden, liegt das nur daran, dass sie nachts Superhelden sind! BOOKING & MANAGEMENT lipstick.concerts Karlstr. 21 A D-76133 Karlsruhe lipstick.concerts@googlemail.com Tel.: +49(0)157 76 130 814 • www.myspace.com/moneomusic

Members

In kürze könnt ihr in unserem Shop neue Shirts, Buttons, Zipper und andere Fanartikel kaufen. Jetzt schon auf jedem Konzert und bald auch im Shop "Sometimes ist's Beter not to Party Hard"!!!. BOOKING & MANAGEMENT lipstick.concerts Karlstr. 21 A D-76133 Karlsruhe lipstick.concerts@googlemail.com Tel.: +49(0)157 76 130 814 Bitte schickt uns eine E-Mail mit konkreten Daten, wie z.B. Datum, Uhrzeit, Ort, Location, welche Bands spielen, ggf. Technik und Unterkunft an info@moneomusic.com

Influences

Sounds Like
FACTS:

• 2007 gegründet

• 2008 Regionalfinale beim größten int. Newcomerfestival Emergenza

• Herbst 2008 US-Tour durch Ohio und Kalifornien

• 2009 Finalisten beim Rockbuster und

• New Band Festival und Supportshow für

• Luis and the Laserpower und Auletta

• Im Sommer 2010 entsteht das Debüt-Album "Sometimes it's better not to party hard!"

• 2010 Shows in der Schweiz und Supportshows für Emil Bulls und Jennifer Rostock





Wir schreiben das Jahr 2007. Es ist Oktober. Ein neuer Stern erhellt den Rock-Pop Himmel! MONEO nennen sich die drei Jungs aus Bad Bergzabern. Anfangs lassen sich Sandro (Vox, Guitar), Julian (Bass, Vox) und Ben (Drums) noch wie ein Blatt im Wind von pubertären, schulischen und motivationsbezogenen Geschehnissen herumwirbeln, doch bald merken sie was sie wollen: die Bühnen dieser Welt erobern!

Aus einem Gig im Quartal werden mehrere und aus Mamas und Papas vor der Bühne wird eine eingefleischte Fanbase inkl. tanzender Jungs und kreischender Mädels. Nicht umsonst werden MONEO nicht selten mit dem Spruch "Mütter kettet Eure Töchter an! Töchter, kettet Eure Herzen an!" auf die Bühne geholt. Doch nicht nur unendliches Selbstbewusstsein und Charme zeichnet die Jungs aus Rheinland-Pfalz aus, sondern auch ihr unvergleichbarer Sound aus eingängigen Popmelodien, gemischt mit Rockgitarren und Texten mit denen sich jeder identifizieren kann.

So gehörten sie 2008 zu den Emergenza Regionalfinalisten im LKA Stuttgart. Da MONEO keine Gelegenheit auslassen Menschenmengen zu unterhalten, rockten sie sich 2009 dann auch beim Rockbuster und New Band Festival ins Finale.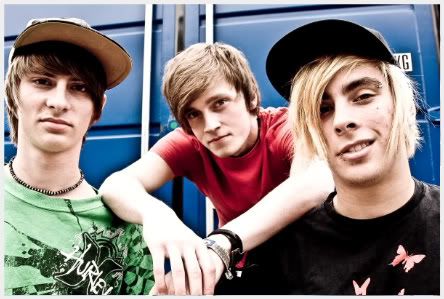 Zudem können die drei Jungs stolz behaupten in Amerika, genauer in Ohio und Kalifornien 2008 eine Tour gespielt zu haben.
Nach dem jüngsten Support für Emil Bulls und Jennifer Rostock, planen die Jungs ihre Releaseparty für ihre Debüt-CD Sometimes it's better not to party Hard!, die im Herbst 2010 erscheinen wird. Der Name ist selten Programm, also lasst Euch einladen zum Tanzen und Feiern! Und wenn die Jungs dann ein bisschen müde werden, liegt das nur daran, dass sie nachts Superhelden sind!


BOOKING & MANAGEMENT


lipstick.concerts

Karlstr. 21 A

D-76133 Karlsruhe

lipstick.concerts@googlemail.com

Tel.: +49(0)157 76 130 814