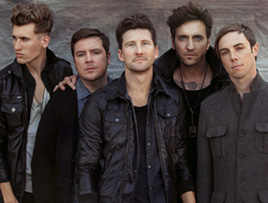 What is the musical background of Anberlin and kind of how did the life of Anberlin kind of start?
The musical background was just a bunch of guys from St. Petersburg, Tampa, kind of central Florida area. We met in high school and played around with different bands in the local scene for years. And then slowly we began to see that some people were serious about being in bands and other people weren't so serious and it was more like a weekend hobby. So, for us, it was just kind of slowly over time those of us that really wanted to pursue music as a passion started getting together and formed Anberlin. In the early days we really developed ourselves online. We got discovered by our first record label on Myspace. We had 25,000 hits in three months, and for a brand new starting out band, that was kind of, like, what the heck, like, who are these guys? Those were the roots. We weren't on a label at the beginning. We didn't have that much tour experience so we utilized online tools to kind of develop a fan base and then eventually from there got a label.
Who would you say your biggest influences are and why?
Well, I think we all differ as far as influences. I think the biggest influence is new wave, like a lot of '80s bands. Everything from The Cure, Depeche Mode, The Smiths, but all the way through having some inspirations like we love Jimmy Eat World, and the Foo Fighters.
What was playing in your household growing up? What was your first memories of music?
Honestly, my parents weren't really into music. I had to go out and discover bands that they should have liked, you know, like, (interviewer laughs) I never heard, you know, like, I--I assumed, like, all dads listened to Led Zeppelin. But my dad didn't so I had to go out and find these bands later on in life and so honestly it was one of those things that we were, you know, Florida, you know, especially in, like, the '90s was--is a very cut off music scene because a lot of bands didn't want to travel that far down, you know, south, eight, nine hours when they were on tour. So there wasn't a lot of bands that went through Tampa, St. Pete. Um, and so we had to kind of go find our own--find out own sound, find our own, you know, you know, other musicians. Um, there wasn't a lot of like-minded musicians because, um, there wasn't a lot--there wasn't anything that pulled us together. There wasn't a massive music scene like there is in L.A. or New York City. Um, we basically had to go and find out own way.
How would you define Anberlin's style and what makes you guys different?
I think how we would basically describe our style would be like new wave indie. Even though we're played on the radio or whatever, I don't think we fit the format of the stereotypical alternative band. I think that we draw from a lot of influences from the past. I feel like we're very blues heavy like in Led Zeppelin or something to that effect. It's really hard to define it. But I would say it's basically like if Dave Grohl and Robert Smith had some children together, we would probably be them.
When do you guys feel you started to move the needle?
Basically we went to Atlanta, Georgia, recorded some demos with a guy named Matt Goldman and from those demos, we put them up on Myspace. And from there, we started to get phone calls from Warner Brothers and all these random record labels that were just, like, wait, how did you even hear of this? and that's kind of when the moment when it kind of triggered in my head that we had reached a new era in music. Like the fact that, back in the '70s and '80s, maybe the early '90s you had to move to New York City, you had to move...to L.A. if you ever wanted to get discovered but here we were, guys from the random outskirts of Tampa, Florida and suddenly we were getting major label offers. It was just kind of, like, oh my gosh, like, wow.
Briefly describe the current state of music in Tampa and where do you guys fit in at the moment?
I think there's a lull in the scene in Tampa right now. It feels like there was a moment when tons of bands were coming out of Florida, and it was awesome to see your friends succeed. There was just tons of bands that were kind of heading out. And I think right now is a lull. There's a few local bands right now that are kind of skimming the surface and that's exciting to see but I'm excited to see the next generation of musicians coming out of Tampa.
Any bands that we should be looking out for out of Tampa?
Well, I mean, the one that I feel is leading the charge in this new generation of rock and roll. There's a band called From First to Last and they were out of Brandon, Florida, which is right next to Tampa.
So I feel like he's kind of the next generation of rock stars where you take the melodies you learned on guitar or playing piano and you turned that into using the same melodies using the same kind of punk rock, you know, spirit of all, into dance music and I think he's kind of leading the charge of it right now.
Do you guys have any rituals or superstitions prior to a performance or in a production?
Yeah, all of the above. For me when we're going and if I know that I have to get my headspace right to write the next record, I refuse to listen to anything but blues or jazz because I don't want to be influenced by any music that I hear. I don't want to turn on the radio and be like, oh, we should totally make that sound or we should totally do that or that lyric. I could write a whole song just based on that one line. The fundamentals of any rock and roll is just the blues. It's a man and a guitar and you just sing whatever experiences come into his life and that's just incredible to me. And, uh, and so that's kind of my superstition.
What do you feel you guys could learn from you fans and, in turn, what have you guys learned from your fans?
Well, I think one thing we have learned from our fans is, honestly, like, that they fell in love with Anberlin for this raw, real, energetic sound. and I feel that through the last few records we've kind of gone our experimentation way, which I feel like all bands should, but I feel like that we want to be Anberlin and that's what we're best at. We're best at being ourselves and so I feel like that this next record that we're about to put out is quintessential Anberlin, nothing else. So I feel like that's the number one thing that I've learned throughout the years is that if you want to experiment as a band, then go start side projects or go write with another musician. But the just stay true to yourself to stay the band that you started out to be is absolutely imperative for you and your sanity and for your fans.
What type of advice would you have for an upcoming band?
I wish I could go back in time and just set myself down and say these things but honestly, at the end of the day, I don't care how much makeup you wear or what outfits you're wearing or how good you look or your promo pictures or what label you're on. It all comes down to the music. It all comes down to the songs. You can have everything but if you have horrible music and nobody wants to listen to, then it's all going to be a quick fad. So just remember to stick to concentrating on songwriting and go back to the legends. Go back to the Beatles. Memorize Led Zeppelin. Memorize The Cure and be a student of Black Sabbath. Go and listen to all genres. Don't stick to your own genre. Don't sound like everybody else. Go and figure out who you are.
Have you guys gotten any words of wisdom from other artists you may have admired at one time or another?
Absolutely. I mean, there's been a few bands that have absolutely been so incredible to us. Story of the Year just basically took us under their wing and I think the biggest lesson they taught us was treat others how you want to be treated. If you want to be these cocky, rock stars, your band is going to go down in flames with no friends at the end. Instead, just treat everybody with respect. I don't care how big or small the band is that you take out, you better treat them like gold because you have idea who they're going to end up to be tomorrow.
What does the future look like fore Anberlin?
It's super busy. We get done with this acoustic run, then right after this we head off to Brazil, South America, and Panama. Then we take a couple weeks off, then we head off to Australia and then we're going to do some in-store acoustic around the release and then the day that the record is released sometime in October we are going to be heading out to the U.K. to play a couple weeks, come back and do a short run finishing up the year with some radio shows in December. And then in January, February, we are going to hit it absolutely hard here in the U.S. and places like New York City and L.A. and all that so it's busy but it's going to be so much fun. The title of the new the record is called Vital and labels can change it however they want, but it looks like the lead single is going to be called 'Same Side, Different War'.