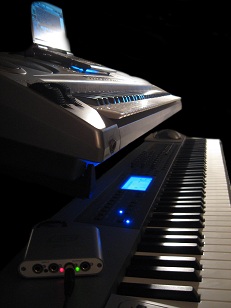 Greetings stranger ;).
My name is Michał (Michael). I'm senior database programmer and administrator from Poland.
Every day I look for better query plans and efficient algorithms, struggle with complex queries, fight for better performance and solve mysterious nontrivial problems xD
SQL is my second language. Debian, perl and bash are my religion.
But there is something more I enjoy... Playing piano! I have no musical education. I learned everything myself :)
I would like to present you my own compositions, my little funny "The Music" world :]

My instruments:

Keyboards:
- Casio WK1800
- M-AUDIO Keystation Pro 88
- Roland Juno Di

Drums:
- Alesis DM8 USB

Sound recording:
ESI U24 XL

Enjoy!

All tracks can be downloaded at music.misiekbest.pl
Thanks! m.p.