Play

Play Next

Add to queue
Play

Play Next

Add to queue

10,863 plays

Play

Play Next

Add to queue

5,839 plays

Play

Play Next

Add to queue

3,818 plays
Genre: Metal / Punk / Ska

Location Las Vegas, Nevada, Un

Profile Views: 139245

Last Login: 1/11/2013

Member Since 5/17/2007

Website facebook.com/pages/Murder-Majesty/16140

Record Label Unable Records

Type of Label Indie

Bio

..We formed in the winter heat of March 07. Having a few tours under our belts and a new CD in the works at ..Unable Records.., we seem to be doing just fine. Featuring ex-members of: The Shilling, The Pinheads, Backalley Echo, and Deadball 38; We have already shared the stage with some great bands including: Streetlight Manifesto, Voodoo Glow Skulls, The Aquabats, The Ataris, We Are The Union, World/Inferno Friendship Society, Strung Out, The Toasters, The Phenomenauts, Death By Stereo, The Independents, Title Fight, Broadway Calls, D.O.A., Buck-O-Nine, Strike Anywhere, The Swellers, Left Alone, Mustard Plug, The Queers, The Casualties, A Wilhelm Scream, Propagandhi, Bouncing Souls, Have Heart, Mad Caddies, Leftover Crack, Bad Manners, Bayside, The Briggs, The Peacocks, Cobra Skulls, Sonic Boom Six, Subhumans, Intro5pect, Loved Ones, Citizen Fish, Angry Samoans, Morning Glory, The Flatliners, Agent Orange, Assorted Jellybeans, Star Fucking Hipsters, .D.I., MU330, The Independents, Suicidal Tendencies, Outbreak, World/Inferno Friendship Society, Calabrese, Antidote, The Restarts, Lower Class Brats, and many more! Let us know what city/state you want them to play in and we'll do our best to make it there. Crusties and rude boys come together....... "Dead to Me" at Jillian's opening up for Bad Manners .. .. .. .. .. .. .. ..And a big thanks to ..Stefano.. for the video!...... ..Cribs.. at the 3805 House with Murder Majesty and Leftover Crack.... .. .. .. .. .. .. .. .... .. .. .. .. .. ..

Members

..Vocals: ..Sean.... Bass: ..Shane.... Drums: ..Sergio.... Trumpet: ..Cha Chai.... Guitar: <">TJ.... ........ ..

Influences

Operation Ivy, Less Than Jake, Rancid, Slapstick, Streetlight Manifesto, Leftover Crack, Choking Victim, Link 80, Misfits, Assorted Jellybeans, Big D and the Kids Table, Sublime, Nausea, The Unseen, etc. ........ .... .. .. .... .. ..Copy this link into your profile!....(The banner appears bigger on your page)............ ..

Sounds Like
Bio:
We formed in the winter heat of March 07. Having a few tours under our belts and a new CD in the works at
Unable Records
, we seem to be doing just fine. Featuring ex-members of: The Shilling, The Pinheads, Backalley Echo, and Deadball 38; We have already shared the stage with some great bands including: Streetlight Manifesto, Voodoo Glow Skulls, The Aquabats, The Ataris, We Are The Union, Strung Out, Buck-O-Nine, Strike Anywhere, The Swellers, Left Alone, Mustard Plug, The Queers, The Casualties, A Wilhelm Scream, Propagandhi, Bouncing Souls, Have Heart, Mad Caddies, Leftover Crack, Bad Manners, Bayside, The Briggs, The Peacocks, Cobra Skulls, Sonic Boom Six, Subhumans, Intro5pect, Loved Ones, Citizen Fish, Angry Samoans, Morning Glory, The Flatliners, Agent Orange, Assorted Jellybeans, Star Fucking Hipsters, Calabrese, Antidote, The Restarts, Lower Class Brats, and many more! Let us know what city/state you want them to play in and we'll do our best to make it there. Crusties and rude boys come together.
"Dead to Me" at Jillian's opening up for Bad Manners
And a big thanks to
Stefano
for the video!
Cribs
at the 3805 House with Murder Majesty and Leftover Crack
.. ..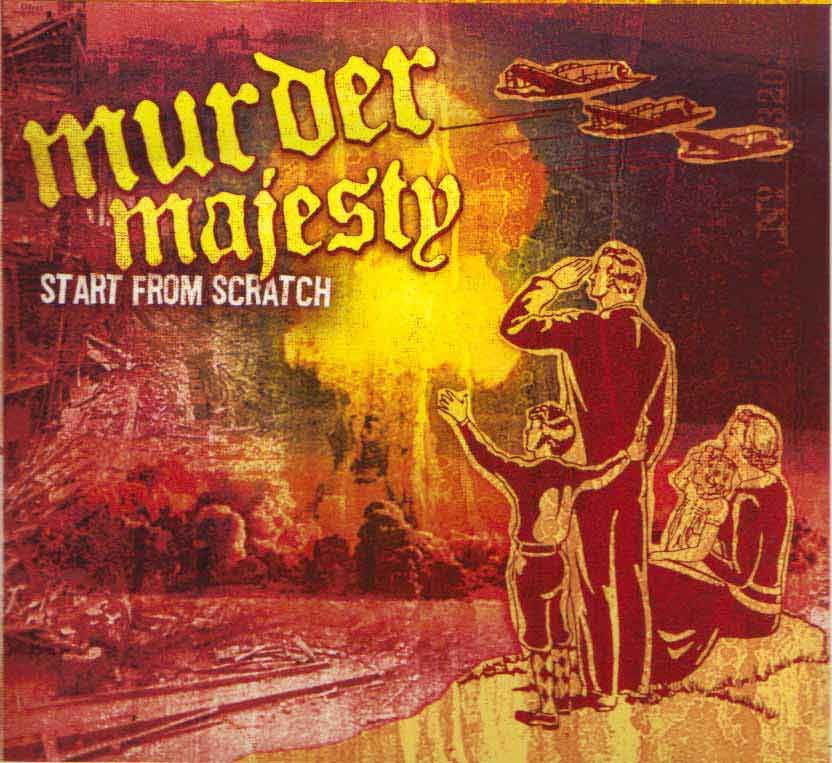 Member Since:
May 17, 2007
Influences:
Operation Ivy, Less Than Jake, Rancid, Slapstick, Streetlight Manifesto, Leftover Crack, Choking Victim, Link 80, Misfits, Assorted Jellybeans, Big D and the Kids Table, Sublime, Nausea, The Unseen, etc.




Record Label:
Unable Records
Murder Majesty Finally on Facebook!! has 12035 friends.