cassie sorensen hasn't earned any badges yet... have you?
General

attachment parenting, my true passion is breastfeeding and all its amazing benefits to mother, baby and the environment, the bond between a mother and her child, sunny days, ableton live, jewelry that makes noise when you move, burning flipside, burn culture, body painting, people who are conversationally stimulating, lucid dreams, people that have a passion for something, hot pink supra twin turbo, people with strong opinions,cute laughs, percolated coffee, suspension, gypsies, spontaneous people, hand written letters, when people kiss my forehead, guys that can/will dance, playing in the rain, playing on playgrounds, free spirits, adrenaline, pink skies, the outdoors at 5am, chemistry, culture jamming, being comfortable with your sexuality, self control, mind expansion, consciousness vs. subconsciousness, whispering, cat napping, fully trusting someone, kissing with passion, being daddies little monster, perfect word arrangements, self discovery, sunsets, vegetarianism, making every minute count, the dance floor at sunrise!!, motherhood <3, breastfeeding, co-sleeping, cloth diapering, when things just can't wait, urgency, love at first sight, sensuality,

romance romance romance!!!

, dirty hair, vegan bath and body products, traditional art, painters, learning peoples imperfections, dancers, silent observers, storytellers, healers, women who embrace their femininity, reading in sunny windows, surviving on barter/trade, communal living, intentional communities, pixel art, recycled art, shaven everything, spirals in nature, neonatal psychology, hooping, poi, playing with fire, circus arts, acro yoga, partner balancing...things of that nature.

Music

..

artificial life preserver

downtempo,

trip hop

,

ambient

,

chill

,

glitch-hop

,

dubstep

,

glitchy downtempo

,

psytrance (morning psy

,

psy dub)

,

goa

,

breaks

,

classical

,

oldies

,

hip hop

,

industrial....
in no particular order and not limited to:
[daughter darling

,

tricky

,

blockhead

,

portishead

,

massive attack

,

mandalay

,

lovage

,

bjork

,

thievery corporation

,

sade

,

martina topley bird

,

cranes

,

explosions in the sky

,

godspeed you! black emperor

,

orbital

,

sneaker pimps

,

lamb

,

shpongle

,

terranova

,

noisex

,

eat static

,

init string

,

gift culture

,

tipper

,

younger brother

,

bassnectar

,

kid beyond

,

bluetech

,

artifakt

,

white zombie

,

mr bungle

,

faith no more

,

fantomas

,

peeping tom (mike patton obviously and anything mike patton has touched)

,

soulfly

,

ministry

,

skinny puppy

,

cevin key

,

sepultura

,

six feet under

,

kmfdm

,

throbbing gristle

,

nurse with wound

,

MC Chris

,

modest mouse

,

horace andy

,

saul williams

,

crustation

,

dj shadow

,

dj krush

,

esthero

,

unkle

,

acid bath

,

alien sex fiend

,

aphex twin

,

billie holiday

,

boards of canada

,

sofa surfers

,

cloudead

,

squarepusher

,

Zero7

,

future sounds of london

,

kruder and dorfmeister

,

govinda

,

moloko

,

the orb

,

halou

,

sarah fimm

,

bitter:sweet

,

erykah badu

,

kilowatts

,

skeetaz

,

bil bless

,

the great mundane

,

cocteau twins

,

death in june

,

merzbow

,

scorn

,

the glitch mob

,

ooah

,

pantyraid

,

kraddy

,

skream

,

burial

,

goddess alchemy project

,

dj manny

,

happy happy james... anything ninjatune

,

psymbolic--sounds

, interchill] i think we may be here all day.....

Movies

..the business of being born

,

lolita

,

the yellow submarine

,

The Dreamers

,

fight club

,

sid and nancy

,

mary poppins

,

eternal sunshine of the spotless mind

,

salton sea

,

buffalo 66

,

house of 1000 corpses

,

american beauty

,

thx1138

,

battle royale

,

gummo

,

julian donkey boy

,

existenz

,

natural born killers

,

crash

,

helter skelter

,

the fountain

,

the illusionist

,

science of sleep

,

Tideland

,

the last tango in paris

,

black snake moan

,

splendor

,

henry and june

,

love actually... vincent gallo

,

christina ricci

,

helena bonham carter

Television

helvetica, sans-serif;font-size:11px;letter-spacing:.3em;">CURRENT MOON

verdana

, sans-serif;color:#7F7F7F;text-decoration:underline;background:#000000;border:none;">

moon phase

Books

..the womanly art of breastfeeding, Ina May Gaskin, Birthing from within, parenting books in general, i am a huuuuuge fan of dr.william sears. the natural mind, the marriage of the sun and the moon, and from chocolate to morphine all by dr. andrew weil, Aldous Huxley, Tom Robbins, Lolita, henry miller, anais nin, Helter Skelter, The Ethical Slut, astrology, religious, self help, psychology. i must not forget Goodnight Moon. on the day you were born by Debra Frasier. childrens books that mention breastfeeding. attachment theory


Heroes

mary poppins....she is practically perfect in every way

my daughter, for bringing so much love into my life.

Rachel Brice

Bill Hicks

Ina May Gaskin

any woman who has the comprehension that birth is normal and natural. any woman who has successfully breastfed her child(ren).
Play

Play Next

Add to queue

Play

Play Next

Add to queue

Play

Play Next

Add to queue

Play

Play Next

Add to queue

Play

Play Next

Add to queue
About me:
..

..

.. -=i rarely log into myspace anymore. nothing on here is new, all older photos etc. the best place to find me is facebook=-
quixotic: idealistic to the point of impracticality

i myself am made up entirely of flaws stitched together with good intentions.

I am saturated with frequencies of the motherland. Meridians of rhythms travel through me like maps.

i write emotional algebra.
"When we pay attention to the way we feel, and then choose thoughts that feel the very best, we manage our own vibration, which means we are controlling our own point of attraction - which means we are creating our own reality.
The less attention we give to everybody else's reality, the purer our vibration is going to be - and the more we are going to be pleased with what comes to us.
How do we give attention to other people's reality? Sometimes by watching the TV and reading the newspaper. By the books we choose to read. The people we associate with a lot. Our vibration is often the average of the five people we associate with the most!
So for today I choose to pay attention to the way I feel, and listen to that inner guidance to discern which thoughts bring me closer to joy and which ones lead me away!"
- Nithya Shanti
"When we trust the makers of baby formula more than we do our own ability to nourish our babies, we lose a chance to claim an aspect of our power as women. Thinking that baby formula is as good as breast milk is believing that thirty years of technology is superior to three million years of nature's evolution. Countless women have regained trust in their bodies through nursing their children, even if they weren't sure at first that they could do it. It is an act of female power, and I think of it as feminism in its purest form."
-Christine Northrup M.D.



..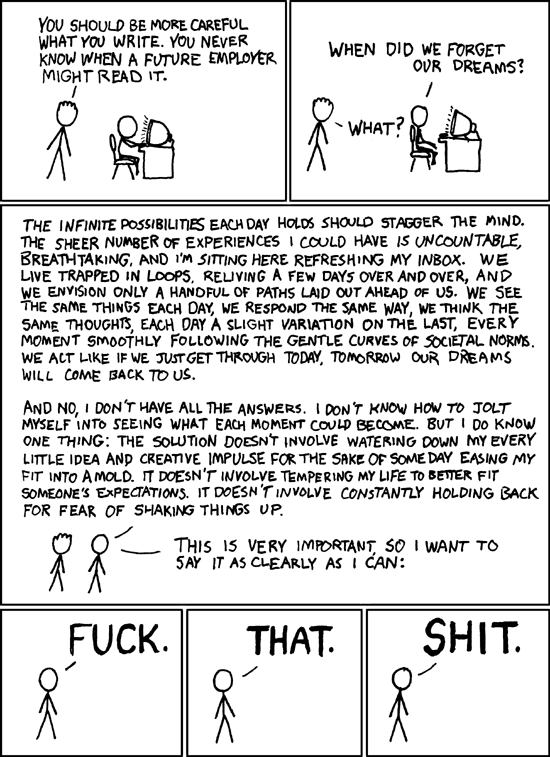 ..
Who I'd like to meet:
..
"It doesn't interest me what you do for a living. I want to know what you ache for, and if you dare to dream of meeting your heart's longing. It doesn't interest me how old you are. I want to know if you will risk looking like a fool for love, for your dream, for the adventure of being alive. It doesn't interest me what planets are squaring your moon. I want to know if you have touched the center of your own sorrow, if you have been opened by life's betrayals or have become shriveled and closed from fear of further pain! I want to know if you can sit with pain, mine or your own, without moving to hide it or fade it or fix it. I want to know if you can be with joy, mine or your own; if you can dance with wildness and let ecstasy fill you to the tips of your fingers and toes without cautioning us to be careful, be realistic, or to remember the limitations of being human. It doesn't interest me if the story you are telling me is true. I want to know if you can disappoint another to be true to yourself; if you can bear the accusation of betrayal and not betray your own soul. I want to know if you can be faithful and therefore trustworthy. I want to know if you can see beauty even when it is not beautiful everyday, and if you can source your life on the edge of the lake and shout to the silver of the full moon. It doesn't interest me where you live or how much money you have. I want to know if you can get up after a night of grief and despair, weary and bruised to the bone, and do what needs to be done for the children. It doesn't interest me who you know or how you came to be here. I want to know if you will stand in the center of the fire with me and not shrink back. It doesn't interest me where or what or with whom you have studied. I want to know what sustains you from inside when all else falls away. I want to know if you can be alone with yourself and if you truly like the company you keep in the empty moments."




someone addicted to circus arts, people with goals people with ambition. someone that can wow and intrigue me.
people who are addicted to candle light. day dreamers, story-tellers, healers, liars, girls who like to drink coffee in their underwear, other mamas who practice attachment parenting and/or care about breastfeeding, dancers of all kind, people who live by the burn community ideals every day not just at events.
people who see the world as magical, people who set things on fire.


Status:

In a Relationship

Here for:

Networking, Dating, Friends

Hometown:

Flint, Detroit and everywhere inbetween, Michigan

Orientation:

Not Sure

Body type:

5' 2" / Slim / Slender

Ethnicity:

White / Caucasian

Religion:

Buddhist

Zodiac Sign:

Aquarius

Children:

Proud parent

Smoke / Drink:

Yes / No

Education:

Some college

Occupation:

new mama empowerer/breastfeeding extraordinaire

Income:

$30,000 to $45,000
Holly High School

Holly,Michigan

Graduated:

2002

Student status:

Alumni

Degree:

High School Diploma

1998 to 2002
family connections

austin, tx US

parent educator

present

WIC (women infants children)

austin, texas US

breastfeeding peer counselor

present

DONA International

austin, tx US

birth doula in the making

present

GALS (giving austin labor support)

austin, tx US

volunteer coordinator

present