Play

Play Next

Add to queue
Play

Play Next

Add to queue

25,568 plays

Play

Play Next

Add to queue

12,751 plays

Play

Play Next

Add to queue

27,475 plays

Play

Play Next

Add to queue

9,980 plays

Play

Play Next

Add to queue

107,639 plays
Genre: Hip Hop / R&B / Rap

Location Indianapolis, Indiana, US

Profile Views: 547123

Last Login: 6/30/2011

Member Since 3/10/2006

Website http://www.nappyvilleusa.com.. ..

Record Label MunkiBoi ENT/Country Fresh Music, LLC.. ..

Type of Label Indie

Bio

.. .. .. .. .. .. ......Roller by Nappyville.. from ..Munkiboi Studios.. on ..Vimeo..... DJ JUICE *THE JUICEMAN* PRESENTS: YOUNG TRUE "NAPPYVILLE'S QUARTERBACK" .... .. .. .. .. .. .. ......Download Mixtape.. | Provided by ..DatPiff.com.... ...... .. .. .. .. .. .. ......MoneyBag.. from ..Munkiboi Studios.. on ..Vimeo... .... .. .. .. .. .. .... .... .. .. .. .. .. .... 10K GIVE AWAY SEND ALL ENTRIES TO MUNKIBOICONTEST@GMAIL.COM ONE WINNER WILL BE PICKED EVERY WEEK EACH WINNER WILL RECIEVE 1K CONTEST WILL GO ON FOR 10 WEEKS WHICH MEANS THERE WILL BE 10 WINNERS! DO NOT FORGET SEND ALL ENTRIES TO MUNKIBOICONTEST@GMAIL.COM!!!!! .......... .... .. .. .. .. .. .... .... .. .. .. .. .. .... .... .. .. .. .. .. .... .......... .... .. .. .. .. .. .... ...... The Midwest is on fire! What began as a mere spark in the 90s, has evolved into a full blown blaze as Hip Hop acts hailing from Indiana continue to ignite the rap game. This saga continues with the hot new stars, Young True and Rokstar of rap group Nappyville. Young True and Rokstar, the dynamic duo hailing from Indianapolis, Indiana are on the fast track to superstardom as fans are latching on to their clever lyrics, crunkadelic beats, and addictive hooks. The group Nappyville was formed in 2003, but both artists had been rapping and performing for years before that. Having already known each other for years, it just made sense to bring the best of both worlds together to make a sound that no one had heard before.....Rokstar has a love for music that cannot be denied. Like many artists, he received his first taste of musicianship within the church, where he played keyboards, organs and the piano. As he cultivated his craft, RokStar's musical journey took an unorthodox course. Rokstar came into Hip Hop by way of producing, including composing scores for movie projects and grinding the production side of the music biz. From producing music for larger than life So So Def recording artist Bone Crusher, to writing and producing unreleased tracks with Lil' Zane. Despite his success as a producer, something was pulling him from behind the boards to in front of the mic. The confident Rokstar always seizes the opportunity to have his voice heard. According to Rokstar, "It's a simple equation, giving the people what they want. Supply vs. demand." When his raspy voice vibrates the mic, it's about the people getting just what they want, which is a reason to get crunk... ..?? Young True, the other half of the up and coming rap group, Nappyville has made a name for himself throughout the state. Known as the rhyme slayer because not only does he compose some of the most original and eclectic lyrics in the game today, but he also delivers his flows with such power and majesty. Prior to hooking up with Rokstar, Young True released two solo efforts, "King of the Midwest" and "Baddest Yellow Boy", that have the potential to be Hip Hop classics. "It's the beats that drive me," says Young True, who has been praised for being able to take any subject and make a masterpiece out of it. In addition to his rapping abilities, Young True is a bona fide ladies man! But don't worry, despite all his adoring fans, he keeps his head on straight, concentrating on the real love of his life. Hip Hop. .. .. The fusion of these two extremely talented artists has created an undeniable force of nature in the incomparable group Nappyville. Their first hit single, " Super Clean," is in heavy rotation on Indianapolis radio stations and is destined to blow up elsewhere. Their sound is much more than a notion or a feeling. It's a destination and you have been invited along for the ride. Jump in and experience the ecstasy, the power and the rawness. Welcome to Nappyville. .. .. .. .. .......... .. .. .. .. .. ......Roller by Nappyville.. from ..Munkiboi Studios.. on ..Vimeo.....

Members

.......... .... .. .. .. .. .. .. ....

Influences

LIFE.. ..

Sounds Like
No recent updates in this category.
Why not...
03:40 | 106 plays | Jul 24 2009
Bio:
Roller by Nappyville from Munkiboi Studios on Vimeo.
DJ JUICE *THE JUICEMAN* PRESENTS: YOUNG TRUE "NAPPYVILLE'S QUARTERBACK"
MoneyBag
from
Munkiboi Studios
on
Vimeo
. 10K GIVE AWAY SEND ALL ENTRIES TO MUNKIBOICONTEST@GMAIL.COM ONE WINNER WILL BE PICKED EVERY WEEK EACH WINNER WILL RECIEVE 1K CONTEST WILL GO ON FOR 10 WEEKS WHICH MEANS THERE WILL BE 10 WINNERS! DO NOT FORGET SEND ALL ENTRIES TO MUNKIBOICONTEST@GMAIL.COM!!!!!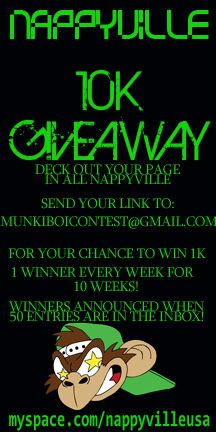 The Midwest is on fire! What began as a mere spark in the 90s, has evolved into a full blown blaze as Hip Hop acts hailing from Indiana continue to ignite the rap game. This saga continues with the hot new stars, Young True and Rokstar of rap group Nappyville. Young True and Rokstar, the dynamic duo hailing from Indianapolis, Indiana are on the fast track to superstardom as fans are latching on to their clever lyrics, crunkadelic beats, and addictive hooks. The group Nappyville was formed in 2003, but both artists had been rapping and performing for years before that. Having already known each other for years, it just made sense to bring the best of both worlds together to make a sound that no one had heard before.
Rokstar has a love for music that cannot be denied. Like many artists, he received his first taste of musicianship within the church, where he played keyboards, organs and the piano. As he cultivated his craft, RokStar's musical journey took an unorthodox course. Rokstar came into Hip Hop by way of producing, including composing scores for movie projects and grinding the production side of the music biz. From producing music for larger than life So So Def recording artist Bone Crusher, to writing and producing unreleased tracks with Lil' Zane. Despite his success as a producer, something was pulling him from behind the boards to in front of the mic. The confident Rokstar always seizes the opportunity to have his voice heard. According to Rokstar, "It's a simple equation, giving the people what they want. Supply vs. demand." When his raspy voice vibrates the mic, it's about the people getting just what they want, which is a reason to get crunk.
?? Young True, the other half of the up and coming rap group, Nappyville has made a name for himself throughout the state. Known as the rhyme slayer because not only does he compose some of the most original and eclectic lyrics in the game today, but he also delivers his flows with such power and majesty. Prior to hooking up with Rokstar, Young True released two solo efforts, "King of the Midwest" and "Baddest Yellow Boy", that have the potential to be Hip Hop classics. "It's the beats that drive me," says Young True, who has been praised for being able to take any subject and make a masterpiece out of it. In addition to his rapping abilities, Young True is a bona fide ladies man! But don't worry, despite all his adoring fans, he keeps his head on straight, concentrating on the real love of his life. Hip Hop.
The fusion of these two extremely talented artists has created an undeniable force of nature in the incomparable group Nappyville. Their first hit single, " Super Clean," is in heavy rotation on Indianapolis radio stations and is destined to blow up elsewhere. Their sound is much more than a notion or a feeling. It's a destination and you have been invited along for the ride. Jump in and experience the ecstasy, the power and the rawness. Welcome to Nappyville. .. .. ......
Member Since:
March 10, 2006
Record Label:
MunkiBoi ENT/Country Fresh Music, LLC
follow www.twitter.com/nappyville has 9154 friends.