No recent updates in this category.
Why not...
Joshua Williamson hasn't earned any badges yet... have you?
About me:
.. I edited my profile with
Thomas' Myspace Editor V4.4
HERE IS A THREE PAGE SHORT STORY ABOUT STACY FROM NECESSARY EVIL!
SEVEN PAGE PREVIEW OF ISSUE ONE! SHIPPING IN OCTOBER!
NE 1 solicitation.
Necessary Evil Issue 1 32 pages FC, $3.99
By Joshua Williamson, Marcus L. Harris, Vicente Navarrete.
Where do all the bad guys come from? They come from the school for super villains… Necessary Evil Academy!
Jacob and Miller are the sons of the Matriarch, the world's greatest super-villainess. The Matriarch is now dead at the hands of a super-hero, and the boys want answers--and revenge. They join Necessary Evil Academy and become entangled in the world of brightly colored costumed criminals and homicidal murderers. As the brothers go to class to learn the tricks of the bad-guy-trade, they begin to unravel the secrets surrounding their mother's death, finding that her legacy may have destined them to become more than just villains…
This exciting new on-going series will force you to ask yourself, what separates the Villains from the Super-Villains?!
Variant cover by Dustin Nguyen
DIAMOND ORDER CODE AUG 07 3547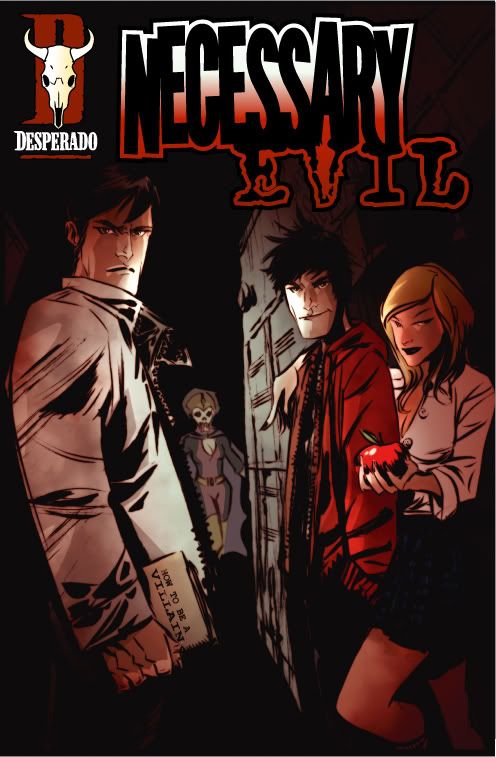 Who I'd like to meet:
Status:

In a Relationship

Hometown:

Necessary Evil Academy

Zodiac Sign:

Capricorn