Play

Play Next

Add to queue
Play

Play Next

Add to queue

131 plays

Play

Play Next

Add to queue

990 plays

Play

Play Next

Add to queue

767 plays

Play

Play Next

Add to queue

646 plays

Play

Play Next

Add to queue

2,223 plays
Genre: Acoustic / Metal / Rock

Location Colombo, Please select your region, Sr

Profile Views: 29120

Last Login: 8/5/2011

Member Since 11/27/2007

Record Label unsigned

Type of Label Major

Bio

Members

.. The Band.... Vocals/Guitars - Mihindu Ariyaratne.. Lead Guitars - Tharindu "Mackie" Mathew.. Bass Guitar - Loshaarn Bastian .. Drums - Sithija Dilshan...... ....

Influences

Sounds Like
Bio:
NEMESIS - CHAKITHAYA

| DEBUT MUSIC VIDEO..

BIOGRAPHY

Originally formed in 2005, and weaving through many line up changes, Nemesis has come along way his its inception. With a cult like fan following that keeps growing day after day, Nemesis certainly proves that rock music can not only be sung in english, but also in their native language, Sinhala.
The band was formed in 2005, when lead guitarist Tharindu "Mackie" Mathew put together a band along with a few friends. However, in the years that followed, the band went through many lineup changes which included the addition of Loshaarn Bastian on Bass guitar and Chathura on Drums. After almost a year of auditioning for vocalists, in October 2007 Mihindu Ariyaratne was officially announced as new the vocalist cum guitarist of Nemesis, thus bringing along an eastern influenced sound into the band. Nemesis have since made headlines in many popular Sri Lankan magazines and newspapers.
QUOTE
"Mihindu was the perfect match for us, as we didn't want a vocalist who could just sing, instead we wanted someone who was attitude and ego free. Because anyone in the music industry would admit that its impossible to be with someone in the same band, unless u have the understanding and chemistry. We clicked with Mihindu right away." - The Band.
The sound of the band completely changed from this point onwards. It was what one could consider a fresh start. The band's genre now progressed into a blend of different genres including elements of blues, eastern music, progressive metal to even acoustic music. Our lyrics address topics such as love, and the war on terror that has affected the country.
Tragedy befell, as drummer Chathura had to leave the band due to other commitments. But with the position of the vocalist filled, the band began performing once again with several session drummers and sometimes even as a three piece acoustic band. November 2007 to August 2008 was spent performing shows around the capital city, Colombo. This era brought the band a lot of attention due to their "no-boundaries-to-music" attitude.
QUOTE
"This time around, most people were shocked when they saw us perform. No one expected to hear a totally different sound from a band that used to play only Heavy-Metal music." - The Band.
In August 2008, Sithija Dilshan was officially announced as the new drummer for Nemesis. In November of 2008, Nemesis took part in "TNL Onstage 2008", an annual "battle of the bands" event organized by popular Sri Lankan radio station, "TNL ROCKS". The band emerged as winners of TNL Onstage 2008, "Best Band" category, while lead guitarist Tharindu Mathew bagged the "Best Musician 2008" award.
With their popularity rising up, Nemesis hit the studios to record their debut-single "Chakithaya", which is a rock song sung in their native language, Sinhala. Chakithaya was one of the crowd-favorite songs during their live performances, even before its official audio release. Finally in February 2010, the much awaited audio and music video of "Chakthaya" was finally released on all media stations. Following the release of their debut single, Chakithaya has been a huge success in the local community, receiving lots of television and radio air-play on most local channels. The song has since created a cult like following for the band. In just a few months of its release, the audio and video of Chakithaya, has a total of over 30,000 views and downloads on the internet. With its' success still growing, Nemesis are said to hit the studios soon to record their followup single to Chakithaya.
QUOTE
"We have had a great run of shows since our music diversified. I guess we sorta have something for everyone. Although we do not limit ourselves to a certain genre, our genre generally circulates around Rock music. So you will find all sorts of rock elements in our music and at out performances. I'd like to think that Chakithaya is a perfect example of that. If you listen to it, the song starts off with an classical cum acoustic arrangement supported by the bass guitar. Which then leads to a hard rock chorus and then back again to the initial classic/acoustic arrangement."
"So I would like to think that we have something for everyone. Which is quite apparent at our live concerts. We have so far performed only in Sri Lanka, around Colombo. But we are in the process of organizing a string of shows out of Colombo, starting from Kandy. We have a large fan following outside Colombo, so would like to pay them a visit. Nothing international as yet. But would welcome every opportunity with open arms." - The Band.

The Band

Vocals/Guitars - Mihindu Ariyaratne
Lead Guitars - Tharindu "Mackie" Mathew
Bass Guitar - Loshaarn Bastian
Drums - Sithija Dilshan






Exclusive "NEMESIS" interview on Chokolaate Magazine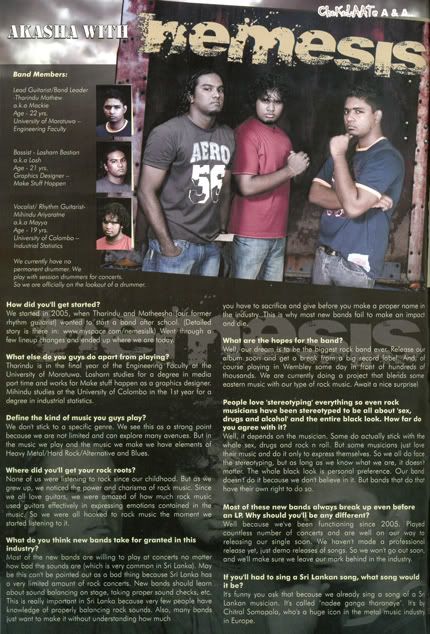 Join the NEMESIS mailing list to stay up-to-date on all the latest news, tour info, announcements, and more!

..
Fill out the form below to start receiving our newsletter!

Name:

..
..
E-mail address:
..
.. Subscribe .. Unsubscribe
..
..
CONTACT THE BAND
Email the band at
nemesistheband@hotmail.com
..
BOOKING
To book NEMESIS for concerts, contact 077-7759908 / 077-6106741,
Or mail to nemesistheband@hotmail.com

PRESS CONTACT
For press, contact 077-7759908 / 077-6106741,
Or mail to nemesistheband@hotmail.com






AUDIOSLAVE COVER - I AM A HIGHWAY | LIVE AT TNL ONSTAGE 08

.. .. .. .. .. .. .. .. .. .. .. .. .. .. .. .. .. .. ..
No recent updates in this category.
Why not...