Play

Play Next

Add to queue
Play

Play Next

Add to queue

13,582 plays

Play

Play Next

Add to queue

10,845 plays
Genre: Death Metal / Grindcore / Hardcore

Location Montreal, Quebec, Ca

Profile Views: 54221

Last Login: 3/25/2013

Member Since 1/13/2008

Website http://www.msplinks.com/MDFodHRwOi8vd3d3LmZhY2Vib29rLmNvbS9wYWdlcy9OZXJ2b3VzLUltcHVsc2UvMTQ0ODc3NjIyMjE4MjE2

Record Label http://nervousimpulse.bigcartel.com/

Type of Label Indie

Bio

.. ............Myspace Layouts.. - ..Myspace Editor.. - ..Hot Comments.. - ..Image Hosting.... From Montreal, Canada, Nervous Impulse is a pure death grind formation that plays exclusively raw and straight to the point intense music. Nervous Impulse was formed 2 years ago by Yan Chamberland on drums (ex-Empathy Denied ,ex-Obscene Crisis) to produce the most insane and destructive musical achievement he could ever imagine in his extreme musical mind. Yan recruited two young talented guitar players from the new generation : Robert Guimond and Vincent Malo (and most recently Bassman Felix Bourcier) to see emmerge probably one of the fastest, sickest and most brutal band out of the Montreal scene. Yan had a very distinct vision of music and he wanted to have a vocal texture that goes beyond every limits of death metal. The loudest growls, grunts and screams imaginable and beyond everything done so far in death metal. That's why he asked Eric Fiset aka The Canadian Godzilla (ex-Empathy Denied ,ex-Obscene Crisis) to join is fight to create the ultimate musical mayhem. You can hear the most inhuman vocals ever teamed up with machine gun blast beats and insane breakdowns on Nervous Impulse's first CD entitled :''Enough for Dementia''. Nervous Impulse's debut album was entirely produced and mixed by Hugues Deslauriers (Augury, Clearwater Deathblow, Empathy Denied) who is clearly the best kept secret in the whole metal industry! There are no effects or multiple layers added on the vocals to achieve such an intense level of growling! Totally pure and natural. Hugues is a very dedicated soundman and truly knows how to make justice to extreme music ! This is the most violent and aggressive experience available on the market. This auditive torture mixes the sickness and intensity of European Grindcore assault with the brutality of North American Death Metal bands. Don't search any longer if you need a fix of sheer brutality and a velocity that will rock you socks off ! Guaranteed to provoke a mental meltdown to any person who can't stand heavy music, Enough for Dementia is their trademark and they don't even joke about it. Nervous Impulse will give you the feeling of getting hit by a train at 220/mph. Enjoy !!!!!! Current Line-up : ***Vocal : Éric Fiset (ex Empathy Denied / ex Obscene Crisis) ***Guitar : Bruno Mercier ***Guitar : Jean-François Boily ***Drums / Back vocals : Yan Chamberland (ex Empathy Denied / ex Obscene Crisis)

Members

Vocals : Éric Fiset Lead Guitar : Bruno Mercier Rythm Guitar : Jean-François Boily Drums : Yan Chamberland Bass : Félix Bourcier

Influences

Suffocation , Devourment , Pigsty , Ahumado Granujo , Vomit Remnants , Nasum , Obscene Crisis , Waking the Cadaver , Cerebral Turbulency , Yacopsae , Skinless , Napalm Death , Internal Bleeding , Happy Face , UltraVomit , Dying Fetus , Brutal Truth , Goratory, Fleshgrind, Disconformity, Cephalotripsy, Agoraphobic Nosebleed , Rotten Sound , Sanity's Dawn , Blood Duster , Magrudergrind , Japanische Kampfhörspiele , Mincing Fury and Guttural Clamour of Queer Decay , Human Remains , Foetopsy , Hemdale ...

Sounds Like

A mix of Us Brutal Death Metal and European mongoloïd Grindcore
02:45 | 2 plays | Mar 25 2013
Bio:
..

Myspace Layouts - Myspace Editor - Hot Comments - Image Hosting
From Montreal, Canada, Nervous Impulse is a pure death grind formation that plays exclusively raw and straight to the point intense music. Nervous Impulse was formed 2 years ago by Yan Chamberland on drums (ex-Empathy Denied ,ex-Obscene Crisis) to produce the most insane and destructive musical achievement he could ever imagine in his extreme musical mind. Yan recruited two young talented guitar players from the new generation : Robert Guimond and Vincent Malo (and most recently Bassman Felix Bourcier) to see emmerge probably one of the fastest, sickest and most brutal band out of the Montreal scene. Yan had a very distinct vision of music and he wanted to have a vocal texture that goes beyond every limits of death metal. The loudest growls, grunts and screams imaginable and beyond everything done so far in death metal. That's why he asked Eric Fiset aka The Canadian Godzilla (ex-Empathy Denied ,ex-Obscene Crisis) to join is fight to create the ultimate musical mayhem. You can hear the most inhuman vocals ever teamed up with machine gun blast beats and insane breakdowns on Nervous Impulse's first CD entitled :''Enough for Dementia''. Nervous Impulse's debut album was entirely produced and mixed by Hugues Deslauriers (Augury, Clearwater Deathblow, Empathy Denied) who is clearly the best kept secret in the whole metal industry! There are no effects or multiple layers added on the vocals to achieve such an intense level of growling! Totally pure and natural. Hugues is a very dedicated soundman and truly knows how to make justice to extreme music ! This is the most violent and aggressive experience available on the market. This auditive torture mixes the sickness and intensity of European Grindcore assault with the brutality of North American Death Metal bands. Don't search any longer if you need a fix of sheer brutality and a velocity that will rock you socks off ! Guaranteed to provoke a mental meltdown to any person who can't stand heavy music, Enough for Dementia is their trademark and they don't even joke about it. Nervous Impulse will give you the feeling of getting hit by a train at 220/mph. Enjoy !!!!!! Current Line-up : ***Vocal : Éric Fiset (ex Empathy Denied / ex Obscene Crisis) ***Guitar : Vincent Malo ***Guitar : Robert Guimond ***Drums / Back vocals : Yan Chamberland (ex Empathy Denied / ex Obscene Crisis) object width="425" height="344">....
Member Since:
January 13, 2008
Members: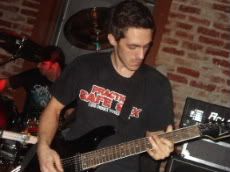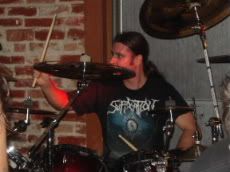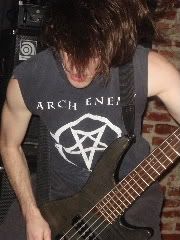 Vocals : Éric Fiset Lead Guitar : Vincent Malo Rythm Guitar : Robert Guimond Drums : Yan Chamberland Bass : Félix Bourcier
Influences:
Suffocation , Devourment , Pigsty , Ahumado Granujo , Vomit Remnants , Nasum , Obscene Crisis , Waking the Cadaver , Cerebral Turbulency , Yacopsae , Skinless , Napalm Death , Internal Bleeding , Happy Face , UltraVomit , Dying Fetus , Brutal Truth , Goratory, Fleshgrind, Disconformity, Cephalotripsy, Agoraphobic Nosebleed , Rotten Sound , Sanity's Dawn , Blood Duster , Magrudergrind , Japanische Kampfhörspiele , Mincing Fury and Guttural Clamour of Queer Decay , Human Remains , Foetopsy , Hemdale ...
Sounds Like:
A mix of Us Brutal Death Metal and European mongoloïd Grindcore
Record Label:
Unsigned