Play

Play Next

Add to queue
Play

Play Next

Add to queue

452 plays

Play

Play Next

Add to queue

12,653 plays

Play

Play Next

Add to queue

2,718 plays

Play

Play Next

Add to queue

1,220 plays

Play

Play Next

Add to queue

9,366 plays
The band was born in 1996 under the name of Animalator. After many years of live performances and two demos welcomed by the critics, the band split up due to deep individual incompatibilities within.

This didn't stop Neil and Lehmann, who in summer of 2004 brought the band back to life with a new line-up under the name of Neurasthenia: Neil (vocals/rhythm guitar), Lhemann (bass), Simone (lead guitar), Leo (drums). Finally in early 2005 with the new members the band recorded his first demo entitled "Full Force Of Thrashers!" and the single "Majestic March".

After one year of a good live activity, the band's line-up changed again with Steve (drums) and Phill (lead guitar). At the beginning of 2006 the band released "Return Under Neurasthenia" and with this final line-up the live activity around Italy grown very well.

In October 2006 Neurasthenia entered Studio 73 to record his first full-length "Possessed" with the well-known producer and sound engineer Paso.

Neurasthenia signed with Uk-Division Records and the album will be distributed in Europe with Sony distribution, in Italy under Andromeda distribution and in Uk under Uk-Division.

With the management of Alkemist Fanatix Europe the band will support Testament in the first TESTAMENT'S Italian gigs in 2008 and join in the bill of the biggest festival ROUTE TO HELL FEST where they had play with STRATOVARIUS, AMON AMARTH and BEHEMOTH.

In the 2008 the band sign with the Italian Booking Agency MACHADA PROMOTION and starts the collaboration with Bologna Rock City agency....At the beginning of 2008 NEURASTHENIA has played with VISION DIVINE, VENGEANCE, MUNICIPAL WASTE, FORBIDDEN, MAYHEM, DEICIDE, NECRODEATH, BRAINSTORM, ITALIAN TOUR W/HATESPEHERE, EXODUS....

In 2009 NEURASTHENIA release the new album "YOUR OMEN" recorded at NEURASTUDIO and mixed and mastered at FEAR STUDIO in Italy, the new album find the new contract for the band with MYGRAVEYARD PRODUCTIONS, wich decide to re-issue the first album "POSSESSED" with two bonus video, N. in 2009 are offically under the management of BOLOGNA ROCK CITY and followed directly by EMILIANO NANNI manager of the band.

N. decide to present the new album with an amazing RELEASE PARTY OF YOUR OMEN in Bologna with the production of the new official LIVE VIDEO of GO FUCK THEMSELVES directed by XAVY VIDEO, and in the following summer N. join in the EUROPEAN MASSACRE TOUR with FULEDE BY FIRE and BONDED BY BLOOD for one month....after the tour N. join in the roster of the Brasilian agency INSANO BOOKING in wich are a lot of good news for the next season...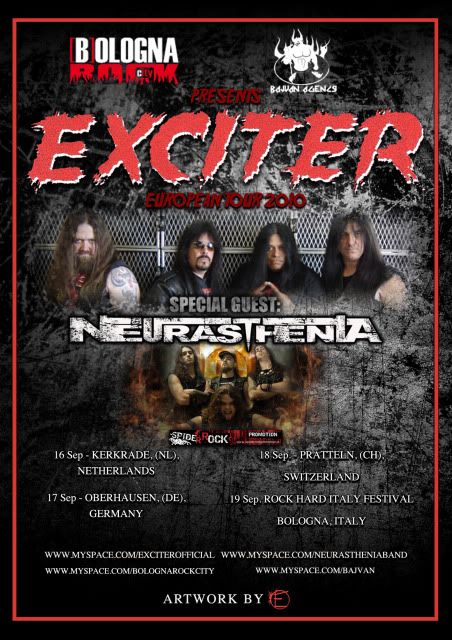 NEURASTHENIA - LIVE IN BARCELLONA
NEURASTHENIA - YOUR OMEN RELEASE PARTY - GO FUCK THEMSELVES -
NEURASTHENIA "THE LAST ORDER OF GOD" - VIDEO -
NEURASTHENIA VIDEO MAJESTIC MARCH IN GERMANY
NEURASTHENIA LIVE PHOTO SESSIONS
NEURASTHENIA ON MAGAZINES!
PAST EVENTS!
SPIDER ROCK PROMOTION


Contro Corrente Music Shop-Imola (IT)-In collaboration w/Neurasthenia
NEURASTHENIA ON IMRADIO

ESP,LTD, B.C.Rich
YAMAHA bass
WARWICK bass
ROTOSOUND strings
CRATE amps
AMPEG amps
PEARL drums
VICFIRTH drumsticks

STRATOVARIUS
BEHEMOTH
AMON AMARTH
VISION DIVINE
EXTREMA
INFERNAL POETRY
CRYING STEEL
MAYHEM
VENGEANCE
PINO SCOTTO
MUNICIPAL WASTE
FORBIDDEN
RAISING FEAR
NECRODEATH
BRAINSTORM
EXODUS
HATESPHERE-Tour
DEICIDE
ANTHRAX
EXUMER
EXCITER
FLOTSAM & JETSAM - EUROPEAN TOUR 2010
FUELED BY FIRE - EUROPEAN TOUR 2009
BONDEDE BY BLOOD - EUROPEAN TOUR 2009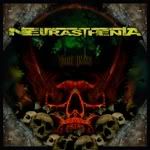 Your Omen
[2009, My Graveyard Production]
PURCHASE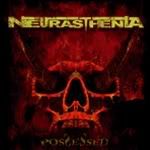 Possessed
[2007/09, My Graveyard Production]
PURCHASE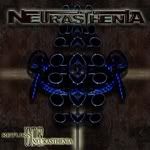 Return Under Neurasthenia
[2006, Self Produced]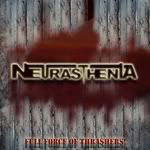 Full Force Of Thrashers!
[2005, Self Produced]
W/HATESPEHERE - Italian tour 2008

W/FUELED BY FIRE/BONDED BY BLOOD - European tour 2009

W/FLOTSAM & JETSAM - European tour 2010

W/EXCITER . European Tour 2010
MOSTRA dei MOSTRI (IT)
ROUTE TO HELL (IT)
BIRTH OF A BOMB (DE)
BRC DAY 1st edition (IT)
THRASH TILL DEATH 2008 (IT)
3 DAYS IN ROCK 2008 (IT)
BADIA ROCKS 2008 (IT)
6 SOUTH CHEYENNE FEST 2008(IT)
TOTAL METAL FESTIVAL 2008(IT)
QUEENS OF METAL 2009 (DE)
METROPOLE RUHR FESTIVAL 2010 (DE)
FUSI DI ROCK 2010 (IT) (Headliner)


HOMETOWN
..Bologna, ITALY
MYSPACE URL
myspace.com/neurastheniaband
WEBSITE
www.neurasthenia.it
BAND'S CONTACT
neurasthenia [at] tiscali.it
MANAGEMENT & PROMOTION
Spider Rock Promotion
LABEL
..T.B.A.
LAYOUT BY
Eklipse Design
NEURASTHENIA has 6906 friends.