No recent updates in this category.
Why not...
Gypsy Festival hasn't earned any badges yet... have you?
Play

Play Next

Add to queue
About me: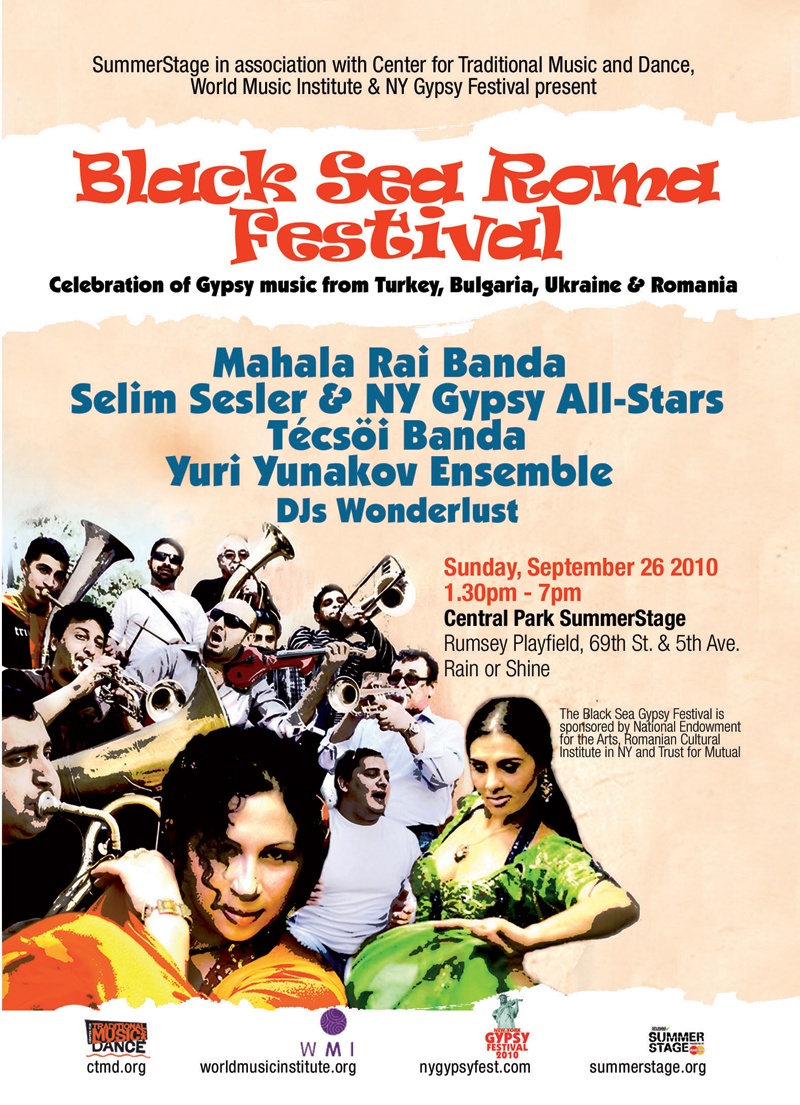 WWW.NYGYPSYFEST.COM
http://www.facebook.com/pages/New-York-Gypsy-Festival/62058011565
NY GYPSY FEST 6TH ANNIVERSARY SCHEDULE (SEPT 24 - OCT 3, 2010)
- Turkish Gypsy Special featuring
SELIM SESLER AND THE NY GYPSY ALL-STARS
at DROM on Friday, September 24

- The Floating Gypsy Party featuring
DJ PEPE and DJ WONDERLUST boarding The Clipper City Tallship
at South Street Seaport on Saturday, September 25

- The Black Sea Roma Festival featuring
MAHALA RAI BANDA, SELIM SESLER, THE NY GYPSY ALL-STARS, TÉCSÖI BANDA, THE YURI YUNAKOV ENSEMBLE and DJ WONDERLUST
at Central Park SummerStage on Sunday, September 26

- The Roots of Flamenco featuring
ESPIRITU GITANO and friends
at DROM on Thursday, September 30

- Global Sounds from Canada to Mexico featuring
DELHI 2 DUBLIN, DJ GADJIO and DJ BLACKY
at DROM on Friday, October 1

- Balkan Brass Night featuring
ZLATNE USTE BRASS BAND and VEVERITSE BRASS BAND
at DROM on Saturday, October 2

- The Django Reinhardt Centennial Tribute featuring
STEPHANE WREMBEL and BALVAL
at DROM on Sunday, October 3



"The cultural inheritance of gypsy music is both vast and complex. When you speak about 'gypsy music' you are drawing from a diaspora of countries and ethnicities where centuries-old history goes hand in hand with new innovations. The challenge for us, every year, is to keep up with the tradition's constant reinvention while not forgetting its roots: to give equal consideration to venerated legends and fiery upstarts, the urbane to the rustic, to Gypsy jazz and Gypsy punk alike. In this, our sixth year programming The NY Gypsy Festival, we believe we have risen to the challenge.

From traditional wedding music to contemporary dance electronica, from the influence of Gypsy music in Flamenco to big bands, from a celebration of the work of the legendary Django Reinhardt to the music of the Black Sea Region to an unlikely Celtic/North Indian fusion with Gypsy ancestry, from a tall ship to Central Park to the Lower East Side; we believe every show in The 6th Annual NY Gypsy Festival is a can't-miss performance.

Please join us and take part in the celebration of a proud peoples' culture. Whether the music is new to you or you are a longtime fan, you will be welcomed with open arms."

NY Gypsy Festival Producers

The NY Gypsy Festival celebrates its sixth annual performance schedule with one of the most outstanding and diverse lineups of its storied history.

We kick off The Festival on September 24 with the inimitable clarinetist SELIM SESLER performing with THE NY GYPSY ALL STARS BAND at the newly revamped Lower East Side club Drom.

Next, meet us at South Street Seaport on September 25 for a sailing cruise around Manhattan that offers a wild gypsy party from the internationally acclaimed and DJ WONDERLUST.

A very special free extravaganza in Central Park on September 26 marks the end of both summer and SummerStage as The Center for Traditional Music and Dance and WMI join us in bringing you The Black Sea Roma Festival featuring the US premieres of the musical ensembles MAHALA RAI BANDA and TÉCSÖI BANDA plus SELIM SESLER with THE NEW YORK GYPSY ALL-STARS, THE YURI YUNAKOV ENSEMBLE and DJ WONDERLUST.

We return to Drom on September 30th with band leader Arturo Martinez and ESPIRITU GITANO for an evening of Flamenco music, song and dance.

Unconventional, international electronic fusion is the order of the night on October 1 at Drom, as Canada's DELHI 2 DUBLIN and Mexico's DJ GADJIO and DJ BLACKY explore the intersection of Bhangra, Celtic, Dub and traditional gypsy music.

Blazing Balkan brass power will overcome your senses and move your feet when heavyweight performers ZLATNE USTE BRASS BAND and VEVERITSE BRASS BAND take the stage at Drom on October 2.

The Festival draws to an end with our final show on October 3 at Drom: a tribute to the immortal Django Reinhardt on the 100th anniversary of his birth, featuring the outstandingly talented Parisian guitarist STEPHANE WREMBEL and the outr é multicultural stylings of the explosive BALVAL.

This year marks the first opportunity for the public to purchase passes to The NY Gypsy Festival. For only $25, your pass will allow you access to all four of the shows between September 30 and October 3. Festival passes are available now on The NY Gypsy Festival website.


WWW.NYGYPSYFEST.COM
..
Who I'd like to meet:
Since 2005, the New York Gypsy Festival has presented the breadth of contemporary Gypsy music from all over the world. In its first five years, the Festival hosted shows with Gogol Bordello (US), Kolpakov Trio (Russia), Beirut (US), KAL (Serbia), Ivo Papasov (Bulgaria), Balkan Beat Box (US/Israel), Acquariaga Drom (Italy), and Husnu Senlendirici (Turkey) among many others. After attending the 2006 edition, Spin Magazine excitedly declared in its January 2007 issue that Gypsy Music was the "Scene of the year." To celebrate the 2010 edition, the festival producers have curated a series of shows form Sept 24 - Oct 3 for the 6th anniversary.


Praise for the NY Gypsy Festival:
"Year after year, the NY Gypsy Festival remains one of New York's most consistently exciting concert series." - LUCID CULTURE BLOG

"It's impossible to pick just one highlight of this excellent bill of Gypsy music, but the newsiest is Mahala Rai Banda, a Romanian group making its American debut." - THE NEW YORK TIMES

"New York Gypsy Festival celebrates music inspired by people on the move … already billed as the largest Gypsy music event of the year" - NJ STAR-LEDGER

"Last Friday, genre-bending electronic/Celtic/Bhangra/dub group Delhi 2 Dublin brought their high-energy, culture-blender show to Drom in New York City as part of the New York Gypsy Festival." - MTV IGGY

"Leavening boisterous horns and drums with Euro-pop sass, Bucharest's Mahala Rai Banda headlines the sixth annual New York Gypsy Festival's afternoon-long cornerstone concert." - VILLAGE VOICE

"NY Gypsy Festival returns for sixth season." - NATIONAL GEOGRAPHIC

""A ferocious bill … Be ready to get some exercise." - TIME OUT NY

"Run don't walk to these performances. And don't forget your tambourines and joie-de-vivre." - VILLAGE VOICE

"The next generation of Gypsy musicians proves the hard-to-pin-down sound has found new life." - SALON

"[A] runaway success ... 10 days of unparalleled international revelry." - FLAVORPILL
Status:

Married

Zodiac Sign:

Aquarius

Occupation:

Producer