No recent updates in this category.
Why not...
Nicole Johnson hasn't earned any badges yet... have you?
General

Vegas Pool Parties

/>

Check out my interview Video for www.off-road.com!http://www.youtube.com/watch?v=bizSSDTmeB8

SPEAKER JUNKIES-"NOW IS THE TIME" MY MUSIC VIDEO DEBUT: I AM THE BLONDE ONE IN TEAL...CHECK ME OUT! :) CHECK ME OUT @ THE GOGO COMPETITION 12/2008 @ FLIGHT in HB...NYTEHYPE rocked that place!

NyteHype Talent GoGo & Model Search @ Flight (Huntington Beach, CA) 12/18/2008

from

Ricky Zermeno

on

Vimeo

....... HEAT TUESDAY NIGHTS-Check me out in the Video!

Heat Ultra Lounge from Scott Kelley on Vimeo.

Check me out on FOX news rockin' it at Kandyland @ The Playboy Mansion!

WORDS I TRULY LIVE BY...

I absolutely love to dance...its my passion. I have been dancing for the last 14 years and i love it!! Going to the river, the beach, and hollywood are my favorite places to be :)

Music

..is my fave...actually all electronic music is amazing! I always like a little hip-hop now and then too. I get my certain moods where ill listen to almost anything...but electronic music is the best!

My friends and I have a passion for this music and here are the ones that are DJ's: Andy

Scott

Mike(DJ ORION)

Ryan(DJ STIRES)

Moe (DJ Taylor Jamin)

These DJ's spin some sick trance and electro beats! all 5 are in my top friends...check em out!

Movies

Television

Heroes

,

Family Guy

,

Friends

,

and Sex in the city are all my faves. Also

, anything on E! television is always good. I love Discovery health channel too...yeah im a dork!!

Books

The left behind series...I love those books. "Hes just not that into you"-definitely a must read.

Heroes

THE COMPANYS I WORK FOR:
Nightlife
Entertainment
Go-Go Dancer

Print, Promotional, and Runway

Singing is also another passion of mine!
*Nicole Christine of www.thediamonddozen.com * has 20353 friends.
Play

Play Next

Add to queue

Play

Play Next

Add to queue

Play

Play Next

Add to queue

Play

Play Next

Add to queue

Play

Play Next

Add to queue
About me:
..
Create Your Own SlideShow

SOME WORDS FOR THOUGHT...(I wrote this myself)
In the game of life, why do things tend to become so complicated? I have realized that in everything we do, there are always reprocutions. In every word you say or action you do, you are constantly trying to please others. Sometimes, you have to sit back and ask yourself, what is important to YOU, not what is important to everyone else. Because, ultimately, it is you that must live with the decisions you make. You are special. Dont ever forget that. There is no one out there like you. Therefore, this makes you unique! Often times, people forget how special they really are and tend to just "settle" in there lives, in every aspect-friends, relationships, careers, etc. Just remember that for every one person who doesnt treat you well, theres 1000 who will love you for who you are. Dont waste your time with people that aren't true friends, and dont waste you time with guys/girls who just arent that into you. In the end, you will be happier. And lastly, dont ever forget who you are!! ~Nicole Christine


I ABSOLUTELY LOVE TO
IT IS ONE OF MY PASSIONS AND IVE BEEN DOING IT ALMOST MY WHOLE LIFE.I LOVE GO-GO DANCING AND DOING CHOREOGRAPHED DANCING BECAUSE IT LETS YOU EXPRESS YOURSELF THROUGH MUSIC AND DANCE...BOTH OF WHICH I LOVE! I AM A LOUD AND OUTGOING PERSON AS MANY PEOPLE WHO KNOW ME WOULD SAY~AND YEAH, I LIKE TO BE IN THE SPOTLIGHT, MAYBE SOME COULD CALL ME AN ATTENTION WHORE, BUT HEY IF YOU ARE MY FRIEND I AM HAPPY TO SHARE IT WITH YOU ANY DAY. I AM DOWN TO EARTH AND WILL BE FRIENDS WITH ALMOST ANYONE THAT I FEEL LIKE I CONNECT WITH. AS I'VE GOTTEN OLDER I HAVE REALIZED THAT ITS NOT THE AMOUNT OF FRIENDS THAT YOU HAVE BUT THE AMOUNT OF ONES THAT WOULD BE THERE FOR YOU WHEN YOU NEEDED THEM. DON'T GET ME WRONG, I LOVE TO PARTY AND GO OUT AND I ESPECIALLY LOVE MEETING NEW PEOPLE! I HAVE FRIENDS FROM ALL WALKS OF LIFE AND I LOVE IT! ITS ALWAYS GREAT TO MEET NEW PEOPLE, BECAUSE HEY, YOU LEARN SOMETHING NEW FROM EACH PERSON YOU MEET! HOWEVER I DO HAVE MY VERY CLOSE FRIENDS WHO I HOLD DEAR TO MY HEART (YOU KNOW WHO YOU ARE). I AM A CARING, SENSITIVE PERSON THAT WOULD DO ABSOLUTELY ANYTHING FOR THE PEOPLE I LOVE AND CARE FOR. ALTHOUGH I LOVE TO TALK (WHICH I HAVE BEEN TOLD I DO A LOT OF) I AM ALSO A GREAT LISTENER...SO I'M USUALLY THE ONE THAT PEOPLE TEND TO COME TO TALK ABOUT THERE PROBLEMS WITH AND SEEK ADVICE FROM. THATS FINE WITH ME! I LOVE HELPING OTHERS AND I AM USUALLY THE MODERATOR...I DONT LIKE TAKING SIDES, HOWEVER I KNOW SOMETIMES IT IS INEVITABLE THAT YOU MAY HAVE TO. I ABSOLUTELY HATE CONFRONTATION~IF SOMEONE GIVES ME A DIRTY LOOK OR IS RUDE TO ME I JUST SMILE AND BRUSH IT OFF...I'M BETTER THAN THAT. ONE ASPECT I ALWAYS LIVE BY IS TO ALWAYS GIVE PEOPLE THE BENEFIT OF THE DOUBT AND HOPE THAT THEY ARE A GOOD PERSON. HOWEVER, IF YOU CROSS ME, YOU BETTER ASK FOR FORGIVENESS OR TURN AROUND AND RUN, BECAUSE I DON'T PUT UP WITH BULLSHIT AND I WILL NOT BE TAKEN ADVANTAGE OF. REMEMBER: OUTWARD APPEARANCES CAN BE DECIEVING! I'M DEFINATELY NOT A DUMB BLONDE, AND I'M NOT YOUR TYPICAL STUCK UP BLONDE EITHER, IM JUST ME! NICOLE CHRISTINE*~ SO IF YOU EVER SEE ME OUT DON'T HESITATE TO COME UP AND SAY HI!

Here's a quote for my HATERS...you know who you are, I have nothing but love for ya, you make me look GOOD! ;)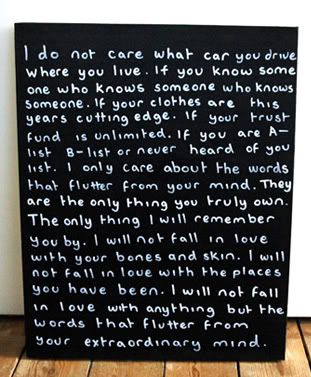 ..

CHECK ME OUT AT WWW.OFF-ROAD.COM WHERE YOU CAN CHECK OUT MY PROFILE ( I AM THE FEATURED GIRL OF THE MONTH HERES THE SITE- WWW.OFFROAD.COM/GIRLS) AND YOU CAN ALSO VOTE ON MY PICTURES! HUGS AND KISSES!
p>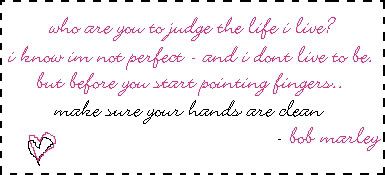 Who I'd like to meet:
CHECK ME OUT ON THIS WEBSITE!
www.thediamonddozen.com


I ALWAYS LOVE TO MEET NEW PEOPLE...YES! THAT MEANS YOU. AS LONG AS YOUR NOT A CREEPY WEIRDO, CAUSE THERE ARE SOME OF YOU GUYS/GIRLS OUT THERE! AS FAR A GUY GOES....A MAN WHO MAKES ME FEEL ABSOLUTELY BEAUTIFUL, INSIDE AND OUT. A MAN WHO APPRECIATES ME FOR MY PERSONALITY BEFORE MY LOOKS. SOMEONE WHO I CAN SMILE AND LAUGH WITH CONSTANTLY, BOTH WHICH I LOVE TO DO! AND LASTLY, A MAN WHO RESPECTS ME TO THE FULLEST AND NEVER PUTS ME DOWN.IS THAT SO HARD TO FIND? NO!BECAUSE I'VE ALREADY FOUND HIM!








PLEASE NOTE:IF YOU AREN'T IN MY TOP FRIENDS IT DOESNT MEAN I DONT LOVE YOU JUST AS MUCH, I WISH THEY HAD MORE THAN 40 SPOTS! AND FOR THOSE THAT ARE IN MY TOP...THERE IS NO PARTICULAR ORDER... I LOVE YOU ALL THE SAME!
..
Status:

In a Relationship

Here for:

Networking, Friends

Hometown:

Fullerton, CA

Orientation:

Straight

Body type:

5' 8" / Slim / Slender

Ethnicity:

White / Caucasian

Religion:

Catholic

Zodiac Sign:

Libra

Children:

Someday

Smoke / Drink:

No / Yes

Education:

College graduate

Occupation:

Model/Publicist

Income:

$45,000 to $60,000
California State University-Fullerton

Fullerton, CALIFORNIA

Graduated:

2009

Student status:

Alumni

Degree:

Bachelor's Degree

Major:

Communications-Public Relations

Greek:

Alpha Delta Pi

2003 to 2009

Troy High

Fullerton, CALIFORNIA

Graduated:

2002

Student status:

Alumni

Degree:

High School Diploma

1998 to 2002
14 kt Divas

OC/LA, California US

Go-Go Dancer/Spokesmodel

2006-2008

Heineken

OC/LA, California US

Lead Promotional Model

March 2008-Present

Encore Nationwide

OC/LA/Riverside, California US

Promotional Model

March 2008-March 2009

NyteHype Entertainment

OC/LA, California US

Model/Go-Go Dancer

2008-Current

The Platinum Agency

Las Vegas, Nevada US

Model

January 2009-Current

Hype Talent

Los Angeles, CA US

Promotional Model

March 2009-Current

TheDiamondDozen.com

OC/LA/will travel if expenses paid, California US

Model

May 2009-Cuurent

Motive Events

Los Angeles/San Bernardino, California US

Promotions/Go-Go Dancer

August 2009-Current