No recent updates in this category.
Why not...
No Cookie Left Behind hasn't earned any badges yet... have you?
About me:
No Cookie Left Behind is back for 2008! On June 28, at Scoops Ice Cream shop, join us for a bake sale to fight childhood hunger in America.
Swing by for cookies, cupcakes, cakes, tarts, granola, baklava, brownies, and much more deliciousness!
And yes, there will be vegan goodies as well!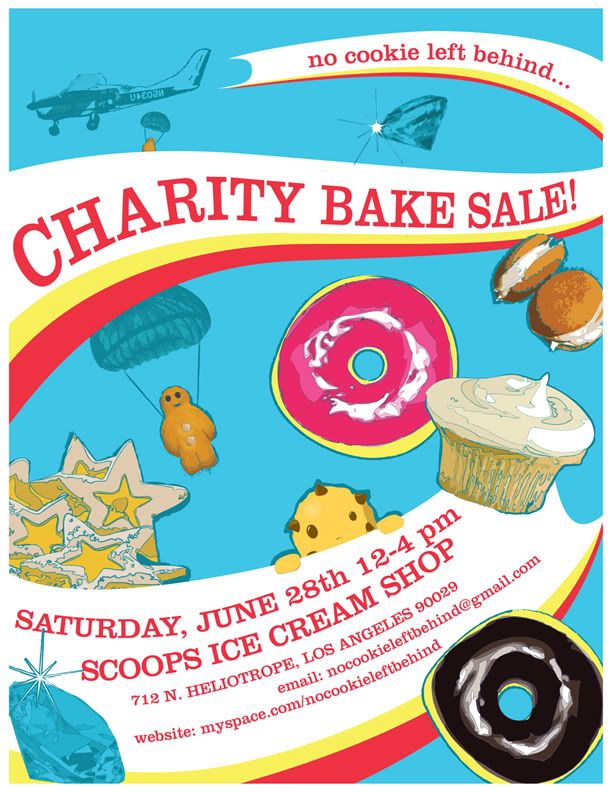 click flyer to view larger
What:
The No Cookie Left Behind Bake Sale
When:
June 28, Noon to 4 pm
Where:
Scoops Ice Cream Shop, 712 N. Heliotrope, just north of Melrose (as if you didn't know)
Why:
As part of the Great American Bake Sale, we're filling you with sweets to raise funds for
Share Our Strength
, an organization that combats childhood hunger in the US by:
increasing access to the public and private programs that can provide food to those who need it,
strengthening the community infrastructure for getting healthy food to children, and
teaching families how to get the most nutrition out of a limited budget.
Can't make it to the bake sale? Support us with a tax-deductible donation:
gabs.strength.org/goto/nclb
Find us on facebook!
Who I'd like to meet:
people who like to eat, people who like to feed, those with sweet tooths (sweet teeth?), sweetie pies, piefaces, puddin' heads, sugar bears, tough cookies, those caught with their hand in the cookie jar, hotcakes, babycakes, sugarplums, sweetpants, honeybuns.

vegans, veggies, gluten-frees, gluten-fulls, gluten fools, lactards, cheeseheads, omnivores stuck in the horns of a dilemma, omnivores not stuck in any dilemmas, people who consume styrofoam cups (ok, maybe we're not sure if we want to meet that last group).
Status:

Single

Hometown:

Los Angeles

Body type:

More to love!

Zodiac Sign:

Virgo