Play

Play Next

Add to queue
Play

Play Next

Add to queue

373 plays

Play

Play Next

Add to queue

1,967 plays

Play

Play Next

Add to queue

1,031 plays

Play

Play Next

Add to queue

5,939 plays

Play

Play Next

Add to queue

1,488 plays
Genre: Punk / Rock / Ska

Location Los Angeles and Ventura County, California, Un

Profile Views: 53132

Last Login: 6/11/2012

Member Since 8/7/2007

Website MYSPACE

Record Label NO COPS FOR MILES

Type of Label Indie

Bio

Members

Influences

..LIFE...

Sounds Like

..THE TRUTH...
00:24 | 231 plays | Oct 31 2007
8 Songs | Sep 21, 2008

45 Songs | Jun 10, 2012
Bio:
THANKS TO EVERYONE WHO HAS EVER SUPPORTED OR LIKED OUR MUSIC. HOWEVER, IT IS TIME THAT NO COPS FOR MILES THROWS IN THE TOWEL. I THINK YOU CAN FIND OUR FIRST TWO ALBUMS, "A NEW DICTION" AND "EAST SIDE PARK", ONLINE SOMEWHERE. AND YOU CAN HEAR OUR LAST ALBUM "OPTIONS" RIGHT HERE. SORRY FOR ANY INCONVENIENCE. AND THATS THAT. ITS BEEN A FUN RIDE. PEACE MY BROTHERS. -ERNIE
NO COPS FOR MILES
is a no bullshit, straight forward rock/punk/ska/raggae/thrash/whatever you wanna call it band with a message about the average American citizen trying to make it in this world. Our views our liberal, political and most of all, personal. But we do not preach. We make music for ourselves to enjoy but also for people who want to hear a good old fanshioned band without a care about image, money or what other people think. We keep this shit real. We will never sell out but a guy does have to eat. We represent the Los Angeles/So-Cal area
and appreciate everyone who listens and supports us.
THE NEW ALBUM "OPTIONS" IS OUT NOW!!!! FOR FREE!!! YOU'RE WELCOME!!! ENJOY MOTHER FUCKERS!!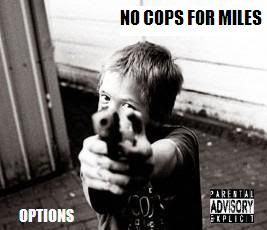 NO COPS FOR MILES: "OPTIONS" TRACK LISTING
1. A Void 2. Digging The Grave 3. This Path 4. In This Country
5. The Life 6. Feeding The Fire 7. Trauma 8. When Will It End?
9. Get Out And Move On(ONLY ON CD) 10. No Cops In Sight
11. Ready For A Crash(ONLY ON CD)
ALL MUSIC WRITTEN BY ERNIE SOSA.
ALL MUSIC COMPOSED BY ERNIE SOSA, JON MUNROE and KEVIN GATE.
ALL MUSIC PRODUCED BY LATE TEAM RECORDS
IN SIMI VALLEY AND LOS ANGELES, CALIFORNIA
BY KEVIN GATE AND ERNIE SOSA, MAY 2010.
Thank you for listening to NO COPS FOR MILES!
Member Since:
August 07, 2007
SINGER/GUITAR
FAT JON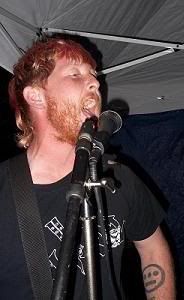 BASS
[VOID]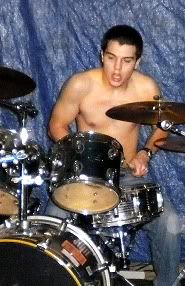 DRUMS
Sounds Like:
THE TRUTH.
Record Label:
NO COPS FOR MILES