Play

Play Next

Add to queue
Play

Play Next

Add to queue

7,873 plays

Play

Play Next

Add to queue

4,683 plays

Play

Play Next

Add to queue

2,603 plays

Play

Play Next

Add to queue

3,121 plays

Play

Play Next

Add to queue

2,728 plays
Genre: Acoustic / Alternative / Rock

Location Indianapolis, Indiana, US

Profile Views: 106386

Last Login: 5/15/2011

Member Since 3/30/2007

Type of Label Unsigned

Bio

.. .. } .. .. .. ..!-Remove Maroon Menu Bar Band Page!-<.. .. .. .. .. .. .. .. .. .. ...... .. .. .... .. ...... .... .. ...... .. .. ...... .. .. ...... .. .. ...... .. .... ...... .. .... .. .. .... .. ...... .... .. ...... .. .. ....BOOKING CONTACT .... .. .. ......Dave Sweet.... .. .. .. ....LABEL .... .. .. ......Unsigned...... .. .. ....ARTWORK & LAYOUT .... .. .. ......Daniel Seneriz.... .. .. .. ......Sam Kaufman.... .. .. .. ....PHOTOGRAPHY.... .. .. ......Geno G.... .. .. .... .......... .. .... .. .. .. .. .... .... .. .. .. ....We have just posted some upcoming shows! .... .... .... The NMG crew would like to start the summer off by sincerely thanking each and every fan that has ever come out to a show. We're all working for something bigger and, without your help, the things we've achieved would not have been possible. We've all been in bands before, but none of us have ever seen the besiege of support we've received since we began"No More Goodbyes". Our fans have given us jobs and places to stay. We're together for birthday parties and for funerals. Most social events become concerts without instruments, and the family keeps getting bigger. We've got some killer things lined up for the latter part of the year, including a video release and some studio time in our future. So stay the course and keep getting out to feed the machine. If and when the big moment finally arrives, you'll have been there to witness it. Much love.. .... .... .... We would like to thank all of you for your continued support!! .. .. Scars of Tomorrow is available on iTunes for download. .... .. .. .. .... .. .. .. .. .. .. .. .. ...... />....

Members

.... .. .. ...... .. .. ...... .. .. ...... .. .. .... .. .. ........ .. ........ .. ........ .. ...... .... .. .. .. .... .. .. .. .. ....

Influences

Sounds Like
Bio:
.. .. } .. .. ..
!-Remove Maroon Menu Bar Band Page!-<
.. ..
We have just posted some upcoming shows!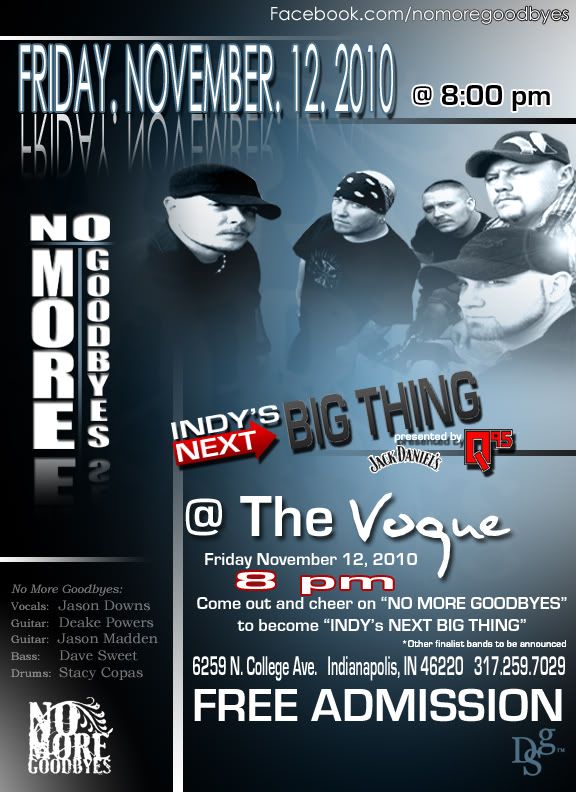 ..

The NMG crew would like to start the summer off by sincerely thanking each and every fan that has ever come out to a show. We're all working for something bigger and, without your help, the things we've achieved would not have been possible. We've all been in bands before, but none of us have ever seen the besiege of support we've received since we began"No More Goodbyes". Our fans have given us jobs and places to stay. We're together for birthday parties and for funerals. Most social events become concerts without instruments, and the family keeps getting bigger. We've got some killer things lined up for the latter part of the year, including a video release and some studio time in our future. So stay the course and keep getting out to feed the machine. If and when the big moment finally arrives, you'll have been there to witness it. Much love..



..

We would like to thank all of you for your continued support!!
Scars of Tomorrow is available on iTunes for download.
/>
Member Since:
March 30, 2007
Members: