Play

Play Next

Add to queue
Play

Play Next

Add to queue

2,846 plays

Play

Play Next

Add to queue

2,665 plays

Play

Play Next

Add to queue

2,076 plays

Play

Play Next

Add to queue

1,258 plays

Play

Play Next

Add to queue

1,350 plays
Genre: Electro / Grime / Happy Hardcore

Location 東京都, JP

Profile Views: 72853

Last Login: 7/7/2010

Member Since 7/2/2007

Website http://www.nmbrs.net

Record Label Numbers12345678.

Type of Label Indie

Bio

.. .. ........We play abstract electronics, acid house, electro, crunk, dancehall, disco, funk, grime, hip-hop, r&b, rave and techno...We like to book some of our favourite artists from around the globe to play at our club.....ナンバーズとは2003年にスコットランドのグラスゴーで始まった。これまでのパーティーではSquare Pusher、Autechre、Ghostface Killah、Dabrye、Dj Funk、Modeselektor、A--Trak、Dj Craze、Uffieなど数多くのゲストがプレイしたグラスゴーで有名なイベント。ナンバーズによって東京のミュージックシーンが生まれ変わるであろう!!.... Numbers. Now in to its 6th year, Numbers is a collective of record labels, designers, writers, DJs and producers. The club was rated among the top 2 clubs in the UK and "one of the coolest clubs in the world" by Mixmag and the focus of their recent 4 page spread on Glasgow. This last year has seen the Numbers crew up the ante with our DJ's releasing records and performing all over Europe whilst our in house labels Stuffrecords and Wireblock have dominated the UK's electronic music scene. Expect some big announcements ahead as we prepare to do something very special with these labels..... ...... ...... ...... Forthcoming Tokyo Numbers.. ...... .. ...... Previous Numbers Tokyo.. ...... ...... ........ ...... ...... ...... .... ..

Members

Influences

................North South Divide....Check out our shop ..here............ ............Numbers Podcast....i-Tunes users get it ..here....Get the direct RSS Feed ..here....Access via Feedburner ..here...... ................Video Gallery....+ Videos for the club ..here........Latest Videos......... Feadz/Uffie Errorsmith @ Numbers........ .. .. .. ...... DJ Feadz @ Numbers........ .. .. .. ...... Dabrye LIVE @ Numbers........ .. .. .. ...... .... ..........Photo Gallery....Check out our pictures ..here...... ..DJFeadz/Uffie/Errorsmith.... ............Dabrye + MC Kadence.... ............Diplo + Bonde Do Role.... ......

Sounds Like
No recent updates in this category.
Why not...
Bio:
.. ..
We play abstract electronics, acid house, electro, crunk, dancehall, disco, funk, grime, hip-hop, r&b, rave and techno.
We like to book some of our favourite artists from around the globe to play at our club.
ナンバーズとは2003年にスコットランドのグラスゴーで始まった。これまでのパーティーではSquare Pusher、Autechre、Ghostface Killah、Dabrye、Dj Funk、Modeselektor、A--Trak、Dj Craze、Uffieなど数多くのゲストがプレイしたグラスゴーで有名なイベント。ナンバーズによって東京のミュージックシーンが生まれ変わるであろう!!
Numbers. Now in to its 6th year, Numbers is a collective of record labels, designers, writers, DJs and producers. The club was rated among the top 2 clubs in the UK and "one of the coolest clubs in the world" by Mixmag and the focus of their recent 4 page spread on Glasgow. This last year has seen the Numbers crew up the ante with our DJ's releasing records and performing all over Europe whilst our in house labels Stuffrecords and Wireblock have dominated the UK's electronic music scene. Expect some big announcements ahead as we prepare to do something very special with these labels.
Forthcoming Tokyo Numbers
Previous Numbers Tokyo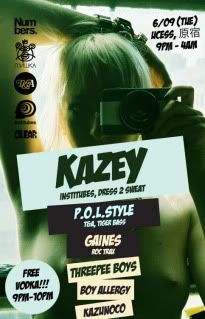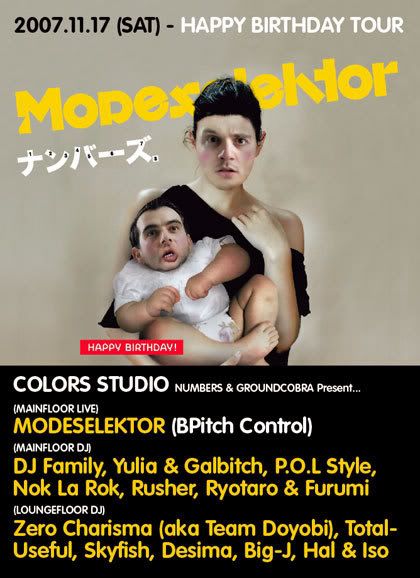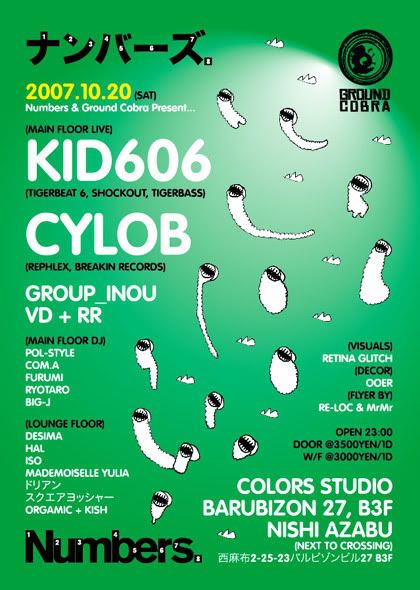 Member Since:
July 02, 2007
Influences:
North South Divide
Check out our shop
here
Numbers Podcast
i-Tunes users get it
here
Get the direct RSS Feed
here
Access via Feedburner
here
Video Gallery
+ Videos for the club
here
Latest Videos...
Feadz/Uffie Errorsmith @ Numbers
..
DJ Feadz @ Numbers
..
Dabrye LIVE @ Numbers
..
Photo Gallery
Check out our pictures
here
DJFeadz/Uffie/Errorsmith
Dabrye + MC Kadence
Diplo + Bonde Do Role
Record Label:
Numbers12345678.