No recent updates in this category.
Why not...
Ocean Defenders hasn't earned any badges yet... have you?
Ocean Defenders has 9817 friends.
About me:

*PLEASE NOTE*
This site is a place where myspace users can show their support for Greenpeace's campaign, "Defending our Oceans". Comments and articles posted on this website are owned by the person who posted them and do not necessarily represent the views of Greenpeace. - All questions will be answered at the soonest possible moment.
Greenpeace's Defending our Oceans campaign is commited to defending the health of the world's oceans and the plants, animals and people that depend upon them.
The 'Defending our Oceans' voyage is the single largest expedition that Greenpeace has ever undertaken. This incredible year-long journey will tell the story of the crisis facing our oceans from the Azores to Antarctica, take you to places few humans have been, confront the villains and promote solutions – and you can join us. While many of us love the ocean, it's hard to imagine what is happening just beyond our beaches, and hard to picture the scale of destruction and the impact that it's having. By travelling to most of the oceans in the world, this voyage aims to change this  - we will make the unseen, seen. Every second breath you take comes from the oceans. The oceans give life to our planet. In return we are suffocating them; dredging up too many fish, stealing food from needy mouths, carelessly killing countless creatures including whales, turtles, sea birds and thousand year old corals, we fill the oceans with pollution and warm them with climate change.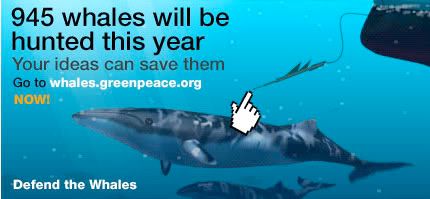 .. I edited my profile with
Thomas' Myspace Editor V4.4
Who I'd like to meet:
For too long, marine life has been largely open for the taking by anyone possessing the means to exploit it. Rapid advances in technology have meant that the ability, reach and power of vessels and equipment used to exploit marine life now far outweigh nature's ability to maintain it. If left unchecked, this will have far reaching consequences for the marine environment and for people who depend on it. Ocean life comes in an incredible array of shapes and sizes - from microscopic plankton to the largest of the great whales. Yet many species have been, or are being, driven towards extinction through devastating human impacts. The Defending our Oceans voyage will expose these threats, confront the villains and promote solutions such as a global network of ocean parks called marine reserves.
..
Status:

In a Relationship

Here for:

Networking, Serious Relationships, Friends

Hometown:

planet earth

Body type:

Average

Zodiac Sign:

Leo

Children:

Someday

Occupation:

Ocean Defender