Play

Play Next

Add to queue
Play

Play Next

Add to queue

525 plays

Play

Play Next

Add to queue

824 plays

Play

Play Next

Add to queue

516 plays
Location NASHVILLE, Tennessee, US

Profile Views: 16344

Last Login: 11/11/2010

Member Since 8/30/2009

Website EverlifeOnline.com

Type of Label Indie

Bio

.......... .. .. .. .. .. .... .... .. .. .. .. .. .. .. .... .......... .. Three very young sisters raised on 60's and 70's rock n' roll stood together in 1997 to make a musical promise that would determine their future – to become a relevant, popular music act. Wading the waters of the music business as teenagers allowed Julia, Sarah and Amber to reach a business and musical maturity beyond their current years. .... With successful stops at SHELTERecords and Disney's Buena Vista Records, this pop rock threesome had the amazing opportunity to contribute to 12 Disney Compilations, release 2 albums and perform for millions of fans while opening shows for the Jonas Brothers and on tours with Disney teen superstars The Cheetah Girls and Miley Cyrus. .... "We grew up performing for years in random places; from churches to bars to parties to festivals. We always had to gauge our audience and learn what they would respond to. The Disney tours helped us perfect that, how to perform for hundreds of thousands of kids, parents and teens all at once and still capture them individually." - Julia .... At the conclusion of 2007, Everlife found themselves at a crossroads – although "family-friendly,", their songwriting and musical style was maturing – making it harder to be a "tween" band. Coupled with the news of their parent's divorce, the three devoted sisters decided to step back and regroup. .... "When we came to this place where we felt like our world was shaken, we realized we had a choice to go through the heartache and confusion with each other or avoid it and become bitter and closed off. Because we decided to face it all as a family, we really became stronger together, and, ultimately, as individuals." - Sarah .... Spending their time writing, touring Germany with the USO, creating and promoting their own Christmas tour, organizing and headlining a 2 month tour through 8 countries in Europe and independently producing a new 4 song EP, the girls focused on developing their musical prowess and defining, together, exactly what kind of band they are. Julia (20), Sarah (23) and Amber (25) emerged as beautiful young women with amazing musical stories to tell. Their resulting balanced and positive view of life and classic pop rock style resonates with their peers and will capture your heart. .... "After parting ways with the label, and unexpectedly having to self-manage, we were thrown into really figuring out who we were as Everlife. We realized we're always telling stories, writing about the things we know and hoping to inspire people in their lives." - Amber .... "We want our music to resonate with people. To showcase what we love, a mix of faith, harmony and sticking to our roots in rock'n'roll." - Julia .... Remaining true to their "family friendly" core and keeping the pact the sisters made as children, Everlife has become a group of unquestionably savvy businesswomen and musicians. Although their new journey has just begun, their timeless music, harmonious vocals and deeply honest lyrics prove Julia, Sarah and Amber truly have come of age. .... For more information on Everlife, please visit you can go to http://www.everlifeonline.com .... For booking or sponsorship info., please contact Robin Jones at of Tattered Suit Entertainment, at 972.672.4977 or via email at robin@tatteredsuit.com .... For publicity requests, contact Brian Mayes at Nashville Publicity Group, 615-771-2040 or brian@nashvillepublicity.com .... ........ ...... .. ........ ...... .. .. .. ...... ...... .. .. ...... .... ...... .. .......... .......... .......... .............. ............ .... ............ ............ .... .. ...... ...... ...... .... ...... .. .. ..

Members

........ ...... .. .............. .. .......... .. .......... .. ........ .. .. .. .. .. .. .. .... .. .. .. .. .. .. .. .... .. .. .. .. .. .. .. .... .. .. .. .. .. .. .. .... .. .. .. .. .. .. .. .... .. .. .. .. .. .. .. .... .. .. .. .. .. .. .. .... .. .. .. .. .. .. .. .... ........ .. .. .. .. .. .. .... .. .. .. .. .. .. .. .... .. .. .. .. .. .. .. .... .. .. .. .. .. .. .. .... .. .. .. .. .. .. .. .. ...... ...... .... ...... .... ...... .... ...... .... ...... .... ...... ..

Influences

Sounds Like
No recent updates in this category.
Why not...
00:34 | 328 plays | Sep 3 2009
Bio:

Three very young sisters raised on 60's and 70's rock n' roll stood together in 1997 to make a musical promise that would determine their future – to become a relevant, popular music act. Wading the waters of the music business as teenagers allowed Julia, Sarah and Amber to reach a business and musical maturity beyond their current years.

With successful stops at SHELTERecords and Disney's Buena Vista Records, this pop rock threesome had the amazing opportunity to contribute to 12 Disney Compilations, release 2 albums and perform for millions of fans while opening shows for the Jonas Brothers and on tours with Disney teen superstars The Cheetah Girls and Miley Cyrus.

"We grew up performing for years in random places; from churches to bars to parties to festivals. We always had to gauge our audience and learn what they would respond to. The Disney tours helped us perfect that, how to perform for hundreds of thousands of kids, parents and teens all at once and still capture them individually." - Julia

At the conclusion of 2007, Everlife found themselves at a crossroads – although "family-friendly,", their songwriting and musical style was maturing – making it harder to be a "tween" band. Coupled with the news of their parent's divorce, the three devoted sisters decided to step back and regroup.

"When we came to this place where we felt like our world was shaken, we realized we had a choice to go through the heartache and confusion with each other or avoid it and become bitter and closed off. Because we decided to face it all as a family, we really became stronger together, and, ultimately, as individuals." - Sarah

Spending their time writing, touring Germany with the USO, creating and promoting their own Christmas tour, organizing and headlining a 2 month tour through 8 countries in Europe and independently producing a new 4 song EP, the girls focused on developing their musical prowess and defining, together, exactly what kind of band they are. Julia (20), Sarah (23) and Amber (25) emerged as beautiful young women with amazing musical stories to tell. Their resulting balanced and positive view of life and classic pop rock style resonates with their peers and will capture your heart.

"After parting ways with the label, and unexpectedly having to self-manage, we were thrown into really figuring out who we were as Everlife. We realized we're always telling stories, writing about the things we know and hoping to inspire people in their lives." - Amber

"We want our music to resonate with people. To showcase what we love, a mix of faith, harmony and sticking to our roots in rock'n'roll." - Julia

Remaining true to their "family friendly" core and keeping the pact the sisters made as children, Everlife has become a group of unquestionably savvy businesswomen and musicians. Although their new journey has just begun, their timeless music, harmonious vocals and deeply honest lyrics prove Julia, Sarah and Amber truly have come of age.

For more information on Everlife, please visit you can go to http://www.everlifeonline.com

For booking or sponsorship info., please contact Robin Jones at of Tattered Suit Entertainment, at 972.672.4977 or via email at robin@tatteredsuit.com

For publicity requests, contact Brian Mayes at Nashville Publicity Group, 615-771-2040 or brian@nashvillepublicity.com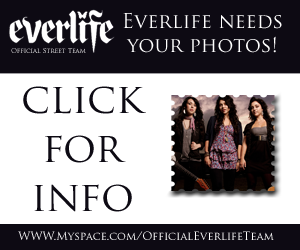 ....

....

Member Since:
August 30, 2009
Official Everlife Street Team has 11675 friends.