Play

Play Next

Add to queue
Play

Play Next

Add to queue

5,312 plays

Play

Play Next

Add to queue

5,120 plays

Play

Play Next

Add to queue

21,331 plays

Play

Play Next

Add to queue

721 plays

Play

Play Next

Add to queue

30,726 plays
Genre: Country / R&B / Southern Rock

Location NASHVILLE, Un

Profile Views: 94343

Last Login: 1/8/2013

Member Since 2/16/2008

Website www.reverbnation.kennyleemusic

Record Label KLP records

Type of Label Indie

Bio

Kenny Lee, is a member of that rare breed of Country artist, that prefers to display his compassion. Kenny's father introduced him to Country music at a young age. He spent much of his youth harmonizing with friends. Kenny mixes Country with R&B, blends them into inspirational lyrics which transcends the preachy trappings, of most positive music, with a message. "I try to stay positive." says Kenny Lee. ..."but this world is not all about positive living, so I just write what I feel in my heart at the time." Kenny's song, titled "Change" earned him the the respectful invitation to the 2009 Presidential Inauguration. He is also a dedicated philanthropist and continues to support many charitable organizations. Kenny Lee has had two top ten hits in the past and has written songs for movies such as "ELVIS IS ALIVE". Working alongside the great Don Murray, who worked with "Knots Landing"; "Planet of the Apes", and "Peggy Sue Got Married". Kenny was influenced by close friends in his life such as the late,Brook Benton; famous for the song "Rainy Night in Georgia" and the late, Vern Gosdin, famous for "Chiseled In Stone" and many others. Kenny has also worked with many of the greats such as; Willie Nelson, Ronnie Millsap, Ronnie McDowell , Percy Sledge,T.G. Sheppard, Reba McEntire, Billy Dean and The Drifters, just to name a few. Being instrumental in the mentoring of Lucy Hale, of the television show "Pretty Little Liars" as well as pop artist; Megan McCauley who has written and performed many movie soundtracks such as "Beverly Hills Chihuahua" as well as several other top shelf box office hits. Last but certainly not least, Deidre Bentley, Kenny Lee's own daughter. Deidre Bentley is currently making her name well known in the Country music industry today. Kenny Lee is currently in preparation of planning tour dates at this time, to promote his new music. Kenny says... "My fan's feel what I feel inside when I sing for them and that means more to me than anything

Members

MY DAUGHTER DEIDRE..THREE CHAIN RD MUSIC VIDEO...... .. .. .. .. .. ..> FROM MY HERO JONNA IN IRAQ Kenny, How are you doing my dear? hope you had a great weekend! did you go to Houston yet? I miss you and I listen to you music everyday, you are my hero Kenny, your music keeps me alive and it keeps me going over this war torn country! I love you and I'm thankful! to have an amazing country STAR friend like you! you have a wonderful one and god bless you for making such beautiful music! we all love you over here! your biggest fan and friend JONNA ........ .... ....Trace Adkins Brandi Nicole Kenny lee Back stage at the grand old opry before the show ...... concert picture 80,000 people lol follow the arrow and there I am This shot was taken back stage by the news paper ...... <img style="visibility:hidden;width:0px;height:0px;" border=0 width=0 height=0 src="http://c.gigcount.com/wildfire/IMP/CXNID=2000002.0NXC/bT*xJmx*PTEzMDQ*NzIwMzI5NDgmcHQ9MTMwNDQ3MjAzNzE1MiZwPTI3MDgxJmQ9Jmc9MiZvPTgwNmE3NGRlMGQ3MDQwNzU4Njhm/ODVlNGZlOTQ3NDA*Jm9mPTA=.gif" /> <object classid="clsid:D27CDB6E-AE6D-11cf-96B8-444553540000" width="261" height="200"><param name="movie" value="http://cache.reverbnation.com/widgets/swf/41/pro_widget.swf?id=artist_842827&posted_by=artist_842827&skin_id=PWVS2002&border_color=000000"></param><param name="allowscriptaccess" value="always"></param><param name="allowNetworking" value="all"></param><param name="allowfullscreen" value="true"></param><param name="wmode" value="opaque"></param><param name="quality" value="best"></param><embed src="http://cache.reverbnation.com/widgets/swf/41/pro_widget.swf?id=artist_842827&posted_by=artist_842827&skin_id=PWVS2002&border_color=000000" type="application/x-shockwave-flash" allowscriptaccess="always" allowNetworking="all" allowfullscreen="true" wmode="opaque" quality="best" width="261" height="200" FlashVars="gig_lt=1304472032948&gig_pt=1304472037152&gig_g=2"></embed> <param name="FlashVars" value="gig_lt=1304472032948&gig_pt=1304472037152&gig_g=2" /></object><br/> <img style="visibility:hidden;width:0px;height:0px;" border=0 width=0 height=0 src="http://www.reverbnation.com/widgets/trk/41/artist_842827/artist_842827/t.gif" />

Influences

Brook Benton, Elvis Presley, & My buddy Vern Gosdin "skinny" <embed type="application/x-shockwave-flash" src="http://cache.reverbnation.com/widgets/swf/44/pro_widget.swf" height="125" width="300" align="top" bgcolor="#ffffff" loop="false" wmode="transparent" quality="best" allowScriptAccess="always" allowNetworking="all" allowFullScreen="true" seamlesstabbing="false" flashvars="id=artist_842827&skin_id=PWFS5011&background_color=F1F1F1&border_color=cccccc&font_color=333333&street_team=false" />http://www.reverbnation.com/tunepak/3364463

Sounds Like

Myself :)
04:16 | 304 plays | Oct 28 2010
Bio: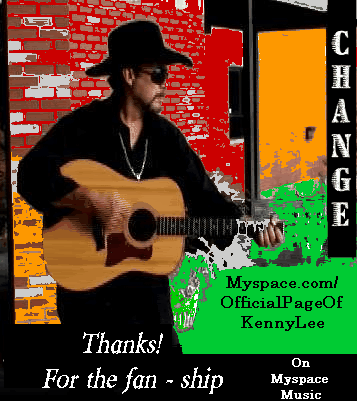 HIT SONG WRITER SINGER MUSIC PRODUCER AND MUSIC VIDEO PRODUCER. WITH TWO TOP TEN HITS , WRITER FOR MOVIE SOUND TRACKS , AND THE LIST GO'S ON.While there are lots of Country stars who love to strut their machismo on record and on stage, Country star Kenny Lee is a member of that rare breed of musicians that prefer to display their compassion. Kenny Lee, the son of a military man, spent most of his life in South Carolina. His father introduced him to Country music at a young age and he spent much of his youth playing with friends. He was heavily influenced by the time he spent with his best bud Alvin Vinson who, tragically, died many years ago in a house fire. Kenny Lee mixes Country and R&B and couples them with his inspirational lyrics in a manner that transcends the preachy trappings of most positive music with a message. "I try to stay positive," says Kenny Lee, "but this world is not all about positive living so I just write what I feel in my heart at the time. My advice to other writers is to always stay as real to your music as possible." Kenny Lee also wrote a song titled "Change" as his endorsement for Barack Obama. And was invited to sing at the inauguration in D.C. He is also a dedicated philanthropist and continues to support organizations such as UNICEF, The March of Dimes and the Campaign for Cancer Research among others. Kenny Lee has also been in the spot light many times in his career with two top ten hits in the past entitled nothing wrong and it's too late and has written songs for movies such as Elvis is alive working alongside of the great Don merry who worked with knots landing planet of the apes Peggy sue got married. Kenny Lee learned his music trade from his friends that were in his life he was very lucky to have them to help lead him in the right direction and mold him into what he is today people like Brook Benton famous for the song rainy night in Georgia and Vern Gosden famous for chiseled in stone this ant my first rodeo and many
more.He
also had the chance and did produce the voice of country music and did, Kenny has also worked with many artist own stage together such as Willie nelson, Ronnie Millsap, Ronnie McDowell , Vern Gosden , Percy Sledge , TG Sheppard, Reba Mac entire,Billy Dean The drifters , Just to name a very few. Kenny Lee plans own going back out on the road one day soon to share his new music with all of his fan's Kenny lee wants to connect with them on a more personal level this time Kenny says his fan's feel what he feels inside when he sings for them and that means more to Kenny Lee than anything, Kenny Lee says with out my fan's I am nothing !
Copy this code to your website to display this banner!
..
The Telling....Coming soon!
Christina Iannuzzi
|
MySpace Video
FEATURED ARTIST OF THE WEEK=DEIDRE
This is my Daughter she is amazing thanks to everyone for there support.
THREE CHAIN RD MUSIC VIDEO
..ADD DEIDRE >
www.myspace.com/deidreofficialpage
My friend Raquel, very talented song writer ,artist , and so many thangs she is amazing ADD HER . www.myspace.com/raquelsongwriter
Raqeul can oil pant any picture you mite need she's the best oil panting artist I have ever seen! at a price that can't be beat! check out this picture of my dogs its amazing.
www.myspace.com/raquelsongwriter
The song that made History
..
Member Since:
February 16, 2008
Members:
..
Keep on making that music Kenny, it was your track "change" that help fire up millions and get them to the polls in November, you helped influence American history you are both one hell of and artist and friend! .. ..<> MY DAUGHTER DEIDRE
THREE CHAIN RD MUSIC VIDEO
> FROM MY HERO JONNA IN IRAQ Kenny, How are you doing my dear? hope you had a great weekend! did you go to Houston yet? I miss you and I listen to you music everyday, you are my hero Kenny, your music keeps me alive and it keeps me going over this war torn country! I love you and I'm thankful! to have an amazing country STAR friend like you! you have a wonderful one and god bless you for making such beautiful music! we all love you over here! your biggest fan and friend JONNA
Trace Adkins Brandi Nicole Kenny lee Back stage at the grand old opry before the show
concert picture 80,000 people lol follow the arrow and there I am This shot was taken back stage by the news paper
Influences:
Brook Benton, Elvis Presley, & My buddy Vern Gosdin "skinny"
Sounds Like:
Myself :)
Record Label:
KLP - Nashville T.N.http://www.reverbnation.com/tunepak/3364463
Kenny Lee has 82754 friends.