Play

Play Next

Add to queue
Play

Play Next

Add to queue

1,831 plays

Play

Play Next

Add to queue

711 plays

Play

Play Next

Add to queue

497 plays

Play

Play Next

Add to queue

405 plays

Play

Play Next

Add to queue

414 plays
Genre: Folk / Metal

Location Newcastle-Upon-Tyne, Northeast, Un

Profile Views: 338919

Last Login: 11/4/2012

Member Since 10/21/2006

Website skycladmusic.co.uk

Record Label Scarlet Records

Type of Label Indie

Bio

.. ...... .... .. .. .. .. .. .. .. .. .... Skyclad are often referred to as 'The Originators of 'Folk-Metal' – a sub-genre of metal that mixes thrash/speed metal elements with traditional instruments and folk-style melodies – as typified by their seminal album 'The Wayward Sons Of Mother Earth' (1991). The band produced a string of highly acclaimed albums – 'A Burnt Offering For The Bone Idol' (1992), 'Jonah's Ark' (1993), 'The Prince Of The Poverty Line (1994) and 'The Silent Whales Of Lunacy' (1995) - and gained a reputation as a powerful and energetic live act with many European tour and festival appearances (such as Dynamo Festival, 1992). During the late 90's, despite several line-up changes, the band continued to develop and experiment with their musical style - producing albums such as 'Irrational Anthems (1996), 'Oui Avant Garde a Chance' (1996), 'The Answer Machine' (1997) and 'Vintage Whine' (1999) – they even undertook several 'unplugged' tours across Europe alongside appearances at festivals such as Wacken Open Air (1998) and 'The Gods Of Metal' (1999) before returning with a more 'metal' album, 'Folkemon' in 2000. Whilst Folkemon proved to be the last album for founder member and vocalist Martin Walkyier, the band decided to continue and released the 'Swords of a Thousand Men' single (featuring 'Eddie Tenpole' himself) and the 'unplugged' album 'No Daylights Nor Heeltaps' in 2002. A new studio album 'A Semblance Of Normality' followed in 2004. As well as having all the usual folk instruments and influences, this album also featured the Royal Philharmonic Orchestra and was well received by both fans and media worldwide. 'Semblance' marked the start of an exciting new chapter for Skyclad, who, while continuing to play in strongholds such as Germany (Dong Open Air, 2003 & 2005 and Burgfolk, 2004), also made successful appearances in new territories such as Sweden (the '34,000 ton of Metal' Cruise, 2004), the Czech Republic (Rock Café, Prague, 2005), Finland (Tuska Open Air, 2005) and Portugal (Beja, 2005). All this live work culminated in a full European Tour in early 2006, which took in ten countries, and the release of the 'Jig-A-Jig' EP – which the band produced themselves as a special one-off release for the tour. Since then, as well as playing gigs and festivals across Europe – including the 'Battle of Metal' 2007 and Club Tochka in Moscow in 2007 and 'Folk'n'Roll 2008' in Pecs, Hungary - Skyclad have written and recorded a new full-length studio album (the band's twelfth). Entitled 'In The…All Together', this ten-track album was recorded in Italy during August 2008. Again, as with 'Semblance', Dario Mollo engineered and mixed the album at his 'Damage Inc' studio in Ventimiglia. However, unlike 'Semblance', this album was recorded completely by the band members – so there are no 'guests' or orchestras etc. This was a deliberate move to try and keep the recordings as 'live and fresh' as possible and one aimed at taking the band into the studio 'all together'. This wasn't exactly a 'back to basics' strategy, as the songs on the new album are far from basic as the band continues to experiment with odd timings and tunings. Another benefit of this approach is that Skyclad will be able to play more of the album songs live. 'In The… All Together' is scheduled for release by Scarlet Records in late spring 2009..... ....Skyclad Forum........ Follow ..this link.. to access the Official Skyclad Forum and this is the contact address for Skyclad information and merchandise: skyclad.info@btinternet.com ...... ....Skyclad Booking Worldwide........ For bookings please contact skyclad.info@btinternet.com .. .. .. .. .. .. .. ...... ....Made with the MyTheme ..myspace codes...... .. .. .. .. ...... Layout by ..CoolChaser.. .. .. ...... .. .. .. .. .. ..

Members

..Kevin Ridley.. .. Vocals, Guitars .... ..George Biddle.... Fiddle, Keyboard, Piano.... ..Steve Ramsey.. .. Guitars.... ..Graeme English.... Bass.... ..Arron Walton.... Drums....

Influences

Sounds Like

Skyclad
posted an event

You're going

You want to go
00:13 | 932 plays | Aug 25 2008
Bio: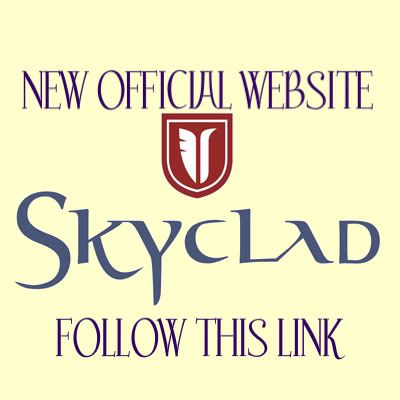 ..


Skyclad are often referred to as 'The Originators of 'Folk-Metal' – a sub-genre of metal that mixes thrash/speed metal elements with traditional instruments and folk-style melodies – as typified by their seminal album 'The Wayward Sons Of Mother Earth' (1991). The band produced a string of highly acclaimed albums – 'A Burnt Offering For The Bone Idol' (1992), 'Jonah's Ark' (1993), 'The Prince Of The Poverty Line (1994) and 'The Silent Whales Of Lunacy' (1995) - and gained a reputation as a powerful and energetic live act with many European tour and festival appearances (such as Dynamo Festival, 1992). During the late 90's, despite several line-up changes, the band continued to develop and experiment with their musical style - producing albums such as 'Irrational Anthems (1996), 'Oui Avant Garde a Chance' (1996), 'The Answer Machine' (1997) and 'Vintage Whine' (1999) – they even undertook several 'unplugged' tours across Europe alongside appearances at festivals such as Wacken Open Air (1998) and 'The Gods Of Metal' (1999) before returning with a more 'metal' album, 'Folkemon' in 2000. Whilst Folkemon proved to be the last album for founder member and vocalist Martin Walkyier, the band decided to continue and released the 'Swords of a Thousand Men' single (featuring 'Eddie Tenpole' himself) and the 'unplugged' album 'No Daylights Nor Heeltaps' in 2002. A new studio album 'A Semblance Of Normality' followed in 2004. As well as having all the usual folk instruments and influences, this album also featured the Royal Philharmonic Orchestra and was well received by both fans and media worldwide. 'Semblance' marked the start of an exciting new chapter for Skyclad, who, while continuing to play in strongholds such as Germany (Dong Open Air, 2003 & 2005 and Burgfolk, 2004), also made successful appearances in new territories such as Sweden (the '34,000 ton of Metal' Cruise, 2004), the Czech Republic (Rock Café, Prague, 2005), Finland (Tuska Open Air, 2005) and Portugal (Beja, 2005). All this live work culminated in a full European Tour in early 2006, which took in ten countries, and the release of the 'Jig-A-Jig' EP – which the band produced themselves as a special one-off release for the tour. Since then, as well as playing gigs and festivals across Europe – including the 'Battle of Metal' 2007 and Club Tochka in Moscow in 2007 and 'Folk'n'Roll 2008' in Pecs, Hungary - Skyclad have written and recorded a new full-length studio album (the band's twelfth). Entitled 'In The…All Together', this ten-track album was recorded in Italy during August 2008. Again, as with 'Semblance', Dario Mollo engineered and mixed the album at his 'Damage Inc' studio in Ventimiglia. However, unlike 'Semblance', this album was recorded completely by the band members – so there are no 'guests' or orchestras etc. This was a deliberate move to try and keep the recordings as 'live and fresh' as possible and one aimed at taking the band into the studio 'all together'. This wasn't exactly a 'back to basics' strategy, as the songs on the new album are far from basic as the band continues to experiment with odd timings and tunings. Another benefit of this approach is that Skyclad will be able to play more of the album songs live. 'In The… All Together' is scheduled for release by Scarlet Records in late spring 2009.

..Skyclad Forum..

Follow this link to access the Official Skyclad Forum and this is the contact address for Skyclad information and merchandise: skyclad.info@btinternet.com


..Skyclad Booking Worldwide..

For bookings please contact skyclad.info@btinternet.com or Icon Music Agency: myspace.com/iconmusicagency.






Made with the MyTheme myspace codes
Layout by
CoolChaser
.. ..
Member Since:
October 21, 2006
Members:
Kevin Ridley
Vocals, Guitars

George Biddle
Fiddle, Keyboard, Piano

Steve Ramsey
Guitars

Graeme English
Bass

Arron Walton
Drums


Sounds Like:
Skyclad
Record Label:
Scarlet Records