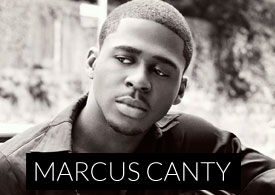 Anyone who performs at Harlem's world-famous Apollo theater at age 11 – which has hosted the likes of Marvin Gaye, Stevie Wonder and Aretha Franklin – seems destined for great things. But for much of his youth, Marcus Canty thought he was born to play basketball. Lucky for us, he never grew to be seven feet tall.
Artist Profile
Marcus Canty Radio


Share on:
OneTwoWatch: Skylar Grey
Holly Brook retreated to Oregon and emerged as Skylar Grey -- her "superhero" alias -- and wrote "Love the Way You Lie," which was scooped up by Eminem and Rihanna. Now, she's written for Dr. Dre and Kaskade and boasts Eminem as the producer of her upcoming album.
OneTwoWatch: Megan and Liz
Actually, even if you don't think you know them, you've probably encountered them at some point. These musical twins (squint and you'll see it) started out at age 15 doing covers on YouTube and rank in the top-followed music channels on the site, so it's likely you've seen a cover or two from them.
OneTwoWatch: Conor Maynard
Conor Maynard has been called the "British Justin Bieber," but that's a pretty lazy comparison. Yes, their rises to fame are similar -- Bieber was discovered by R&B superstar Usher on Youtube; Maynard was discovered by R&B superstar Ne-Yo on Youtube -- and they've both attracted slick celebrity producers...
OneTwoWatch: Gold Fields
If you've ever met a band from Australia … you know that bands from Australia are fun. Gold Fields are no exception. Their music - with it's fun, pop-rock-dance-move-your-ass vibe - has a readiness to it too. It's ready to go and ready to take you there. And it makes you feel pretty, damn good to listen to. [Debut album "Black Sun" out 2.26.13]
OneTwoWatch: Zedd
giv­en name An­ton Za­slavs­ki. Born in Russia. Raised in Ger­many. Classically trained as a pianist. And currently tak­ing the EDM and pop worlds by storm. His shows are jam packed with hap­py peo­ple. Gaga loves him. Skrillex loves him. Bieber loves him. We love him.