Play

Play Next

Add to queue
Play

Play Next

Add to queue

1,337 plays

Play

Play Next

Add to queue

779 plays
Genre: Electronica / House / Techno

Location PARIS, Fr

Profile Views: 71804

Last Login: 5/30/2012

Member Since 10/22/2007

Website http://www.myspace.com/ornormsoundsystem

Record Label ORNORM

Type of Label Indie

Bio

Depuis 2002, l'association a organisé plus d'une centaine d'évènements dans toutes sortes de lieux: festivals, salles de concerts, clubs, bars, château ou encore en plein air. Nos motivations sont à la fois la musique, le partage mais aussi le respect de l'autre et des lieux où se déroulent nos fêtes. Nous entretenons des liens étroits avec d'autres associations et collectifs en France et à l'étranger afin de favoriser les échanges culturels, musicaux et humains, ce qui nous permet de proposer des programmations toujours plus éclectiques, tout en conservant un esprit familial qui nous est cher depuis le lancement de l'association. On est passé par là ! Glazart (75), Belushi's Club (75), Aventures exclusives (75), Techno+ (75), Le 4Elements (75), Le Batofar (75), MD6 Festival (77), Festival Festiflart (77), Festival Ecolo'Zik (91), Festival La Vache Verte (60), Les Caves le Chapelais (75), Le Zorba (75), Le Concorde Atlantique (75), Pointe Lafayette (75), La Régence (75), L'escale (75), Le Bric a Brac (75), Le Radazik (91), Le Karambole Café (75), Le Cercle Rouge (75), L'entrepote au CAES (91), Le Sister Pub (91), Le Jet7 (91), Salle MaisonNeuve (91), Salle Courtaboeuf (91), Centre Culturel de Dourdan (91), Château du Vivier (77), C.A.T. (33), VHP (33), EightBall Studios (77)

Members

KHAQ (VJ), KMAR (Live), DAF (DJ+Live), M4X (DJ), YOH-ONE (DJ), GNOLL (DJ), KIAB (DJ), FLO (DJ+Live), FLUC (DJ), XAVIOUZ (LIGHT)

Influences

RAVE

Sounds Like
ORNORM SOUND SYSTEM


C'est un collectif basé au sud de Paris et dont les membres ont pour passions communes les musiques électroniques et l'organisation d'évènements musicaux, culturels et festifs. Notre objectif est de proposer des soirées originales et conviviales tant sur le plan de la programmation que sur celui des prestations effectuées par les différentes équipes techniques (son, lumière, vidéo et décoration). Sur le principe du « Do It Yourself » nous créons nos propres décors en faisant de la récupération de matériaux. Au fil du temps nous nous sommes créé un petit parc de matériel son, lumière et vidéo ce qui nous permet une certaine autonomie dans l'organisation de nos événements.

Depuis 2002, l'association a organisé et co-organisé plus d'une centaine d'évènements dans toutes sortes de lieux ( festivals, salles de concerts, clubs, bars, château ou encore en plein air). Parmis ces évènements on retiendra les soirées ALIEN MEETING (2007 et 2009), la soirée CONTRAST (2009), les soirées ELECTROBUS qui ont lieu tout au long de l'année dans différents endroits de Paris, la résidence DELICIOUS au Jet7club à Etampes, ainsi que notre participation au Festival ECOLO'ZIK (2010) pour la scène Electro.

Nos motivations sont à la fois la musique, le partage mais aussi le respect de l'autre et des lieux où se déroulent nos fêtes. Nous entretenons des liens étroits avec d'autres associations et collectifs en France et à l'étranger afin de favoriser les échanges culturels, musicaux et humains, ce qui apporte une véritable dynamique à notre travail et nous permet de proposer des programmations toujours plus éclectiques, tout en conservant un esprit familial qui nous est cher depuis le lancement de l'association...


ON EST PASSE PAR LA
FESTIFL'ART Festival
(77),
La Dame de Canton
(75),
Les Disquaires
(75),
Eight Ball Society
(77),
Belushi's Club
(75),
Aventures exclusives
(75),
Techno+
(75),
Le 4Elements
(75),
Le Batofar
(75),
Festival Ecolo'Zik
(91),
Les Caves le Chapelais
(75),
Le Zorba
(75),
Pointe Lafayette
(75),
La Régence
(75),
L'escale
(75),
Le Bric a Brac
(75),
Le Radazik
(91),
Le Karambole Café
(75),
Le Cercle Rouge
(75),
L'entrepote au CAES
(91),
Le Sister Pub
(91),
Le Jet7
(91),
Salle MaisonNeuve
(91),
Salle Courtaboeuf
(91),
Centre Culturel de Dourdan
(91),
Château du Vivier
(77),
C.A.T.
(33),
VHP
(33)
CONNEXIONS




Lors de nos différents évènements nous avons eu le plaisir de recevoir :



TRAXX DILLAZ(DIFUZION)
69DB(EXPRESSILLON)
JOSY(FULLVIBES/CREATION FORGE)
MAMZ'HELL(CROSSOVER/OULALACLUB/TEUFANOU)
VINCENT MALVILLE(ADRENALINE/YINYANG/NASKED LUNCH)
STEREO & ALMAZONE(MASIMAS)
ZE BUG!(LEVEL 75)
KARDINAL & LOWKEY(GOOG/SPICY CUT/LEVEL 75)
DICK LORENTZ(PHONON/OCTARINE)
CHARLES TOX(MASIMAS)
KONIX(DROPIN CARAVAN/AUDIOTRIX))
DILEMN(BOXON/BIG SPLASH)
PRO7(BOXON/BIG SPLASH)
ELECTROBUGZ(HERETIK/SOURIRE/LEVEL 75)
CESKO(BUG & PLAY/SOURIRE)
THE EDGE(LEVEL 75/PHONON/FORMULE)
KONIK(DZ/CHAOS THEORY)
KIFOOF'N(KILLADISCO)
KIMAR(KILLADISCO)
NIX THE JOCKEY(AMPLITUDE)
ECARAT(REWIND)
WAR IN GROOVE(BUG & PLAY/SOURIRE)
AKIRE(VISION MUSICALE)
PECKETTE(TTC/DKLE)
NATALINO NUNES(TTC/DKLE)
Ainsi que les crew AMONYTE,TEUFANOU, KILLADISCO, ACIDPONYCLUB, DEFCORE, et d'autres... Merci à eux !!! :)
08/09/2012 - ORNORM STAGE @MD6 FESTIVAL (Meaux)
27/07/2012 - KIAB @GARE DE L'EST (Sens)
03/06/2012 - KIAB @MONTE COSY (Paris)
02/06/2012 - DAF @OPA (Paris)
01/06/2012 - M4X @JAMMIN CLUB (Paris)

Prochaine soirée / Next party :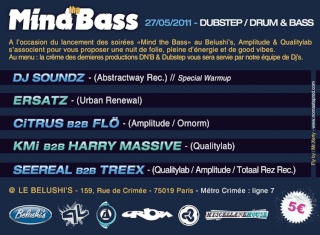 ....