Play

Play Next

Add to queue
Play

Play Next

Add to queue

6,818 plays

Play

Play Next

Add to queue

6,161 plays

Play

Play Next

Add to queue

237 plays

Play

Play Next

Add to queue

134 plays

Play

Play Next

Add to queue

97 plays
Genre: Alternative / Reggae / Roots Music

Location Byron Bay, Au

Profile Views: 115798

Last Login: 4/8/2013

Member Since 9/27/2007

Website www.pachamammamusic.com

Record Label Pacha Mamma Creations

Type of Label Unsigned

Bio

Growing up on the eastern coastline of Australia front man and soul behind the music of Pacha Mamma, Micka has risen to become a conscious music troubadour of the world."There is no other path for me, I am a vessel through which rhythm and melody pass through and my spirit brings it to life". Playing on his instruments of choice the Resonator Slide Guitar, Weissenborn Slide, Cajon Drum and guitars the thing that sets him apart from most is his touching powerful, soulful voice. Pacha Mamma as a band combines Roots – Rock, Blues, Reggae and Funk in a way that could only come out of the alternative, surf culture of Byron Bay, Australia. Joining Micka is - Nic Lemits on Bass is a groove stylist, an accomplished guitarist, bassist and sound engineer who previously worked with Marshall And The Fro. Grant Gerathy on Drums is a well sort after skinhitter amongst the Australian scene and has performed with many well known acts. Liam "Rasta" Dorney on Trumpet and Vocals is an eccentric stage performer who previously played with A French Butler Called Smith. In the Summer of 2011 Pacha Mamma recorded their 3 track EP Woman which has been played in over 27 countries and represented at SXSW festival in Austin Texas, Canadian Music Week and is played at the Quicksilver Pro Surf tour events around the world. Woman features special guests Olly Pescia on Drums, Renee Simone on Backing Vocals, Ali Hughes on vocals and Katie Kepron(Canada) - Vocals. Micka took his sound to Montreal Canada in 2011 to work with Grammy Award winning engineer Don Murnaghan and Aria Award winning producer Steve James in Byron Bay on their 1st album Piece Together Peace. There is no doubt anyone witness to Pacha Mamma on or off the stage will always be left with a sense of united brotherhood, conscious visions and a feeling that you're not so alone on this planet. With a worldly vision, mix Latin party time with island vibe, sweet grooves cook it up and you get Pacha Mamma. Contains ingredients everyone will find tasty.

Members

MICKA.. - Vocals, Weissenborn, Resonator, 6 and 12 string guitars, Harmonica, Zyladrum, Cajon beat-box, congas, percussion and flutes. LIAM 'RASTA" DORNEY -Trumpet, backing vox. NIC L - Bass, BV's and guitar. Grant Gerathy - Drumkit *OTHER ARTIST ON RECORDING* Liam 'Rasta" Dorney - Trumpet Allena Hughes - Female Vocals Renee Simone - Backing Vocals on DBRD. Katie Kepron - Vocals. 'Wake Up"(2007) AVAILABLE FOR ONLY $10. Our first official single WOMAN =$10. Email:pacha2mamma@yahoo.com.au

Influences

"ITS NOT ALL ABOUT US THE 'MUSIC MAKERS'- ITS ABOUT THE MUSIC. WE ARE JUST VESSELS THROUGH WHICH RHYTHM, SOUL AND MELODY PASS THROUGH AND OUR SPIRITS BRING IT LIFE." MICKA- LOVE, OUR LAND, THE PLANETS AND ALL FOLK WHO LET THERE DREAMS BE FREE.

Sounds Like

<a href="http://itunes.apple.com/au/album/woman-single/id420300017?uo=4" target="itunes_store"><img src="http://ax.phobos.apple.com.edgesuite.net/images/web/linkmaker/badge_itunes-lrg.gif" alt="Woman - Single - PACHA MAMMA" style="border: 0;"/></a> <br><iframe width="560" height="345" src="http://www.youtube.com/embed/AAXdlgqLg68" frameborder="0" allowfullscreen></iframe>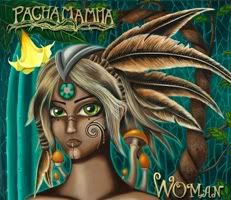 ..
Pacha Mamma is a Peruvian word meaning "Earth Mother" and is also the band name for these soulful Byron Bay, Australia based musicians. Harnessing a unique and eclectic mix of styles cooking together reggae, blues, roots-rock, and funk mixed with the flavours from the lap slide and Latin percussion, whilst unleashing the timbres of more than 10 different instruments from all over the world.

Micka - is the writer, founding member and the soul behind the music. A world music troubadour who hasn't focused his sound on one style, however has the ability to create music that everyone will find an element in it they enjoy going from Roots-rock, reggae, blues and Latin styles throughout a set. Micka incorporates the sounds of the Cajon'(South America), Congas, Weissenborn Slide Guitar(Hawaii), resonator blues slide while doing live percussion and bass looping. With an absolutely distinct soulful, raspy voice his shows are as much about the vibe and the love he resonates as a person as it is the music itself, and was described by one Magazine as "a man with talent that needs to be heard live to be fully appreciated".

Nic Lemits - On Bass is a fine musical craftsman, an accomplished guitarist, bass player and sound engineer who has previously worked with Indigo Frequency and Marshall and the Fro.

Grant Gerathy - On drums is a groove stylist mastering R'nB', soul, funk and island time who has previously performed with The Cool Calm Collective and the Ray Mann Three.

They have toured the East Coast of Australia extensively and have performed over 450 shows including shows with Ash Grunwald, Custom Kings, Oka and Wild Marmalade to name just a few. Having gone through a few lineup changes over the years from humble duo that Micka once fronted to the true musicianship that now paths the way.

The summer of 2011 saw Pacha Mamma release their first studio single Woman which has been played on air in over 25 countries and represented Aus at SXSW Festival in Austin, Texas and Canadian Music Week. Pacha Mamma are currently recording their first EP which is full of hooks, Motown sound, Latin styles and true conscious soul. Pacha Mamma is a combination of experience and inspired life journeys to translate "real truth" through music that combines blues riffs with Spanish influence, Latin/African percussion and of course a heartfelt voice that will move your body, mind and spirit that leaves you with really "good vibes".


Request us on these JJJ Radio Programs.
<
..BAND BOOKINGS/CONTACT..
PACHA MAMMA CREATIONS
P: (+61) 0458 523 327
E: pacha2mamma@yahoo.com.au

LIMITED EDITION ALBUM 'Wake Up...' AVAILABLE FOR $5
EMAIL-pacha2mamma@yahoo.com.au to order your copy.
...Piece Together Peace...

..

VENUES ..
EMPIRE THEATRE CHURCH - Toowoomba, Qld
ICON THEATRE - Toowoomba, Qld
CLUB ENVY - Maroochydore, Qld
PACIFIC HOTEL - Yamba, Nsw
THE RAILS - Byron Bay, Nsw
THE GREAT NORTHERN - Newcastle,Nsw
THE TREEHOUSE - Byron Bay, Nsw
X AND Y BAR -Brisbane, Qld
PIER HOTEL - Coffs Harbour, Nsw
SOLBAR - Coolum Beach, Qld
MAPLETON TAVERN - Mapleton, Qld
THE RATTLER CAFE - Imbil, Qld
HOEY MOEY HOTEL - Coffs Harbour, Nsw
SAWTELL HOTEL - Sawtell, Nsw
TONGUE AND GROOVE - Westend, Brisbane, Qld
RED ROOM, UNIVERSITY OF QLD - St Lucia, Brisbane, Qld
FEDERAL HOTEL - Bellingen, Nsw
LENNOX POINT HOTEL -Lennox Heads, Nsw
DINGO'S BACKPACKERS - Rainbow Beach, Qld
UPFRONT CLUB - Maleny, Qld
MALENY HOTEL - Maleny, Qld
MAGNUMS HOTEL - Airlie Beach, Qld
PADDY SHENANIGANS - Airlie Beach, Qld
BEACHES BACKPACKERS -Airlie Beach, Qld
KC'S BAR & GRILL - Airlie Beach, Qld
BANJO'S - Airlie Beach, Qld
CBD TAVERN - Mackay, Qld
GORDIES - Mackay, Qld
V WALL TAVERN - Nambucca Heads, Nsw
LAURIETON HOTEL - Laurieton, Nsw
NIMBIN HOTEL - Nimbin, Nsw
BANGALOW HOTEL - Bangalow, Nsw
HOTEL HENRY ROUS - Ballina, Nsw
CRESCENT HEADS HOTEL - Crescent Heads, Nsw
AGNES WATER TAVERN - Agnes Water, Qld
BUCCA HOTEL - Bucca, Qld
HARRIGANS INN – Calypso Bay, Qld
TORQUAY TAVERN - Hervey Bay, Qld
CAFE BALEANA - Hervey Bay, Qld
O'DOWDS HOTEL - Rockhampton, Qld
THE HERITAGE HOTEL - Rockhampton, Qld
ROYAL GYMPIE - Gympie, Qld
BON AMICI CAFE - Toowoomba, Qld
TATTERSALLS HOTEL - Toowoomba, Qld
TOOWOOMBA SHOWGROUNDS - Toowoomba, Qld
SHAMROCK HOTEL - Toowoomba, Qld
IRISH CLUB - Toowoomba, Qld
METRO CAFE - Toowoomba, Qld
NATIONAL HOTEL - Toowoomba, Qld
HOTEL NORVILLE - Toowoomba, Qld
KAFE MODA - Toowoomba, Qld
KENILWORTH HOTEL - Kenilworth, Qld
MOORE PARK SURFCLUB - Moore Park, Qld
WHITE BULL TAVERN - Roma, Qld
UNIVERSAL HOTEL - Warwick, Qld
GRAND OLD CROW - Crows Nest, Qld
COLOURS OF SAN CRIS CAFE' - Cabarlah, Qld
LOWMEAD HOTEL - Lowmead, Qld
MARYVALE HOTEL - Maryvale, Qld
DYSART BOWLS CLUB - Dysart, Qld
+ MANY MORE...

FESTIVALS
1770 FESTIVAL (07',08',10')
WOODFORD FOLK FESTIVAL
CARNIVAL OF FLOWERS - Toowoomba,Qld
PLAY ON PLAY CHILDRENS FESTIVAL 07' - Toowoomba, Qld
USQ OPEN DAY 08' - Toowoomba, Qld
HAMPTON FOOD & WINE FESTIVAL 08' - Hampton, Qld
GARDENFEST 07' - Toowoomba, Qld
CREATIVE HEALTH AUS RETREAT (07',08')
MARY VALLEY SHOW 09' - Imbil, Qld

ALSO PERFORMED SHOWS WITH –

ASH GRUNWALD
WILD MARMALADE
THE CUSTOM KINGS
OKA
8 BALL AITKEN
NEEMA(Canada)
THE LOWDOWN
THE JIMMY WATTS BAND
OL' KING COLE
TIMBAH
MELINDA THORNELY
FREELY with buzzzz
FREELY without buzz

........
Member Since:
September 27, 2007
Influences:
"ITS NOT ALL ABOUT US THE 'MUSIC MAKERS'- ITS ABOUT THE MUSIC. WE ARE JUST VESSELS THROUGH WHICH RHYTHM, SOUL AND MELODY PASS THROUGH AND OUR SPIRITS BRING IT LIFE." -MICKA- LOVE, OUR LAND, THE PLANETS AND ALL FOLK WHO LET THERE DREAMS BE FREE.
Record Label:
Pacha Mamma Creations..