Play

Play Next

Add to queue
Play

Play Next

Add to queue

7,452 plays

Play

Play Next

Add to queue

2,296 plays

Play

Play Next

Add to queue

1,227 plays

Play

Play Next

Add to queue

1,251 plays
Genre: House / Jazz / R&B

Location LAS VEGAS, Nevada, US

Profile Views: 53629

Last Login: 4/1/2012

Member Since 3/8/2006

Type of Label Major

Bio

.. .. .. Winner of the BMA Award for Best Female Jazz Vocalist of Las Vegas in both 2007 and 2008, and the Entertainer of the Year Award in 2008, Paris Red has appeared on numerous recordings, television specials, soundtrack albums, including a starring role on the hit daytime soap opera Santa Barbara. Paris Red has performed on stage with some of the worlds most celebrated people- Michael Bolton, Herbie Hancock, Stevie Wonder and Ronnie Laws to name a few. Her debut album, Promises, generated four top ten dance hits throughout Europe and America, including the number one USA dance single Good Friend. Paris went on to share six more number one dance singles with some of Europes top artists. Touring as the opening act for such groups as Black Street, R. Kelly, the Doobie Bros, Jeffrey Osborn, and recording with such great performers as Placido Domingo, Patti Labelle, Natalie Cole, Bobby Womack, Glen Maderos, Bobby Brown, Thomas Dolby and many others. Growing up in a musical home where the passion for music included Classical and Gospel, the overwhelming influence was always Jazz. Now, inevitably so, Paris Red has come full circle to explore her artistry of Jazz, R&B, a little bit Country and a little bit Rock & Roll. FYI, I'm a bit non-computer friendly, so if it takes a while for me to respond to anything, don't take it offensively. I appreciate and read each and everything I am sent, and I will get back to you.......at some point. :) .... .. ...... ........ ..Review in Jazz Improv Magazine....By: Dave Miele.... Paris Red is a soulful, sultry, sensitive singer, equally graceful with jazz standards, pop songs and funky blues-drenched tunes. Her latest CD is a live recording entitled Impromptu and features a first rate jazz combo that backs Miss Red most sympathetically. The disc is an ear-grabber from the first note through the last, filled with standards, neo-standards, pop tunes and even an original. The band has a unique take on each tune, creating moods and feels that are equally as original and individual as Paris Red and her vocal delivery. Impromptu opens with my personal favorite song of the program, "Nature Boy." The tune is set in a relaxed samba groove, with some introductory soloing from Don Braden on flute. Paris then enters with a powerful but silky smooth delivery of the lyric. Braden takes a strong solo, followed by some scat soloing from Red, who sounds comfortable and competent at this skill, which is not something that every vocalist can pull off successfully. The energy stays up for the next tune, a medium swing version of "Our Love is Here to Stay." Braden plays tenor, perfectly complementing the swingin' vocal. "At Last" brings the tempo and the dynamic down as the band plays a slow blues. Red is soulful yet playful. We finally get a taste of Paris Red's take on ballads with "The Very Thought of You." And what a taste! The band is tender behind Red's graceful delivery. Pianist Brandon McCure is featured in a double time piano solo before a return to the emotive vocal. Tia Fuller is featured on alto sax during Joe Sample's "Street Life." The tune is funky, set in a half time groove and filled with slap bass. Miss Red, seemingly comfortable in any musical setting, fits right into this groove, "Shiny Stockings" shows Red's ability to sing an old standard with an appropriate sense of tradition while still retaining her identity. This is one of the most swingin' tunes on the disc, featuring Braden on tenor and more scat singing from Red. "The Simple Pleasures" is an original composition by the singer. It's a beautiful tune set in a light bossa nova style. Braden's flute adds the final component and makes this tune one of the most interesting on the disc. The world of the standard is revisited with "Satin Doll," on which Red and bassist Calvin Jones perform in duet for a long stretch. They make a compelling duo. The program ends with two tunes with a pop music influence. "Caught Up in the Rapture" is a funky tune that just feels good. The closer is a powerful rendition of "Get Here." This tune starts out soft and tender and builds to a roar by the end. This climb is maintained through the band; always led by Miss Red's powerful voice. Impromptu is certainly one of the most swingin' vocal jazz albums I've recently heard. The band includes some of the finest musicians on the scene and the leader displays a uniqueness that satisfies as well as surprises. Paris Red is a talented vocalist, bandleader and composer. I look forward to hearing much more from her..... ..www.jazzimprov.com.... .... ..paris red...... .. .. .. .. .. .. .. ..

Members

..PARIS RED, Lady with the Platinum Pipes, 2007 & 2008 ABMA winner Best Female Jazz Vocalist and 2008 Entertainer of the year. .... PARIS RED 2009 BMA LAS VEGAS AWARD WINNER of 3 categories: (1) Best Female Vocalist Overall, (2) Best Jazz Singer (Male and Female), (3) Best CD Recording!..

Influences

Sounds Like
No recent updates in this category.
Why not...
02:11 | 2198 plays | Apr 3 2007
Bio:
..
Winner of the BMA Award for Best Female Jazz Vocalist of Las Vegas in both 2007 and 2008, and the Entertainer of the Year Award in 2008, Paris Red has appeared on numerous recordings, television specials, soundtrack albums, including a starring role on the hit daytime soap opera Santa Barbara. Paris Red has performed on stage with some of the worlds most celebrated people- Michael Bolton, Herbie Hancock, Stevie Wonder and Ronnie Laws to name a few. Her debut album, Promises, generated four top ten dance hits throughout Europe and America, including the number one USA dance single Good Friend. Paris went on to share six more number one dance singles with some of Europes top artists. Touring as the opening act for such groups as Black Street, R. Kelly, the Doobie Bros, Jeffrey Osborn, and recording with such great performers as Placido Domingo, Patti Labelle, Natalie Cole, Bobby Womack, Glen Maderos, Bobby Brown, Thomas Dolby and many others. Growing up in a musical home where the passion for music included Classical and Gospel, the overwhelming influence was always Jazz. Now, inevitably so, Paris Red has come full circle to explore her artistry of Jazz, R&B, a little bit Country and a little bit Rock & Roll. FYI, I'm a bit non-computer friendly, so if it takes a while for me to respond to anything, don't take it offensively. I appreciate and read each and everything I am sent, and I will get back to you.......at some point. :)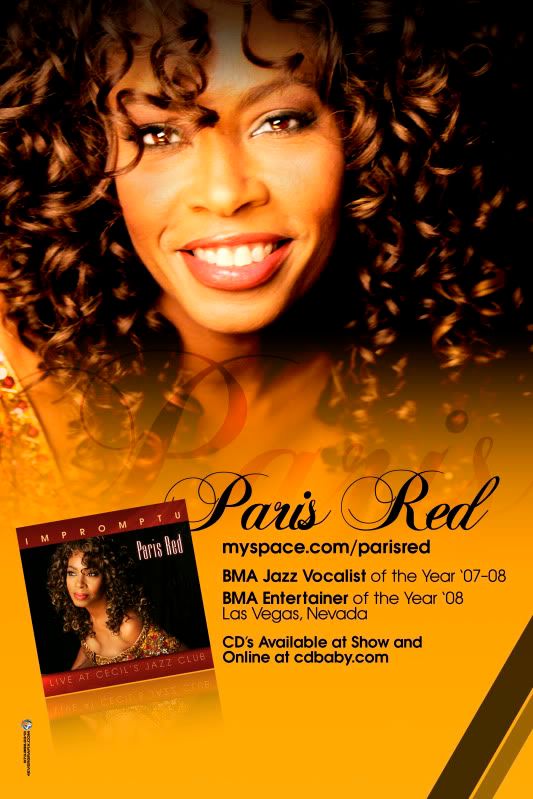 Review in Jazz Improv Magazine
By: Dave Miele
Paris Red is a soulful, sultry, sensitive singer, equally graceful with jazz standards, pop songs and funky blues-drenched tunes. Her latest CD is a live recording entitled Impromptu and features a first rate jazz combo that backs Miss Red most sympathetically. The disc is an ear-grabber from the first note through the last, filled with standards, neo-standards, pop tunes and even an original. The band has a unique take on each tune, creating moods and feels that are equally as original and individual as Paris Red and her vocal delivery. Impromptu opens with my personal favorite song of the program, "Nature Boy." The tune is set in a relaxed samba groove, with some introductory soloing from Don Braden on flute. Paris then enters with a powerful but silky smooth delivery of the lyric. Braden takes a strong solo, followed by some scat soloing from Red, who sounds comfortable and competent at this skill, which is not something that every vocalist can pull off successfully. The energy stays up for the next tune, a medium swing version of "Our Love is Here to Stay." Braden plays tenor, perfectly complementing the swingin' vocal. "At Last" brings the tempo and the dynamic down as the band plays a slow blues. Red is soulful yet playful. We finally get a taste of Paris Red's take on ballads with "The Very Thought of You." And what a taste! The band is tender behind Red's graceful delivery. Pianist Brandon McCure is featured in a double time piano solo before a return to the emotive vocal. Tia Fuller is featured on alto sax during Joe Sample's "Street Life." The tune is funky, set in a half time groove and filled with slap bass. Miss Red, seemingly comfortable in any musical setting, fits right into this groove, "Shiny Stockings" shows Red's ability to sing an old standard with an appropriate sense of tradition while still retaining her identity. This is one of the most swingin' tunes on the disc, featuring Braden on tenor and more scat singing from Red. "The Simple Pleasures" is an original composition by the singer. It's a beautiful tune set in a light bossa nova style. Braden's flute adds the final component and makes this tune one of the most interesting on the disc. The world of the standard is revisited with "Satin Doll," on which Red and bassist Calvin Jones perform in duet for a long stretch. They make a compelling duo. The program ends with two tunes with a pop music influence. "Caught Up in the Rapture" is a funky tune that just feels good. The closer is a powerful rendition of "Get Here." This tune starts out soft and tender and builds to a roar by the end. This climb is maintained through the band; always led by Miss Red's powerful voice. Impromptu is certainly one of the most swingin' vocal jazz albums I've recently heard. The band includes some of the finest musicians on the scene and the leader displays a uniqueness that satisfies as well as surprises. Paris Red is a talented vocalist, bandleader and composer. I look forward to hearing much more from her.

www.jazzimprov.com
paris red
..
Member Since:
March 08, 2006
Members:
PARIS RED, Lady with the Platinum Pipes, 2007 & 2008 ABMA winner Best Female Jazz Vocalist and 2008 Entertainer of the year.

PARIS RED 2009 BMA LAS VEGAS AWARD WINNER of 3 categories: (1) Best Female Vocalist Overall, (2) Best Jazz Singer (Male and Female), (3) Best CD Recording!