Play

Play Next

Add to queue
Play

Play Next

Add to queue

993 plays

Play

Play Next

Add to queue

1,232 plays

Play

Play Next

Add to queue

1,084 plays

Play

Play Next

Add to queue

61 plays

Play

Play Next

Add to queue

239 plays
Genre: Folk Rock / Pop / Psychedelic

Location New York, Un

Profile Views: 41314

Last Login: 12/30/2012

Member Since 3/3/2006

Website http://www.msplinks.com/MDFodHRwOi8vd3d3LnJldmVyYm5hdGlvbi5jb20vcGF1bGxldmluc29u

Record Label HappySad Records; Big Pink/Beatball; Whiplash/Sound of Salvation

Type of Label Indie

Bio

........All 13 tracks of Paul Levinson's 1972....Twice Upon a Rhyme.... LP now available on ..iTunes.. and ..Amazon.. and ..eMusic.and Spotify...........And.. ... Deal signed August 11, 2010 with ....Whiplash/Salvation Records for re-pressing of Twice Upon a Rhyme LP.... ... watch for release date, and availability in record stores!........ ......Paul Levinson, The New Outlook, Twice Upon a Rhyme.......... ..The 1960s were a unique time in music, in which rock 'n' roll turned into rock, and folk-rock blended with psychedelic threads and classical overtones, with all kinds of exciting results. The musical world was filled with crazy geniuses and masters of their craft - you could find them on every corner, if you knew where to look. Paul Levinson.. worked with some of the best of them - making music in a wide spectrum of the new genres - but somehow managed to escape being famous... .. .. Paul Levinson, Stu Nitekman, and Ira Margolis ..formed ..The New Outlook.. in 1966 - a folk-rock group, singing Kingston Trio and Highwaymen type harmony on Allerton Avenue and White Plains Road, Orchard Beach, Bronx House Community Center and other hip haunts of the Bronx. Stu sang most of the leads, and played guitar. Paul and Ira sang harmony, with Paul doing the falsetto. Paul and Stu wrote all of The New Outlook's material. .."If Leaves Fall Tomorrow" ..is the classic New Outlook sound. .."Sunshine's Mine,".. with Paul singing lead, is a little different, with more of a strummy, Lovin' Spoonful, Critters sound. .. ..The New Outlook ..was signed to ..TM Music.. - the company owned by Bobby Darin - in 1966. Not much happened. The group sought other pastures. One fine Sunday afternoon in the Spring of 1967, ..Ellie Greenwich ..(the legendary songwriter who wrote some of Phil Spector's biggest hits for the Crystals and other wall-of-sound groups) and ..Mike Rashkow.. were walking in Central Park in NYC, and bumped into The New Outlook singing harmony. Ellie and Mike liked what they heard, signed them, changed their name to ..The Other Voices.., and got the guys ..a contract with Atlantic Records... Two singles ensued. (One, "No Olympian Height," was written by ..Brute Force.., who later talked George Harrison into releasing his notorious "The King of Fuh" on Apple Records.) The flipside of both singles was .."Hung Up On Love".. (1968), written by Paul Levinson & Mikie Harris. More than 35 years later, it was included on ..Rhino Handmade's 2004 "Come Into the Sunshine".. CD (compiled by .. Andrew Sandoval..). .. But back in 1968, The Other Voices/New Outlook broke up. Paul kept looking for his break, stirring the pot, and went on to ..write songs ..with folks including ..Linda Kaplan ..(who later wrote the "Toys R Us Kid" commercial jingle), ..Jimmy Krondes.. (composer of Earl Grant's "At the End of the Rainbow"), and ..Ed Fox.., a New York City piano player and songwriter. .. Paul also wrote some songs on his own, recorded by groups such as ..The Vogues.. (better known for their hits "You're the One" and "5 O'Clock World") and ..Donna Marie.. (the voice of one of the Archies)... From 1969 to 1971, Paul and Ed wrote a whole bunch of songs, with more of a psychedelic twist than The New Outlook's music, including influences from jazz, chamber music, and Indian raga. They created a record label - ..HappySad Records.. - which Paul took over. In 1972, HappySad Records released a self-produced 13-song LP album, ....Twice Upon A Rhyme...., with vocals by Paul and Ed, and studio performances and overdubs by guitarist extraordinaire ..Peter Rosenthal.., jazz-great saxman ..Boris Midney.., exuberant organist ..Donny Frankel.. and other notables and unknowns. (One famous classical recorder player contributed some great riffs but insisted on remaining anonymous so as not to jeopardize his professional reputation.) .."Looking for Sunsets (in the Early Morning)".. has Paul doing lead; .."The Lama Will Be Late This Year" .. features Ed. .. ....Twice Upon a Rhyme.... didn't get all that much attention when it was first released, but new people are beginning to discover it. The original vinyl was ..rave reviewed.. in Japan's ..Record Collector's Magazine.. a few years ago and is listed in the ..legendary Hans Pokora's ..4001 Record Collectors Dream..... "The Lama" more than any other cut on the album has been singled-out for praise as a free-wheeling psychedelic dream jam. .. ..And in December 2008... ..Big Pink/Beatball Records re-issued the complete ..Twice Upon a Rhyme.. LP as a ..mini-CD.., with three bonus tracks!.... ....Photos..: The New Outlook photo is from 1966, and was taken right after TM Music signed the band (..left to right: Ira, Stu, Paul..); the album collage on ....Twice Upon A Rhyme ....was done by Joel Raphael (..left to right: Ed, Paul, Pete..). .. .. .. .. .. .. .. .. .. ....And now... ..Stu is now a highly successful voice in radio commericals - under the name .. Jonathan Hatch ..(with ..Kathy Flaherty..). Ira teaches in the NYC school system. And Paul's a college prof at Fordham University, a science fiction author, a TV guest, etc - see details on .. Paul's author page http://www.myspace.com/paullevinson ..December 2008: Twice Upon a Rhyme reissued in new CD, with three bonus tracks, by Big Pink/Beatball Records in Korea................Reviews of Twice Upon a Rhyme on Rate My Music.. ... with reviews like this: "it's a cool LP, and definitely addictive, 'relics of summer psychedelics, an ever dwindling splinter, browse around, while the world dies down...' think lush green osmosis into a hazy glen campfire as the night flashes on the glimmering trees and warm air, butterflies and summer loves and long walks on dirt roads"... .... And here's a review in ..The Strange Experience of Music.. -March 2009... .... ***May 2009: from review of Twice Upon a Rhyme, in ..Fuzz, Acid and Flowers: A Comprehensive Guide To American Garage, Psychedelic and Hippie-Rock (1964-1975).. by Vernon Joynson ..A local New York private pressing recorded between July 1969 and October 1971. At their best, Levinson and his crew produce dark, druggy pop music remindful of neighbors The Patron Saints or bayou obscuros Feather Da Gamba. Forever Friday, Looking For Sunsets and You Are Everywhere fit this profile. The Lama Will Be Late This Year is probably the most intriguing cut on the album, having as it does an oddly Syd Barrett-like delivery of the lyrics and some pretty unorthodox music with fuzz guitar leads... ***April 2009: Twice Upon a Rhyme ..reissued in Japan.. by Vivid Records on April 21!.... ***September 2009: ..Grand Panda in France.. loves "Today Is Just Like You" (from Twice Upon a Rhyme).... ***October 2009: ..Evan LeVine (Swan Fungus blog).. interviews Paul Levinson about Twice Upon a Rhyme and more at the City Diner in New York City ... this is a short note about the interview.... ***November 2009: ..Rockit Scientist Records.. on St. Marks Place, New York City, stocks several copies of original 1972 vinyl Twice Upon a Rhyme.... ***December 2009: Pretty much ..the complete, frank interview.. that Evan LeVine conducted with Paul Levinson about his music, science fiction, life, much more in October 2009 ... this is the transcript, published on the WFMU blog...... Listen to one-hour interview with Paul by Patrick Rands on WZBC Radio:.. .. .. .. .. .. .. .. ........powered by ..ODEO...... Playlist contains 14 tracks, including "Lime Streets," written by Paul in the Spring of 2006. See blog for more details... ..Podcasters: some of Paul's songs are available for you on Podsafe music - check out ..Paul Levinson podsafe songs.. ... also a few seasonal songs at ..The Good News....... ..scanned copy of a letter.. Paul Levinson wrote in September 1972 to a disk jockey in Syracuse, New York, about Twice Upon a Rhyme...... ........ ......Paul Levinson's podcast:........ .. .. .. .. .. .. .. .. .. .. .. .. ........ .. subscribe to ..Light On Light Through.. podcast on ..iTunes.... ........ .... .. ....listen to James Harris' cover of Paul Levinson's "Looking for Sunsets (in the Early Morning)"...... ...... Also check out ..Paul Levinson's music on Facebook........ .. .. .. .. .. .. .. ....Ask Lev podcast: Advice to Writers..

Members

1. The New Outlook: Paul Levinson, Stu Nitekman, Ira Margolis... 2. on ..Twice Upon A Rhyme.. album: Paul Levinson, with Ed Fox and Peter Rosenthal, plus Boris Midney, Donny Frankel, Alan Fuhr, Jay Sackett, and others

Influences

Kingston Trio; Peter, Paul, and Mary; Highwaymen; Beachboys; Beatles; Dylan; Byrds; Lovin' Spoonful; Critters; Phil Ochs; Moody Blues

Sounds Like

Beatles circa ..Rubber Soul..; Simon & Garfunkel circa ..Wednesday Morning, 3AM..; Beachboys; Four Seasons; Lovin' Spoonful; Critters; John Sebastian; Mamas & Papas
01:48 | 19 plays | Apr 2 2011
Guitarkadia Interview with Paul Levinson about Guitar and Popular Culture
News and Bio:
Today Is Just Like You by Paul Levinson
HappySad Records
Paul Levinson, The New Outlook, Twice Upon a Rhyme
The 1960s were a unique time in music, in which rock 'n' roll turned into rock, and folk-rock blended with psychedelic threads and classical overtones, with all kinds of exciting results. The musical world was filled with crazy geniuses and masters of their craft - you could find them on every corner, if you knew where to look. Paul Levinson worked with some of the best of them - making music in a wide spectrum of the new genres - but somehow managed to escape being famous.


Paul Levinson, Stu Nitekman, and Ira Margolis formed The New Outlook in 1966 - a folk-rock group, singing Kingston Trio and Highwaymen type harmony on Allerton Avenue and White Plains Road, Orchard Beach, Bronx House Community Center and other hip haunts of the Bronx. Stu sang most of the leads, and played guitar. Paul and Ira sang harmony, with Paul doing the falsetto. Paul and Stu wrote all of The New Outlook's material. "If Leaves Fall Tomorrow" is the classic New Outlook sound. "Sunshine's Mine," with Paul singing lead, is a little different, with more of a strummy, Lovin' Spoonful, Critters sound.


The New Outlook was signed to TM Music - the company owned by Bobby Darin - in 1966. Not much happened. The group sought other pastures. One fine Sunday afternoon in the Spring of 1967, Ellie Greenwich (the legendary songwriter who wrote some of Phil Spector's biggest hits for the Crystals and other wall-of-sound groups) and Mike Rashkow were walking in Central Park in NYC, and bumped into The New Outlook singing harmony. Ellie and Mike liked what they heard, signed them, changed their name to The Other Voices, and got the guys a contract with Atlantic Records. Two singles ensued. (One, "No Olympian Height," was written by Brute Force, who later talked George Harrison into releasing his notorious "The King of Fuh" on Apple Records.) The flipside of both singles was "Hung Up On Love" (1968), written by Paul Levinson & Mikie Harris. More than 35 years later, it was included on Rhino Handmade's 2004 "Come Into the Sunshine" CD (compiled by Andrew Sandoval).


But back in 1968, The Other Voices/New Outlook broke up. Paul kept looking for his break, stirring the pot, and went on to write songs with folks including Linda Kaplan (who later wrote the "Toys R Us Kid" commercial jingle), Jimmy Krondes (composer of Earl Grant's "At the End of the Rainbow"), and Ed Fox, a New York City piano player and songwriter.


Paul also wrote some songs on his own, recorded by groups such as The Vogues (better known for their hits "You're the One" and "5 O'Clock World") and Donna Marie (the voice of one of the Archies).


From 1969 to 1971, Paul and Ed wrote a whole bunch of songs, with more of a psychedelic twist than The New Outlook's music, including influences from jazz, chamber music, and Indian raga. They created a record label - HappySad Records - which Paul took over. In 1972, HappySad Records released a self-produced 13-song LP album, Twice Upon A Rhyme, with vocals by Paul and Ed, and studio performances and overdubs by guitarist extraordinaire Peter Rosenthal, jazz-great saxman Boris Midney, exuberant organist Donny Frankel, pianist and drummer Mitch Greenberg, and other notables and unknowns. (One famous classical recorder player contributed some great riffs but insisted on remaining anonymous so as not to jeopardize his professional reputation.) "Looking for Sunsets (in the Early Morning)" has Paul doing lead; "The Lama Will Be Late This Year" features Ed.


Twice Upon a Rhyme didn't get all that much attention when it was first released, but new people are beginning to discover it. The original vinyl was rave reviewed in Japan's Record Collector's Magazine a few years ago and is listed in the legendary Hans Pokora's 4001 Record Collectors Dream. "The Lama" more than any other cut on the album has been singled-out for praise as a free-wheeling psychedelic dream jam.


And in December 2008... Big Pink/Beatball Records re-issued the complete Twice Upon a Rhyme LP as a mini-CD, with three bonus tracks!


Photos: The New Outlook photo is from 1966, and was taken right after TM Music signed the band (left to right: Ira, Stu, Paul); the album collage on Twice Upon A Rhyme was done by Joel Raphael (left to right: Ed, Paul, Pete).


And now... Stu is now a highly successful voice in radio commericals - under the name Jonathan Hatch (with Kathy Flaherty). Ira teaches in the NYC school system. And Paul's a college prof at Fordham University, a science fiction author, a TV guest, etc - see details on Paul's author's page.


December 2008: Twice Upon a Rhyme reissued in new CD, with three bonus tracks, by Big Pink/Beatball Records in Korea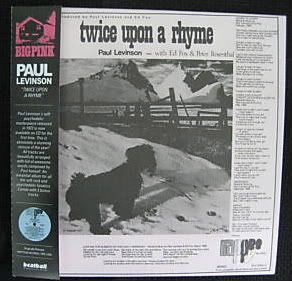 Reviews of Twice Upon a Rhyme on Rate My Music ... with reviews like this, "it's a cool LP, and definitely addictive, 'relics of summer psychedelics, an ever dwindling splinter, browse around, while the world dies down...' think lush green osmosis into a hazy glen campfire as the night flashes on the glimmering trees and warm air, butterflies and summer loves and long walks on dirt roads"...

And here's a review in The Strange Experience of Music -March 2009...

***May 2009: from review of Twice Upon a Rhyme, in Fuzz, Acid and Flowers: A Comprehensive Guide To American Garage, Psychedelic and Hippie-Rock (1964-1975) by Vernon Joynson "A local New York private pressing recorded between July 1969 and October 1971. At their best, Levinson and his crew produce dark, druggy pop music remindful of neighbors The Patron Saints or bayou obscuros Feather Da Gamba. Forever Friday, Looking For Sunsets and You Are Everywhere fit this profile. The Lama Will Be Late This Year is probably the most intriguing cut on the album, having as it does an oddly Syd Barrett-like delivery of the lyrics and some pretty unorthodox music with fuzz guitar leads."

***April 2009: Twice Upon a Rhyme reissued in Japan by Vivid Records on April 21!

***September 2009: Grand Panda in France loves "Today Is Just Like You" (from Twice Upon a Rhyme)

***October 2009: Evan LeVine (Swan Fungus blog) interviews Paul Levinson about Twice Upon a Rhyme and more at the City Diner in New York City ... this is a short note about the interview

***November 2009: Rockit Scientist Records on St. Marks Place, New York City, stocks several copies of original 1972 vinyl Twice Upon a Rhyme

***December 2009: Pretty much the complete, frank interview that Evan LeVine conducted with Paul Levinson about his music, science fiction, life, much more in October 2009 ... this is the transcript, published on the WFMU blog


Listen to one-hour interview with Paul by Patrick Rands on WZBC Radio: Playlist contains 14 tracks, including "Lime Streets," written by Paul in the Spring of 2006. See blog for more details.


Podcasters: some of Paul's songs are available for you on Podsafe music - check out Paul Levinson podsafe songs ... also a few seasonal songs at The Good News.


scanned copy of a letter Paul Levinson wrote in September 1972 to a disk jockey in Syracuse, New York, about Twice Upon a Rhyme




Paul Levinson's podcast:
subscribe to Light On Light Through podcast on iTunes
Till Tears Remind Me by Paul Levinson
Also check out
Paul Levinson's music on Facebook
Ask Lev podcast: Advice to Writers
Member Since:
March 03, 2006
Members:
1. The New Outlook: Paul Levinson, Stu Nitekman, Ira Margolis.
2. on Twice Upon A Rhyme album: Paul Levinson, with Ed Fox and Peter Rosenthal, plus Boris Midney, Donny Frankel, Alan Fuhr, Jay Sackett, Mitch Greenberg, and others
Influences:
Kingston Trio; Peter, Paul, and Mary; the Highwaymen; the Byrds; the Beatles; the Lovin' Spoonful; the Critters; the Vogues
Sounds Like:
Beatles circa Rubber Soul; Simon & Garfunkel circa Wednesday Morning, 3AM; Beachboys; The Four Seasons; Lovin' Spoonful; The Critters; John Sebastian; Mamas & Papas
Record Labels:
Atlantic Records
- 1968, "May My Heart Be Cast Into Stone," "Hung Up on Love," "No Olympian Height" (as The Other Voices);
HappySad Records
- 1972 Twice Upon a Rhyme LP (happysadrecords at
yahoo.com
);
Rhino Handmade
- 2004, "Hung Up on Love" on Come to the Sunshine compilation;
Beatball/Big Pink Records
- 2008 mini-CD re-issue of Twice Upon a Rhyme;
Whiplash/Sound of Salvation Records
- November 2010 vinyl re-pressing of Twice Upon a Rhyme
Paul Levinson and The New Outlook has 48304 friends.