Paul Trombetta hasn't earned any badges yet... have you?
General

Contact me direct! hihowyadoin@msn.com

David Torn signature Tornita!

John Ziegler and VOLTO! at the Baked Potato with the mini-bone

I treat every solder joint like your life depends on it. Well it does, doesn't it tone freaks?

Currently building:

ÜBERBONE

"Fudgie buddy"

"Mini-Bone"

"Doublefudge"

"Tornita!"

"Feederfudge"

"Donita"

"TL booster"

"CSO"

"Loop Booster"

"Danny Boy" (Harmonica howler)

..

..

Donita's Lock switch bypasses the momentary foot switch and gives you feedback whenever you turn her on. The Bias and blend knob work together to mangle and tune your feedback endeavours.

Custom builds, Analog pedal repairs, and free advise.

Contact: hihowyadoin@msn.com

Heroes

Jimmy Page, Jeff Beck, Donita Sparks, Angus Young, Adam Carolla, Danny Gatton, Tim Armstrong, Jack Orman, Thom York, R.G. Keen, Marty Friedman, Joey Santiago, Joe Perry, Billy G., Ronnie Montrose, Pat Travers, Matt Freeman, Ramones, the Muffs
About me: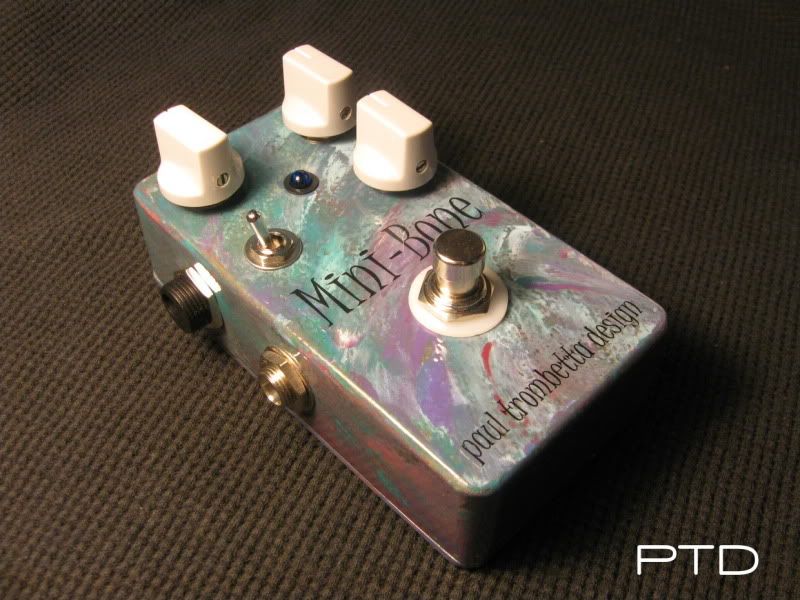 ***All of my pedals are True bypass and all analog***
This Video features the great John McCoy (Fatback) demonstrating the mood knob. Dig the huge array of sounds he gets with his vol knob.
Here John McCoy demo's the horn sounds from the Mini (the Mini has replaced the Tox Box and Tromboner)
Here's a clip of David Torn hittin' the bone!!
Feedback loop works with many fuzz, distortion and modulation effects such as, Boss Blues Driver, EH Double Muff and all Rat models. Includes a 30db lead booster to send you over the top.
For ordering info, questions or comments hit me here: hihowyadoin@msn.com
My ebay ID billy_blastoff
Here are a couple of select reviews:
dude, paul. man. this pedal is like a freaking dream; (mini-bone) a great dream! man-oh-man. sooooo cool..... like some weird crossover between a great fuzz & a deeper version of the old ampeg "scrambler" pedal, but..... so farking better! i know myself & my gear well, and this one's gonna stick. in fact, it already stuck! so musical in its odd uniqueness. wow.
David Torn
absolutely brilliant pedal design,,,love it everytime I turn it on! the fuzz description is right on the money. The fuzz is extremely dynamic and amp like, cuts thru and cleans up like a champ, plus the horns are killer. My favorite go to fuzz for a long time now. Paul ,,thanks for making such an awesome pedal!! -Lann
I recently bought a Mini from Paul. What a great fuzz pedal!! Just the fuzz side is worth the cost and you get the MOOD side which is a blast and is actually USABLE. The big thing for me is that this is one of the very few fuzzes I can actually use in a band setting. Thumbs up to another cool builder in the bay area. -J. H.
Paul Trombetta Mini Bone: Sweet mother of crap. This thing just came in the mail today (it's a Christmas present from my in-laws... don't tell them that I already opened it... it'll be boxed back up soon). On the one hand, it can sound like a GREAT normal fuzz (from subtle to totally farty). I can't think of a normal old fuzz pedal that I've played or owned that I'd prefer over the sound that this one is giving me. BUT THEN there's this extra switch+knob function. I have no idea what's going on when that switch and knob are engaged, but as you sweep the knob you find the sickest, whacked out 2 or 3 sputtering-fuzzy sounds you've ever heard (the Fuzz Factory is a contender in that regard, too, but I don't know how I'd use the FF live, since it's SO unpredictable... these sounds are actually useable since they're not generating random notes). Seriously, there are at least 4 tones in this pedal (one or more regular fuzz sounds, plus 3 insane ones) that I will definitely use on a gig... probably even at a Church gig. They're SICK but not so weird that they remain a mere curiosity... something you'd only write one song around. I'll try to make some clips sometime, but it'll probably be a while with other stuff going on (particularly since the Mini Bone is gonna be wrapped up under a tree soon). -Mark
Paul, "The TL boost pedal delivered the goods and then some...screaming over the top leads and crunchy smooth rhythms....your design is a total success. Anyone looking for that elusive nasty tone...look no further, Paul Trombetta found it for you! No need for an expensive amp mod, the TL boost pedal pedal will make your amp sound like a pitbull on steroids driving a bulldozer!" Terry Lauderdale
The "Tromboner" is the fuzz/distortion pedal for the person who thinks they have heard everything. There is nothing else like this new pedal design. The horn type effects it can produce are truly a brand new and expressive sound. Think trumpet and trombone. The overdrive and fuzz tones are great, too. This is a pedal with MANY different possibilities. It's one of those things that sound completely different depending on who is playing through it. If you don't want to sound like everyone else with a normal fuzz, this is THE pedal to get!
Henry Kaiser
Hey Paul, I'm finally getting back to you about the Mini-Boner. I love t! It really is an original and so far I've not come across anything like it. The trumpet/trombone sound is expressive and I like how it's a touch-sensitive effect. I can get some real low grind on the low E and a fresh lead tone for the higher notes. The regular fuzz side is good too, and different from the usual fuzz flavors, but I tend to keep it switched to the right. Cleans up well like you said. It's earned its way into my chain and probably wont be getting kicked off since there's nothing I can think of that's like it. Good job creating this one Paul! I like the finish and the logo you have on the newer ones. Was mine the prototype? The first one you made? Don't worry I'm not asking so I can sell this thing off, just curious because that'd be pretty cool. -Mark
"Hey man, I just wanted to drop u a line. The Toy Box is fantastic. I've always had a simple rig, and this is a great compliment without sacrificing tone. I feel like it takes leads to another level while staying wide open, and staying true to classic sounds. If you like Hendrix, SRV, or Angus, this is your pedal."
Stevie D. (Buckcherry)
"I Love, Love, Love this pedal!!!"
Thom Bone (Butt Trumpet)
"hi Paul, ..
It was waiting when i got home on friday. got to play with it this weekend some. i think you must be an evil genius. it can make an amazing array of sounds. it sounded great with single coil or humbuckers. it played well with other effects. the right part of the mode dial is absolutley insane. wow. if you come up with different pedals and designs, i'd love to know about them."
-sean Ann Arbor, MI. (Toy Box)
I bought a Mini Boner from Paul, a nice guy with good communication. The Mini Boner is a fun little pedal with some great sounds. Cops Jeff Beck Group era tone quite well. Cleans up with guitar vol knob nicely. A great fuzz for the guy who wants just one pedal to dabble with fuzz (versatile, small footprint) or the fuzz addict who wants to add something unique to the arsenal... Peace, James
AAA+++ totally original and amazing pedal unlike anything else GREAT SELLER!!
Ebay buyer
amazing pedal. nothing like it. great communication, fast shipping. A+++++
Ebay buyer
As a proud owner of a Toybox and Tromboner here, I have to say this is one that you must try. I had been looking for a realistic analog horn sim for a while and finally found it. Amazing sounding and made my gig board with my bjfes no problem. A very high quality made pedal in a small convienent box that gives me sounds I dont get elsewhere,,whats not to love. Lots of other great useable sounds for fuzz and octaves too that Im still exploring. Also the customer service from Paul has been above and beyond as well. Thanks again as Im very much enjoying! - LL
Paul – this pedal slays me :) I LOVE IT! I usually play live with a 3 pedal lineup of Lovepedal Eternity, Barber Tone Press and Lovekraft Chupacara (RAT Clone) cuz I can mix-n-match and even stack for a bunch of different tones. I have playing with the idea of doing a less-is-more approach with just one OD pedal... NOW I GOTS TO HAVE A TOY BOX!
JK
hi Paul, just wanted to tell you that the tromboner is AMAZING. i only got to play a little last nite because i had to be up early to do radio. there are so many tonal possibilities. i only tried my strat and didn't play with the pickups much. guitar volume is like having another control on the box. it cleans up beautifully, but with a full sound. the bone settings with low gain do some really interesting things (i love when a note melts into feedback). the gold base and cream knobs look really great, but the thing sounds just amazing. i know i haven't even began to scratch the surface yet in terms of sounds. THANK YOU!!! I LOVE IT!!!! have a great weekend. your boxes rule. sean
This thing is Da Bomb! NYC jazz great Scott Lerner (Toy Box)
Great service and a truly unique and amazing pedal!!! Very ,very nice.THANK YOU!
Ebay buyer
Hey Paul,thanks for the great pedal.I was blown away by it right out of the box but when I recorded with it I was even more
amazed.So
many different tones and it responds to my guitars volume knob better than any pedal I've used,and I own many.This is one of those rare and unique pedals that will permanently have a home on my board.I could go on and on,just wanted to say thanks for thinking outside the box.Take care. -Robb
ALL I HAVE TO SAY IS WOW! Paul is great. THE TROMBONER is insane! Kurt Ebay buyer
Thanks for the amzing product! Art (ZENDAY)
Mr. T !!!! Thanks for the AWESOME job on the RAT! A++++++++++++ ! -Jaicen
you are bad! i fucking love the sound of the guitars simulating horns in your videos. saving up for one, which would you recomrnd is i soley want a horn sound. great work. a true fan ~felipe
Paul,
your pedal is amazing. for real. as a distortion pedal it think it is the best i have tried. and as far as your feedback mod, super freakin cool. i have it hooked up to a delay and a phaser and i can easily check out of reality and never return. thanks a ton! -Addi
Amazing sound and features! Paul, you're the man! -Jeremy
Paul - I just got the pedal...fan-freakin'-tastic...wow...I'm using this on the session coming up for sure. I absolutely love it. KR
PTD Mini-Bone: my "fuzz of the year" -------------------------------------------------------------------------------- Well, damn-it... finally, a pedal arrived in the mail, not destined for the emporium or eBay. It actually inspired me enough to start a new topic. So far, this year, I have gone through at least ~25 fuzzes and haven't kept a single one. Not because they weren't good, but because they weren't unique enough to merit some real-estate on board. In fact, I would be so bold as to call this the best new fuzz to come out in years. It's the Paul Trombetta Design (PTD) "Mini-Bone," and despite it's small name and small size, it is fekin' HUGE sound. It's a two-faced fuzz with two distinct sounds. The first is what I would call a Cornish G-2 on steroids, but with a tad more low-end with some serious grit and texture at hand, very responsive to volume, and cleanliness when dialed down. Epic, wall-of-sound, fuzz tone. NOT a muff. NOT a Fuzz Face. In it's own category. The other half of this pedal is somewhat reminiscent of a Cornish NG-2. Except it is the 'iminant amp death' sound meets tromboney-horny and then some. This sound, when cranked with a cranked amp will destroy you (in a good way!), with horn-like, harmonically-rich fuzz, or roll the volume down and get more clean sounds. Listen to your guitars harmonics bounce back to your picking and muting. Turn the mood knob down and get a sort of fuzz-stuttery goodness. I suppose, in a nut-shell, this is the sound that I have been seeking without actually knowing what I was looking for. I already have everything else covered and have had so for a long time. But this is new and exciting, usable in every way, not a noise-maker, epic, EPIC! Another pleasant surprise is that, no matter how loud I crank this thing, it is absolutely quiet. Did I mention them shits are cheap too? I mean, your getting a unique hand-built pedal with two DISTINCT fuzz tones and the great communication. (Paul literally breast-fed me with email updates and photos to the progress of the pedal while I was waiting for it to be built). Well done Paul. Looking forward to what you come up with next. Mike __________________
I LOVE THE FUZZ!!!! It's super super responsive, I found the best tone is when the knob is at about 4 o'clock with the guitars volume at 8 and the tone switch towards the top! I am super super happy, Thanks!!! Its goin on my board!!! E.V. (custom Fudgie buddy)
My ebay ID: billy_blastoff
Who I'd like to meet:
.. Refresh your browser if pictures don't show above!
Status:

Married

Zodiac Sign:

Leo

Children:

Proud parent