Play

Play Next

Add to queue
Play

Play Next

Add to queue

1,561 plays

Play

Play Next

Add to queue

6,962 plays

Play

Play Next

Add to queue

6,014 plays

Play

Play Next

Add to queue

5,494 plays

Play

Play Next

Add to queue

1,071 plays
Genre: Alternative / Garage / Powerpop

Location Los Angeles, CALIFORNIA, US

Profile Views: 58410

Last Login: 4/9/2012

Member Since 7/11/2004

Website http://www.pedrogil.net

Record Label Unsigned.. ..

Bio

.. .... .. ............ Oooh! Our photo got posted in the.. April 4-6 issue of ..Asian Journal..!.. Click on the thumbnail to read the article! Yay!.... ...... .... ..CHARCOAL TANTALIZER....Live at the Knitting Factory..Saturday, 5 January 2008.. .. .. .. .. .. ...... Pedro Gil is a five piece from all around Los Angeles. We are friends first, a band second, and nerds third. We make sweet delicious catchy and addicting pop rock for boys and girls of all shapes and sizes, so good that you could put us in your pocket, eat it days later and it will still taste yummy. Our songs will make your feet tap from your ski hat to your knee caps and make you fall in love with your girlfriend/boyfriend all over again. Oh, and we've also been known to start some of the kindest riots in town where kids will ask each other, "Excuse me, may i mosh with you?" :).... We are Czara, Andrew, Charles, and Heath. So come out to a show and dance with us sometime!.... ............ We are currently recording our first full-length album at Love Juice Labs in La Habra, CA. Awww yeaah... .... .. .. .. .. ........Check out our youngest fan, singing ..September.....Great job, Cheska!...... .. .. .. ........ ..JOIN OUR MAILING LIST!....For up-to-date information on the latest Pedro Gil happenings,..please fill out the form below... .. .. .. Name: .. Email: .... ..Subscribe ..Unsubscribe ........ ........

Members

........Czara.... Vocals, Guitar, Keys.... ......Andrew....Guitar, Bass, Keys, Melodica.... ......Heath....Drums.... ..Carlo.. - Guitar........ .. .. .. .. .. .. .. ..UPCOMING GIGS (click to enlarge).. .. .. .. .. .. .............. .. .. .. .. .. .. .. ..VIDEOS.. .. .. .. .. .. .. .... .. .. .. .. .. ..........

Influences

80s New Wave, Britpop, Powerpop, Indie, Alternative, Punk Rock.. ..

Sounds Like
Bio:
..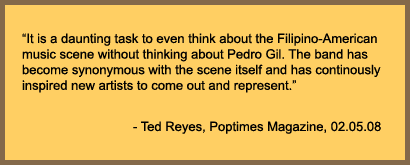 Oooh! Our photo got posted in the
April 4-6 issue of
Asian Journal
!
Click on the thumbnail to read the article! Yay!
CHARCOAL TANTALIZER
Live at the Knitting Factory
Saturday, 5 January 2008
Pedro Gil is a five piece from all around Los Angeles. We are friends first, a band second, and nerds third. We make sweet delicious catchy and addicting pop rock for boys and girls of all shapes and sizes, so good that you could put us in your pocket, eat it days later and it will still taste yummy. Our songs will make your feet tap from your ski hat to your knee caps and make you fall in love with your girlfriend/boyfriend all over again. Oh, and we've also been known to start some of the kindest riots in town where kids will ask each other, "Excuse me, may i mosh with you?" :)
We are Czara, Andrew, Charles, and Heath. So come out to a show and dance with us sometime!
We are currently recording our first full-length album at Love Juice Labs in La Habra, CA. Awww yeaah.
Check out our youngest fan, singing September.
Great job, Cheska!


JOIN OUR MAILING LIST!
For up-to-date information on the latest Pedro Gil happenings,
please fill out the form below.
..
Name: ..     Email: ..
..Subscribe  ..Unsubscribe  ....

..
..
Member Since:
July 11, 2004
Members:
UPCOMING GIGS (click to enlarge)
Influences:
80s New Wave, Britpop, Powerpop, Indie, Alternative, Punk Rock
 

Record Label:
Unsigned