Play

Play Next

Add to queue
Play

Play Next

Add to queue

39 plays

Play

Play Next

Add to queue

19 plays

Play

Play Next

Add to queue

551 plays

Play

Play Next

Add to queue

44 plays

Play

Play Next

Add to queue

9 plays
Genre: 2-step / Hip Hop / Rap

Location Denver, Un

Profile Views: 378251

Last Login: 10/8/2011

Member Since 5/5/2007

Website www.playalitical.net

Record Label Illuminated Entertainment Group

Type of Label Indie

Bio

<div align="center"><embed src="http://www.datpiff.com/embed/mixtape/mfe030b2/" quality="high" wmode="transparent" pluginspage="http://www.adobe.com/shockwave/download/download.cgi?P1_Prod_Version=ShockwaveFlash" type="application/x-shockwave-flash" width="507" height="221" allowScriptAccess="always" allowScripting="on"><br><a href="http://www.datpiff.com/DJ_Chonz_Playalitical_Chino_XL_Rhymefest_Snoop.m188543.html" target="_blank">Download Mixtape</a> | <a href="http://www.datpiff.com" target="_blank">Free Mixtapes</a> Provided by <a href="http://www.datpiff.com" target="_blank">DatPiff.com</a></div> .. ...... ...... ..!!! End Code To Apply Top Banner !!!.. ..!!! Start Code To Apply Top Banner !!!!.. ...... ...... .. Custom top banner code by Eileen.. .. .. .. .. ...... ...... ..!!! End Code To Apply Top Banner !!!.. ..!!! Start Code To Apply Top Banner !!!!.. .. Custom top banner code by Eileen.. .. ..!!! End Code To Apply Top Banner !!!.... .. .. .. .. .. .. .. +-OVERVIEW-+.... Playalitical (born Dustin Robbins), March 7, 1982 in Denver, Colorado is an American rap artist and the current President and CEO of Illuminated Entertainment Group. Known for his deep raspy voice, and traditional lyricism. Playalitical has recorded with, performed, and produced for artists such as The Game, Lil Flip, Bizzy Bone, Dead Prez, Outlawz, Spice 1, Chino XL, Luni Coleone, Domino, Young Droop, Daz Dillinger of The Dogg Pound, 2mex of The Visionaries and more. .... +-PRODUCER-+ .... As of 2010 Playalitical has been producing beats for 13 years. Production credits include the solo album "The Midwest Cowboy" by Bizzy Bone of Bone Thugz & Harmony and Young Droop's "King Me" album. .... +-CAREER-+ .... Released in 2006 and re-released in 2007 on a larger retail scale Playalitical's "Code Green" album is now respectively recognized as his debut album and first release. Although it was essentially his 4th solo album and 7th CD if you count the underground mixtapes and compilations. Playalitical was far from a new artist in 2006. He had already built a solid fan base in the midwest between a total of 6 releases. .... 2006 was the milestone for Playalitical's professional career. He signed Bizzy Bone, the key member of the multi-platinum grammy award winning rap group Bone Thugs & Harmony to his label for a one album record deal. Produced in its entirety by Playalitical, Bizzy Bone's The Midwest Cowboy album was released July 11 2006 through Real Talk Ent., and is widely accepted as his best album ever recorded next to Heavens Movie and The Gift. After this and the release of his Code Green album he moved on to produce the "King Me" album for rap artist Young Droop, which was later released Feb 12 2008. Towards the end of the year he and moviestar/rapper Chino XL began working on a group album together entitled "Something Sacred" which was released January 15 2008. .... +-BEFORE SIGNING-+ .... In 2001 Playalitical released his 1st underground rap album entitled "The Fa. Q". To date he has released 4 solo albums, 3 compilations and has done 1 group album called "Something Sacred" with Movie Star and Rap musician Chino XL. Playalitical has produced numerous other albums for artist's like Ala Wrek, Young Droop, Bizzy Bone, Duce Stabs and Spoke-In-Wordz. In 2007 he signed a none exclusive label deal with the distribution company Select-O-Hits mostly known for platinum recording artist's like Jimmy Buffett, Kieth Bryant, Three Six Mafia, Haystak and more. The Code Green album was re-released by Select-O-Hits. .... www.playalitical.com.. www.facebook.com/playalitical.. www.twitter.com/playalitical.. www.soundclick.com/playaliticalbeats.. www.cdbaby.com/playalitical.. www.billboard.com/playalitical.. http://en.wikipedia.org/wiki/Playalitical.. <div align="center"><embed src="http://www.datpiff.com/embed/mixtape/mfe030b2/" quality="high" wmode="transparent" pluginspage="http://www.adobe.com/shockwave/download/download.cgi?P1_Prod_Version=ShockwaveFlash" type="application/x-shockwave-flash" width="507" height="221" allowScriptAccess="always" allowScripting="on"><br><a href="http://www.datpiff.com/DJ_Chonz_Playalitical_Chino_XL_Rhymefest_Snoop.m188543.html" target="_blank">Download Mixtape</a> | <a href="http://www.datpiff.com" target="_blank">Free Mixtapes</a> Provided by <a href="http://www.datpiff.com" target="_blank">DatPiff.com</a></div> .......... .. .. .. .. .. .. ............ ...... .. .. ......Playalitical and Young Droop Live at The Paladium...... .. .. .. .. .. ......Playalitical.. | ..MySpace Music Videos.... .. ......Power 106.9 fm interviews Playalitical live. Part 2...... .. .. .. .. .. ......Playalitical.. | ..MySpace Music Videos.... .. ......Chino XL & Playalitical Live @ KS 1075 Part 2...... .. .. .. .. .. ......Playalitical.. | ..MySpace Music Videos.... .. ..

Members

.. ...... .. $8.99 .. .. .. .. .. .. .. -----------------------------------.. .. .. ..+Catch The Buzz Vol 3+ .... Featuring Snoop Dogg, San Quinn, Rhymefest, The Procussions and more .. ...... .. .. ..DOWNLOAD MP3 ALBUM @ AMAZON.... .. ..+Code Green+ .... Featuring The Game, Lil Flip, Bizzy Bone, Spice 1, Luni Coleone & Young Droop .. ...... .. ...... ...... ...... .. .. ..DOWNLOAD MP3 ALBUM @ RHAPSODY.... .. ....+Something Sacred+.. ..Featuring Supernatural, Bizzy Bone, Duce Stabs & Spoke In Wordz .. ...... .. ...... ...... ...... .. .. ..DOWNLOAD MP3 ALBUM @ RHAPSODY.... .... ..+Denver's Most Wanted Vol.3+.. ..Featuring Tech N9ne, Kutt Calhoun, Daz Dillenger of The Dogg Pound,J Diggs, Chino XL, Bizzy Bone, Black C of RBL Posse, Mr Kee, Dank 1 & Simes Carter.. ...... .. ...... ...... ...... .. .. ..DOWNLOAD MP3 ALBUM @ RHAPSODY....

Influences

Sounds Like

Prophecy
which do you prefer a boytoy or ownership?

via Twitter

Playing the superstar role then being a regular person, superstar role, chill out for a bit on some regular ish,... http://t.co/0LsUTP0m3Q

via Twitter

Them new louis-vuitton white boat shoes are nice though I need those I like presents too ;)

via Twitter

Bitches that say they can do it on their own just get in the way.

via Twitter
09:59 | 17 plays | Jan 24 2011
Bio:
..
!!! End Code To Apply Top Banner !!!
!!! Start Code To Apply Top Banner !!!!
Custom top banner code by Eileen
..
..
.. +-OVERVIEW-+
Playalitical (born Dustin Robbins), March 7, 1982 in Denver, Colorado is an American rap artist and the current President and CEO of Illuminated Entertainment Group. Known for his deep raspy voice, and traditional lyricism. Playalitical has recorded with, performed, and produced for artists such as The Game, Lil Flip, Bizzy Bone, Dead Prez, Outlawz, Spice 1, Chino XL, Luni Coleone, Domino, Young Droop, Daz Dillinger of The Dogg Pound, 2mex of The Visionaries and more.
+-PRODUCER-+
As of 2010 Playalitical has been producing beats for 13 years. Production credits include the solo album "The Midwest Cowboy" by Bizzy Bone of Bone Thugz & Harmony and Young Droop's "King Me" album.
+-CAREER-+
Released in 2006 and re-released in 2007 on a larger retail scale Playalitical's "Code Green" album is now respectively recognized as his debut album and first release. Although it was essentially his 4th solo album and 7th CD if you count the underground mixtapes and compilations. Playalitical was far from a new artist in 2006. He had already built a solid fan base in the midwest between a total of 6 releases.
2006 was the milestone for Playalitical's professional career. He signed Bizzy Bone, the key member of the multi-platinum grammy award winning rap group Bone Thugs & Harmony to his label for a one album record deal. Produced in its entirety by Playalitical, Bizzy Bone's The Midwest Cowboy album was released July 11 2006 through Real Talk Ent., and is widely accepted as his best album ever recorded next to Heavens Movie and The Gift. After this and the release of his Code Green album he moved on to produce the "King Me" album for rap artist Young Droop, which was later released Feb 12 2008. Towards the end of the year he and moviestar/rapper Chino XL began working on a group album together entitled "Something Sacred" which was released January 15 2008.
+-BEFORE SIGNING-+
In 2001 Playalitical released his 1st underground rap album entitled "The Fa. Q". To date he has released 4 solo albums, 3 compilations and has done 1 group album called "Something Sacred" with Movie Star and Rap musician Chino XL. Playalitical has produced numerous other albums for artist's like Ala Wrek, Young Droop, Bizzy Bone, Duce Stabs and Spoke-In-Wordz. In 2007 he signed a none exclusive label deal with the distribution company Select-O-Hits mostly known for platinum recording artist's like Jimmy Buffett, Kieth Bryant, Three Six Mafia, Haystak and more. The Code Green album was re-released by Select-O-Hits.
www.playalitical.com
www.facebook.com/playalitical
www.twitter.com/playalitical
www.soundclick.com/playaliticalbeats
www.cdbaby.com/playalitical
www.billboard.com/playalitical
http://en.wikipedia.org/wiki/Playalitical

Playalitical and Young Droop Live at The Paladium

Playalitical | MySpace Music Videos

Power 106.9 fm interviews Playalitical live. Part 2

Playalitical | MySpace Music Videos

Chino XL & Playalitical Live @ KS 1075 Part 2

Playalitical | MySpace Music Videos
..
Member Since:
May 05, 2007
Members:
$8.99
.. .. .. ..
.. -----------------------------------

+Catch The Buzz Vol 3+

Featuring Snoop Dogg, San Quinn, Rhymefest, The Procussions and more
DOWNLOAD MP3 ALBUM @ AMAZON

+Code Green+

Featuring The Game, Lil Flip, Bizzy Bone, Spice 1, Luni Coleone & Young Droop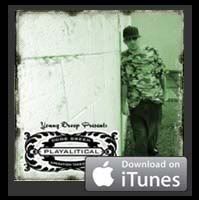 DOWNLOAD MP3 ALBUM @ RHAPSODY
+Something Sacred+
Featuring Supernatural, Bizzy Bone, Duce Stabs & Spoke In Wordz

DOWNLOAD MP3 ALBUM @ RHAPSODY
+Denver's Most Wanted Vol.3+
Featuring Tech N9ne, Kutt Calhoun, Daz Dillenger of The Dogg Pound,J Diggs, Chino XL, Bizzy Bone, Black C of RBL Posse, Mr Kee, Dank 1 & Simes Carter
DOWNLOAD MP3 ALBUM @ RHAPSODY
Sounds Like:
Prophecy
Record Label:
Illuminated Entertainment Group