Play

Play Next

Add to queue
Genre: Garage / Pop / Rock

Location Rennes / Vannes / Concarneau / Pontivy, Bretagne, Fr

Profile Views: 61389

Last Login: 11/23/2012

Member Since 10/26/2006

Website http://www.myspace.com

Record Label Super Apes (Label CD-R )

Type of Label Unsigned

Bio

<object width="425px" height="360px"> <param name="allowFullScreen" value="true"/> <param name="wmode" value="transparent"/> <param name="movie" value="http://mediaservices.myspace.com/services/media/embed.aspx/m=0,mr=109966517,t=1,mt=video"/> <embed src="http://mediaservices.myspace.com/services/media/embed.aspx/m=0,mr=109966517,t=1,mt=video" width="425" height="360" allowFullScreen="true" type="application/x-shockwave-flash" wmode="transparent"/> </object> Le POPPY NO GOOD a commencé fort : son album autoproduit sorti fin 2008 fut accueilli très favorablemant par plusieurs Webzines et un titre parut sur l'excellente compilation « A Découvrir Absolument ». Dans la foulée, en 3 mois, POPPY participa à 2 tremplins et à 2 festivals morbihannais. Et subitement, avant d'avoir atteint la mâturité estivale, cette belle plante annuelle à racine pivotante fana. Mais, respectant le cycle de la nature, la germination souterraine du POPPY reprit à l'automne. Depuis, la nouvelle graine a poursuivi sa croissance monstrueuse, puisant son énergie au soleil noir des caves morbihannaises. En ce début d'année 2011, le POPPY NO GOOD apparaît plus vivace et épanoui que jamais : 2è album prévu pour février 2011 et des concerts qui promettent !! POPPY ? = COQUELICOT pour le rouge et le noir, symbole de « l'ardeur fragile » (Red Hot et Noir Désir) = PAVOT pour l'action psychédélique (Pink Floyd Barrett, Can...) = POP pour musique populaire de qualité (Beatles, Doors, Nick Drake...) = POP-ART pour Warhol et le Velvet (=> Où ça ???? Underground) = Délicatesse, MÉLODIE (En sous-sol => Où ça ???? Underground) = FAMILY car ces cinq bretons constituent une nouvelle POPPY Family) NO GOOD ? = Un SON RÊCHE, GRINÇANT, JOUISSIF car in-ouï (Sonic Youth, Stooges...) = Rejet de la musique aseptisée (Lee Perry, Miossec, Pavement, Smog...) = Méchant le POPPY NO GOOD ? = Mauvais le POPPY NO GOOD ? = ECLECTISME AURICULAIRE POPPY NO GOOD ! = POP OUTRAGÉÉÉÉÉÉÉE, triturée, torturée = POP MARTYRISÉÉÉÉÉE, malmenée, minée Mais = POP LIBÉRÉÉÉÉÉÉÉÉÉE Record Label: Super Apes (Label CD-R ) Plus d'infos : http://fr-fr.facebook.com/profile.php?id=574210955

Members

POPPY NO GOOD YANN.. : chant, textes, guitares, basse.. JOHAN ..: chant, textes, guitares, clavier.. STEPHANE.. : basse.. JANFI.. : batterie ..

Influences

..Des Doors à Can (pour les chansons qui aiment s'étirer, s'allonger), du Velvet-Stooges à Sonic Youth (pour l'éloge du bruit, de la dissonance et de la fureur), de Nick Drake aux Beatles (pour les sonorités subtiles et délicatement pop), de Noir désir à Miossec (pour les textes et la puissance scènique) ou de King Tubby à Lee Perry (pour les mixages inventifs), l'éclectisme auriculaire est la règle. ..

Sounds Like

Sonic Youth, Pavement, Noir Désir, Pink Floyd, Sugar, Can, Smog, psychédélic sixties
04:27 | 76 plays | Apr 28 2011
Bio:
.. .. ..
.. ..
..
..LES CRITIQUES DU 1er ALBUM :..
Chronique de BIR / THE FRENCH TOUCH
Chronique de Gérald De Oliveira / A DECOUVRIR ABSOLUMENT
Chronique de The GhostChild / VISUALMUSIC
Chronique de A Good Day For A Trip / MUZZART
Chronique de RockFanch / la ROCKTEAM
..POUR TOUTE DEMANDE DE CD :..
Joignez-nous par mail en précisant votre adresse.
.. .. .. .. .. .. .. .. .... .. .. ..
POPPY ?
= COQUELICOT pour le rouge et le noir, symbole de « l'ardeur fragile » (Red Hot et Noir Désir)
= PAVOT pour l'action psychédélique (Pink Floyd Barrett, Can...)
= POP pour musique populaire de qualité (Beatles, Doors, Nick Drake...)
= POP-ART pour Warhol et le Velvet (=> Où ça ???? Underground)
= Délicatesse, MÉLODIE (En sous-sol => Où ça ???? Underground)
= FAMILY car ces cinq bretons constituent une nouvelle POPPY Family)
NO GOOD ?
= Un SON RÊCHE, GRINÇANT, JOUISSIF car in-ouï (Sonic Youth, Stooges...)
= Rejet de la musique aseptisée (Lee Perry, Miossec, Pavement, Smog...)
= Méchant le POPPY NO GOOD ?
= Mauvais le POPPY NO GOOD ?
= ECLECTISME AURICULAIRE
POPPY NO GOOD !
= POP OUTRAGÉÉÉÉÉÉÉE, triturée, torturée
= POP MARTYRISÉÉÉÉÉE, malmenée, minée
Mais
= POP LIBÉRÉÉÉÉÉÉÉÉÉE
Vous avez pu ÉCOUTER le POPPY NO GOOD sur sa 1ère galette autoproduite en 2008 téléchargeable gratuitement un peu partout sur le net (Jamendo, Dogmazic, etc...)
Vous avez pu CROISER le POPPY NO GOOD lors des Festivals 2009 suivants :
Tremplin « Algues au rythme » (Février / Arradon 56)
Tremplin « A la renverse » (Avril / Muzillac 56)
« Ric Rac Rock » (Mars / St Jean Brévelay & Colpo 56)
« Festi'Vannes » (Avril / Vannes 56)
.
Puis cette belle plante annuelle à racine pivotante a fâné.
Mais la germination du POPPY a repris à l'automne, comme tout bon botaniste le confirmera.
Et en cette fin 2010 le POPPY NO GOOD apparaît plus vivace que jamais :
Sortie du 2è album en décembre et nombreux concerts dans la foulée.
2011 sera THE YEAR OF THE POPPY NO GOOD !!! (ou pas)
..Record Label..: Super Apes (Label CD-R )
..Plus d'infos.. : http://www.myspace.com/poppynogoodandthephantomband#ixzz14xx1JFN0
http://fr-fr.facebook.com/profile.php?id=574210955
.. ..
POPPY NO GOOD
YANN : chant, textes, guitares, basse

JOHAN : chant, textes, guitares, clavier

STEPHANE : basse
JANFI : batterie
Et notre SUPER LABEL :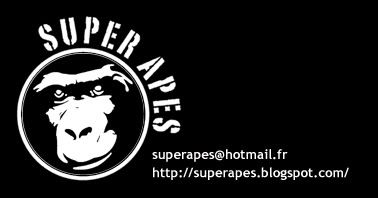 Influences:

Des Doors à Can (pour les chansons qui aiment s'étirer, s'allonger), du Velvet-Stooges à Sonic Youth (pour l'éloge du bruit, de la dissonance et de la fureur), de Nick Drake aux Beatles (pour les sonorités subtiles et délicatement pop), de Noir désir à Miossec (pour les textes et la puissance scènique) ou de King Tubby à Lee Perry (pour les mixages inventifs), l'éclectisme auriculaire est la règle.

Record Label:
Super Apes (Label CD-R )