Play

Play Next

Add to queue
Genre: Acoustic / Alternative / Folk

Location Washington, Washington DC, US

Profile Views: 64660

Last Login: 1/30/2012

Member Since 3/26/2006

Website http://cdbaby.com/cd/ps24

Record Label Whoever comes correct.

Bio

Unique is a term often used to describe musical acts. Yet with the abundance of talented artist, they often seem like different variations of the same formula. Enter PS24-a truly unique trio of artists who have found a recipe for a delicious musical style that has transcended demographics and continues to satisfy listeners everywhere they go. They've coined the term "Folk-Hop" to describe their soulfull blend of folk(ish),hip-hop(ish),reggae(ish) music. Dont let the minimum instrumentation of "Waldo" on guitar and "Jali-D" on djembe drum fool you. The sound is as strong as a full band -and hits just as hard! These lay the perfect foundation for vocalist, "Psalm", who has a sound and style like none other. A comfortable blend of his Jamaican heritage and Brooklyn,NY upbringing, Psalm delivers insightful honest commentary on various life topics in a way that people appreciate, love, and want more of. His unique vocal quality and urbanlove vibe resonates with both men and women. His theatrical (professional actor) and dance (from b-boy to African) backround allow him to be comfortable and confident onstage, always drawing the audience in-and keeping them. Accompanying Psalm vocally and doing double duty with highpowered drumming, Jali-D injects sharp witty ryhmes with a style that is easily understood. Together, combined with Waldo's rich rhythmic strumming, PS24-a true American Folk-Hop band is born. PS24 is based in Washington,DC. where they are the resident band at the popular venue "Busboys and Poets". They have performed throughout the area at various festivals, events, schools, etc. The group has also performed at music venues in New York, Philadelphia, Chicago, Baltimore, Va, NC. At every performance, without exception, PS24 wins over audiences, and attracts new fans. PS24 has no boundries. Different, yet familiar. Fresh, yet ancient. A small band with a giant sound. These young men have a special recipe: Folk-Hop. Witness the unfolding of this refreshing musical style by this truly unique band. ... To view video and listen to our music: myspace.com/ps24music ... To contact us: PS24music@hotmail.com ____________________________________________________________________________ .. ........ .. ....album.... ....price.... .......... .. .. ......PS24..: Independence.... ....$10.00.... .... .. ..0.. ..1.. ..2.. ..3.. ..4.. ..5.. ..6.. ..7.. ..8.. ..9.. .. .... .. .. ....Choose how many, and click ...... .. .. ....Orders sent by ....CD Baby.... - the fastest, safest, and easiest place to buy CDs online. You can also call 1-800-BUY-MY-CD to order by phone..... .. ........ .. .... ..

Members

Psalm on Vocals Jali-D on Hands (Djembe) Waldo on Fingers (acoustic guitar) .............. Now you can get us on Itune. ............ .. .. .. .. .. .. .. .. .......... .......... .. .. .. .. ..

Influences

Bob Marley, Jim Morrison, Tracy Chapman, Prince, Joni Mitchell, Hip-Hop culture, Gil Scott Heron, Yellowman, De La Soul, Richard Pryor, Janis Joplin, Miles Davis, alcohol, Gregory Isaacs, Rakim, Nile Rogers, KRS-1, Charlie Parker, Billie Holiday, Pablo Picasso, Harry Belafonte, Spike Lee, James Dean, Paul Robeson, Rebecca Rice, Pink Floyd, Jimmy Hendrix, Psalm's Jamaican heritage, Bob Dylan, Bruce Lee, Gordon Parks, the planet of Brooklyn, Frederick Douglass, Jean Michel Basquiat, Frank Sinatra, Sammy Davis Jr., Marcus Garvey, Lenny Kravitz .. .. .. .. .. .. .. .. .. .. .... .. .. .. .. .. .. .. .. .......... ..........

Sounds Like

An original band
No recent updates in this category.
Why not...
03:57 | 173 plays | Jun 11 2007
Bio:
Unique is a term often used to describe musical acts. Yet with the abundance of talented artist, they often seem like different variations of the same formula. Enter PS24-a truly unique trio of artists who have found a recipe for a delicious musical style that has transcended demographics and continues to satisfy listeners everywhere they go. They've coined the term "Folk-Hop" to describe their soulfull blend of folk(ish),hip-hop(ish),reggae(ish) music. Dont let the minimum instrumentation of "Waldo" on guitar and "Jali-D" on djembe drum fool you. The sound is as strong as a full band -and hits just as hard! These lay the perfect foundation for vocalist, "Psalm", who has a sound and style like none other. A comfortable blend of his Jamaican heritage and Brooklyn,NY upbringing, Psalm delivers insightful honest commentary on various life topics in a way that people appreciate, love, and want more of. His unique vocal quality and urbanlove vibe resonates with both men and women. His theatrical (professional actor) and dance (from b-boy to African) backround allow him to be comfortable and confident onstage, always drawing the audience in-and keeping them. Accompanying Psalm vocally and doing double duty with highpowered drumming, Jali-D injects sharp witty ryhmes with a style that is easily understood. Together, combined with Waldo's rich rhythmic strumming, PS24-a true American Folk-Hop band is born. PS24 is based in Washington,DC. where they are the resident band at the popular venue "Busboys and Poets". They have performed throughout the area at various festivals, events, schools, etc. The group has also performed at music venues in New York, Philadelphia, Chicago, Baltimore, Va, NC. At every performance, without exception, PS24 wins over audiences, and attracts new fans. PS24 has no boundries. Different, yet familiar. Fresh, yet ancient. A small band with a giant sound. These young men have a special recipe: Folk-Hop. Witness the unfolding of this refreshing musical style by this truly unique band. ... To view video and listen to our music:
myspace.com/ps24music
... To contact us: PS24music@hotmail.com ____________________________________________________________________________ ..
album

price

..

PS24: Independence

$10.00

Choose how many, and click ..

Orders sent by CD Baby - the fastest, safest, and easiest place to buy CDs online. You can also call 1-800-BUY-MY-CD to order by phone.
..
..
Member Since:
March 26, 2006
Members:
Psalm on Vocals Jali-D on Hands (Djembe) Waldo on Fingers (acoustic guitar)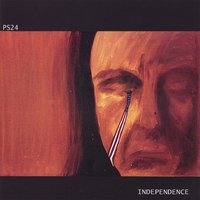 Now you can get us on Itune.

Influences:
Bob Marley, Jim Morrison, Tracy Chapman, Prince, Joni Mitchell, Hip-Hop culture, Gil Scott Heron, Yellowman, De La Soul, Richard Pryor, Janis Joplin, Miles Davis, alcohol, Gregory Isaacs, Rakim, Nile Rogers, KRS-1, Charlie Parker, Billie Holiday, Pablo Picasso, Harry Belafonte, Spike Lee, James Dean, Paul Robeson, Rebecca Rice, Pink Floyd, Jimmy Hendrix, Psalm's Jamaican heritage, Bob Dylan, Bruce Lee, Gordon Parks, the planet of Brooklyn, Frederick Douglass, Jean Michel Basquiat, Frank Sinatra, Sammy Davis Jr., Marcus Garvey, Lenny Kravitz
Sounds Like:
An original band
Record Label:
Whoever comes correct.