No recent updates in this category.
Why not...
Rachel Macneal hasn't earned any badges yet... have you?
General

MyHotComments

check out the sweet tag made for my Dad and I By Dianne at Angel Tag Creations! She's on my friends list, and does beautiful work.:)

Gene Trautman May 4, 1946-January 21, 2009 My dad fought hard against Mesothelioma, and sadly lost his battle with the cancer. My dad was one of the most important people in the world to me, and I miss him every single day of my life. To anyone out there dealing with the loss of a loved one.....my heart goes out to you. Nomatter how it comes, in whatever form, death is real and the pain never really goes away. You are not alone. My dad was one of the most forgiving, generous and kind souls ever. Anyone who ever met him would agree. It always seems like the people who mean the most to us, get taken away too soon, and the assholes who dont matter never seem to go away!(jk).

get="_blank">

I have many interests. First of all, raising my daughters to be beautiful women, and watching them grow and learn about the world around them. I am intersted in being a great mom...catching every tear, nurturing every dream, being there every step of the way to encourage them. They are my greatest accomplishments.....my minions. I am interested in the environment and all of the dangers that our earth faces. I try to be an active and advid example for my kids and teach them about what we can do to help preserve and protect the planet. We owe our children a wonderful world! I am interested in children's causes like preventing child abuse and neglect. I honestly come from a very dark place as a child. I am an abuse survivor and this particular cause hold a very special place in my heart. I Love working the Drag N Den with my husband! He owned the business before I came along, and it is one of his true passions. I love to help him do the summer festivals and parties! We have a great time and the business seems to grow every year. Its a lot of fun for our family. I love being ouside and enjoying nature, especially the water! Yes, its true, Im a tree hugger. Mostly, I like in my own personaql time to do my workout videos(im a dork...i know), draw, paint, write, read, Play my bass, which I don't have much time for these days, cook and play with my daughters. I am very interested in the spiritual world and all the possibilities that it holds. I believe in some powerful forces, both good and bad. I have witnessed and seen things that have made me a believer. I think it is the closed minded existance of the human race that hols us back from so much that the universe has to offer. The truth is out there folks! I believe in miracles. I know that there is a higher force at work, whatever you call it...its there.

http://i288.photobucket.com/albums/ll189/Trautmanmonster/captain-planet-photo1.jpgIntroduction to Cannabishttp://www.youtube.com/watch?v=GB9rNhwofvI

Music

HAHA FUCKER! I LOVE YOU! This one could go on forever! My mom is a hippy and my dad is a trucker,

Im an 80's child and pretty well rounded!LOL! I like nin

,

poe

,

lords of acid

,

Danzig

,

manson

,

lynard Skynard

,

the stones

,

the who

,

nirvana

,

nick cave and the bad seeds

,

enya

,

happy hardcore

,

kenny chesney

,

they might be giants

,

moxy fruvous

,

CCR

,

Grateful Dead

,

Joplin

,

James Taylor

,

Bette Midler

,

ICP

,

Fleetwood Mac

,

Pink Floyd

,

some country

,

some rap

,

some pop

,

some classic and modern rock. Too many to really list

Movies

Television

..

I basically live on box sets!LOL! Seinfeld,

Freaks and Geeks

,

My so called life

,

X files

,

Dead Zone

,

Dont have much time for it though. Dexter

,

CSI

,

Family Guy

,

Roseanne

, and the golden girls. that shit cracks me up!

Pee Wee Giant Underpantshttp://www.youtube.com/watch?v=KAunpaO6XE0

<a

Books

Heroes

Anyone who can be themselves and be happy in life. So often we look around at what everyone else has and forget about what we ourselves are blessed with. Dana Skully....FBI! Have you ever seen her run in heels!? Nuff said! And Wonder Woman! Why you ask? Cuz the bitch can move a car! Can you do that? Hell NO! Thats why she's my hero....and you aren't!LOL! Little Mister Devin, fighting stage 4 Neuroblastoma. This kid is tough as nails, and has the courageof a warrior. I admire ALL kids that battle any illness. They are pure as sunshine to me and it amazes me to see them rise to every occasion. God Bless them.
Play

Play Next

Add to queue

Play

Play Next

Add to queue

Play

Play Next

Add to queue

Play

Play Next

Add to queue

Play

Play Next

Add to queue
About me:
....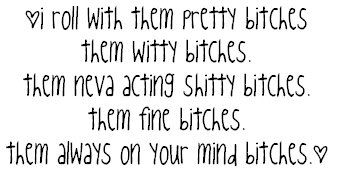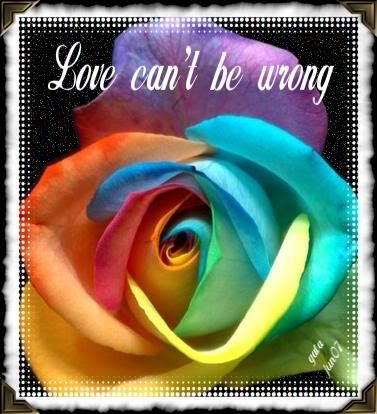 Just like transformers...there is more than meets the eye! I am a girl with big dreams, and nowhere near enough time to make them all happen! I am a mother, wife, friend, daughter and sister. I love my family and friends very much, and would go to the ends of the earth to protect them. I have three beautiful little girls, and I absolutely love watching them grow together. They are quite the characters and bring me so much happiness and laughter. Its amazing! I love to learn and grow as a person, and try to do it a little everyday. Some people think Im conceited......maybe they are right. But, you know what???? I have come such a long way in this world to where I stand today, and I am damn proud of the woman that I have become, and I am going to keep working until I am the best that I possibly can be. Because thats what my family deserves...the best. I try not to regret too much, certainly we all have a few, but when I think about where I am today, I realize that everything happens for a reason. Trite, but true! I try to learn from my mistakes and take a peice of the pain with me, because I turn to it when I need to keep my feet on the ground. Life isnt always rainbows and lollypops flying outta my ass...but shit man, it could be worse! I try not to hold grudges, even if its hard sometimes. Im slowly learning that forgiveness is the key to true peace, both inner and outter, and I want that more than anything href="
http://www.msplinks.com/MDFodHRwOi8vd3d3LnlvdXR1YmUuY29tL3dhdGNoP3Y9TTY1RW9KVUtnQVk=
">
Ani DiFranco - Angry Anymore
..
http://www.youtube.com/watch?v=M65EoJUKgAY
..

Make your Stick Figure Family at FreeFlashToys.com
,
Hannah at OneTrueMedia.com
http://www.onetruemedia.com/shared?p=83f124d783e5e...
Who I'd like to meet:
MySpace Graphics
-
Myspace Layouts,Graphics, and Comments!
This is Mike. Mike is cool. Maria.....who ever took this pic rocks!lol!
>

People who arent fake, 2 faced liars. Ive had enough drama for one lifetime and am really not interested in playing games. If I wanna play...I will do it with my kid! So, if thats what you are about...leave me the fuck alone already. I like people who are on the same level as me. Im a natural thinker and doer. I like to meet new people, but cant stand closed minded assholes who think their own way is the only possible way that there is. Nothing frustrates me more. There has got to be more to the world than even what I believe, and beauty is in the eye of the beholder. True beauty is not what can be seen or touched. Truely beautiful is a way of carrying oneself, a way of feeling, thinking and giving to others. Thats what I am looking for in people. When someone has been hurt time and time again, and they open their hearts, it means something. I must say that I am fairly selective of who I let into my circle of trust. But I am definitely open to newcomers who meet my standards. (I told you I was a bitch. lol)..
<img style="visibility:hidden;width:0px;height:0px;" border="0" width="0" height="0"
Status:

Married

Here for:

Networking, Friends

Hometown:

Walworth, NY

Orientation:

Bi

Body type:

5' 2" / Some extra baggage

Ethnicity:

White / Caucasian

Religion:

Other

Zodiac Sign:

Gemini

Children:

Proud parent

Smoke / Drink:

Yes / Yes

Education:

College graduate

Occupation:

Mom/ Wife/ Student/ Bitch
Everest institute

Rochester,NY

Graduated:

2009

Student status:

Alumni

Degree:

Associate's Degree

Major:

Medical Assisting (Associate's Degree in Applied Occupational Sciences)

Clubs:

Whos Who among American College Students 2005, 2006 and 2008. Academic Dean's and President's list

2005 to 2009

Wayne Shs

Ontario Center,NY

Graduated:

2002

Student status:

Alumni

Degree:

High School Diploma

2000 to 2002

School Without Walls

Rochester,NY

Graduated:

N/A

Student status:

Alumni

1998 to 1999
Drag N Den

Marion, Western NY US

Manager

3 years

My Damn House

Marion, Western NY US

Mommagrandpuba!!!!!!

for eternity, GOD HELP ME!!!!