Play

Play Next

Add to queue
Play

Play Next

Add to queue

1,074 plays

Play

Play Next

Add to queue

4,613 plays

Play

Play Next

Add to queue

783 plays

Play

Play Next

Add to queue

689 plays

Play

Play Next

Add to queue

3,643 plays
Genre: Acoustic / Folk Rock / Indie

Location the bay area, California, US

Profile Views: 42280

Last Login: 11/8/2010

Member Since 7/13/2004

Website http://cdbaby.com/cd/randit

Type of Label Major

Bio

.. Songs about truth, bitterness, the inevitable loneliness, the underlying sadness, the sweet nothings of blissful emptiness, the unavoidable illogical feelings of heartbreak, the never-ending racing thoughts that rape your mind when you're trying to sleep and then feeling and looking like a zombie the next day, zombies, the unexpressed self-expression because of self-doubt, self-depreciation, and self-destruction, and just being really tired. Basically, hopeful songs for people who are tired of life, but don't want to kill themselves. .. btw, update 12/03/08: i'm taking a break from my own music because i want to try new things/projects now, so i won't be very active with myspace. myspace sucks, anyway. .. .. .. ....RELEASES:.... .. ....Wolf with a Shield.... (2007) .. ..1. November 2, 1985..2. Life in the AM..3. Her Deep-End Blues..4. The Ghost of Huntington..5. Home of the Recluse..6. Sleepless..7. Will You Share My Blues..8. This is Bliss..9. When Life Was More Apparent..10. Wolf with a Shield .. ...... ....Click here to purchase this album.. .. .. .. .. .. ....Shuteye at Sunrise EP.... (2004) .. ..1. In December..2. The Factory..3. Time Can Be Your Only Friend..4. Kicking and Screaming..5. Leave Her Alone..6. Shuteye at Sunrise..7. Let's Get Lost......currently out of print.. .... .. .. .. .. .. .. ....UPCOMING SHOWS:.... ..

Members

..Me..-insomnia, hypochondria, circles under the eyes, absurdism, absurdist humor, coffee swimmer who swims in coffee, loves sushi, a need to have a growing arsenal of musical instruments, a need to just be. aka: everything... ..

Influences

Jason Molina/Songs:Ohia/Magnolia Electric Co., Nick Drake, Neil Young, Cat Power, M.Ward, Ryan Adams, and Isaac Brock/Modest Mouse/Ugly Casanova. uh, a lot more. Modest Mouse and Songs:Ohia are the two main ones though.

Sounds Like

love, loneliness, bitterness, autumn, and winter. .. and 'indie death folk' X_X
No recent updates in this category.
Why not...
Bio:
.. Songs about truth, bitterness, the inevitable loneliness, the underlying sadness, the sweet nothings of blissful emptiness, the unavoidable illogical feelings of heartbreak, the never-ending racing thoughts that rape your mind when you're trying to sleep and then feeling and looking like a zombie the next day, zombies, the unexpressed self-expression because of self-doubt, self-depreciation, and self-destruction, and just being really tired. Basically, hopeful songs for people who are tired of life, but don't want to kill themselves.
btw, update 12/03/08: i'm taking a break from my own music because i want to try new things/projects now, so i won't be very active with myspace. myspace sucks, anyway.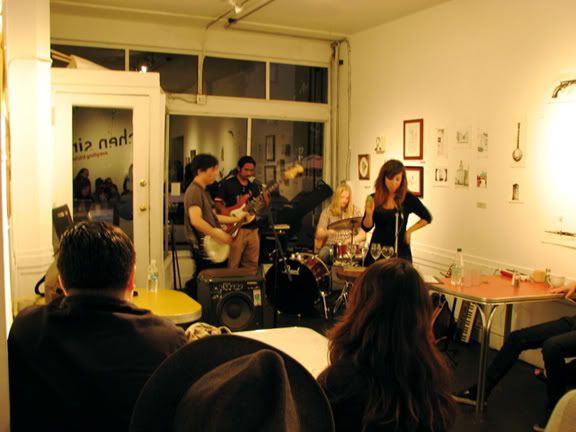 ..RELEASES:..
Wolf with a Shield (2007)

1. November 2, 1985
2. Life in the AM
3. Her Deep-End Blues
4. The Ghost of Huntington
5. Home of the Recluse
6. Sleepless
7. Will You Share My Blues
8. This is Bliss
9. When Life Was More Apparent
10. Wolf with a Shield

Click here to purchase this album




Shuteye at Sunrise EP (2004)

1. In December
2. The Factory
3. Time Can Be Your Only Friend
4. Kicking and Screaming
5. Leave Her Alone
6. Shuteye at Sunrise
7. Let's Get Lost

currently out of print







..UPCOMING SHOWS:..
Member Since:
July 13, 2004
Members:
Me
-insomnia, hypochondria, circles under the eyes, absurdism, absurdist humor, coffee swimmer who swims in coffee, loves sushi, a need to have a growing arsenal of musical instruments, a need to just be. aka: everything.
Influences:
Jason Molina/Songs:Ohia/Magnolia Electric Co., Nick Drake, Neil Young, Cat Power, M.Ward, Ryan Adams, and Isaac Brock/Modest Mouse/Ugly Casanova. uh, a lot more. Modest Mouse and Songs:Ohia are the two main ones though.
Sounds Like:
love, loneliness, bitterness, autumn, and winter.
and 'indie death folk' X_X
Label Type:
None