Play

Play Next

Add to queue
Genre: Acoustic / Alternative / Rock

Location ORLANDO and Kansas City, Florida, US

Profile Views: 48432

Last Login: 3/24/2013

Member Since 3/12/2005

Website www.rbfmusic.com

Type of Label Major

Bio

.. .. .......... <.............. .... .. .... ..........View Remove Before Flight's EPK.. ........ ...... .. .. REMOVE BEFORE FLIGHT from Orlando, Florida is straight up rock and roll the way nature intended. Blending a seamless harmony of catchy rhythms and meaningful lyrics, RBF songs capture a variety of blues and rock that create songs you can't get out of your head. .... REMOVE BEFORE FLIGHT began rocking Central Florida and the world in the fall of 2006. What started off as a solo acoustic effort by Ken Clark has taken off into one of the more powerful and noteworthy bands of late. .... With the latest self titled release (March 3, 2009), REMOVE BEFORE FLIGHT has already enjoyed radio airplay on WJRR, Real Rock 101.1 Native Noise, interview and airplay on The Scene with Tattoo Todd, Daytona's WHOG, a featured artist on Sunday Morning Acoustic on WMMO, an interview and live performance on Kansas City's 90.1 KKFI, Matt the Ratt show, along with various other nationwide radio airplay. .... In the Spring of 2009, RBF entered the airspace of TV as a featured artist for UCF SportsKnight's 'Plays of the Week' and 'UKnighted'. Other TV appearances are in the works. .... We aren't stopping there though, no way. This is only the beginning for the band and our latest album which is available on iTunes, CD Baby and Amazon. Pick up your copy today. .... So who is REMOVE BEFORE FLIGHT? .... Ken Clark anchors the group with gritty lead vocals and an unmistakable driving rhythm guitar. His songwriting comes from a variety of life experiences, good and bad, resulting in songs that are not only heartfelt, but vulnerable. .... John Meshensky builds the bottom end on bass through a variety of influences he picked up by playing in over 7 countries throughout the world. His sweeping licks melt across the music so deep you can feel it. .... Josh Porter on lead guitar allows his strong blues influences to ring throughout his blistering solos and bring momentum and swagger to the music. .... Rob page on Drums keeps it all together through a brutal assault of percussion that keeps your head banging or your foot tapping depending on the song. .... Where does the band name come from? .... Not only does it make a great picture for our album cover, (Thanks to Sean Duggan) but it does a pretty good job answering the question too. But here's the story. Before flying an airplane, a pilot typical does what is called a preflight inspection. During that inspection, the pilot makes sure that all instruments are in working order. A number of the instruments and other nooks and crannies on the outside of the airplane are covered to make sure bugs and birds don't make nests. Those covers are red and have the words 'Remove Before Flight' on them, just like on the album cover. So the band was searching for a name and on one of those fine days, Ken went flying, and saw a 'Remove Before Flight' tag. A Eureka! Moment occurred and it has been the band's name ever since. ........ .. ..

Members

Ken Clark - Vocals-Guitar .. ...... .. .. Josh Porter-Lead Guitar .. ...... .... John Meshensky - Bass .. ...... .. .. Rob Page- Drums .. ......

Influences

All of rock music, all of blues music and the cities and people I've known.

Sounds Like

Some Rock, Some Blues
No recent updates in this category.
Why not...
00:18 | 89 plays | Oct 9 2009
Bio:
..
<..
..
..
View Remove Before Flight's EPK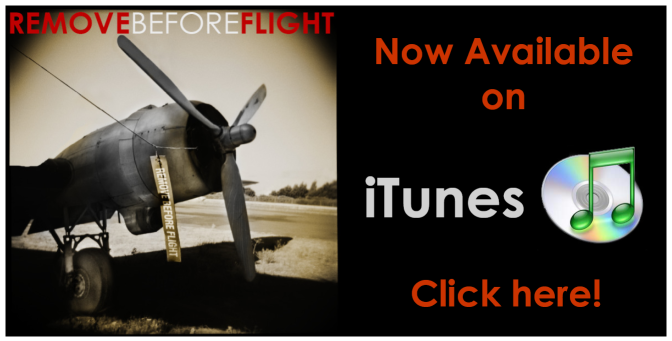 REMOVE BEFORE FLIGHT from Orlando, Florida is straight up rock and roll the way nature intended. Blending a seamless harmony of catchy rhythms and meaningful lyrics, RBF songs capture a variety of blues and rock that create songs you can't get out of your head.
REMOVE BEFORE FLIGHT began rocking Central Florida and the world in the fall of 2006. What started off as a solo acoustic effort by Ken Clark has taken off into one of the more powerful and noteworthy bands of late.
With the latest self titled release (March 3, 2009), REMOVE BEFORE FLIGHT has already enjoyed radio airplay on WJRR, Real Rock 101.1 Native Noise, interview and airplay on The Scene with Tattoo Todd, Daytona's WHOG, a featured artist on Sunday Morning Acoustic on WMMO, an interview and live performance on Kansas City's 90.1 KKFI, Matt the Ratt show, along with various other nationwide radio airplay.
In the Spring of 2009, RBF entered the airspace of TV as a featured artist for UCF SportsKnight's 'Plays of the Week' and 'UKnighted'. Other TV appearances are in the works.
We aren't stopping there though, no way. This is only the beginning for the band and our latest album which is available on iTunes, CD Baby and Amazon. Pick up your copy today.
So who is REMOVE BEFORE FLIGHT?
Ken Clark anchors the group with gritty lead vocals and an unmistakable driving rhythm guitar. His songwriting comes from a variety of life experiences, good and bad, resulting in songs that are not only heartfelt, but vulnerable.
John Meshensky builds the bottom end on bass through a variety of influences he picked up by playing in over 7 countries throughout the world. His sweeping licks melt across the music so deep you can feel it.
Josh Porter on lead guitar allows his strong blues influences to ring throughout his blistering solos and bring momentum and swagger to the music.
Rob page on Drums keeps it all together through a brutal assault of percussion that keeps your head banging or your foot tapping depending on the song.
Where does the band name come from?
Not only does it make a great picture for our album cover, (Thanks to Sean Duggan) but it does a pretty good job answering the question too. But here's the story. Before flying an airplane, a pilot typical does what is called a preflight inspection. During that inspection, the pilot makes sure that all instruments are in working order. A number of the instruments and other nooks and crannies on the outside of the airplane are covered to make sure bugs and birds don't make nests. Those covers are red and have the words 'Remove Before Flight' on them, just like on the album cover. So the band was searching for a name and on one of those fine days, Ken went flying, and saw a 'Remove Before Flight' tag. A Eureka! Moment occurred and it has been the band's name ever since.
Member Since:
March 12, 2005
Influences:
All of rock music, all of blues music and the cities and people I've known.
Sounds Like:
Some Rock, Some Blues