Play

Play Next

Add to queue
Play

Play Next

Add to queue

18,369 plays

Play

Play Next

Add to queue

16,369 plays

Play

Play Next

Add to queue

5,889 plays
Genre: Gothic / Other / Progressive

Location Parts Unknown, California, Un

Profile Views: 56165

Last Login: 1/12/2013

Member Since 5/28/2006

Type of Label Major

Bio

..............1984-1988.......... ........Before the overused term "Goth", when GOTHIC was an actual style of literature, architecture, music and melancholia, there arose from the polluted streets of Los Angeles a savior. There has never been another band like the Original (1984-1988) RADIO WEREWOLF. ......The peerless theatrical and musical contributions of this group drew sold out crowds to every major venue in the L.A. area. The legend has only grown over the years due to the fact that the initiated recipients of this true greatness have shared the emotional/spiritual transformation received at these rallies with the generations that followed. Pretenders to the throne such as Rob Zombie, Marilyn Manson, and the countless others who once stood in line to gaze in awesome wonder at RADIO WEREWOLF, are now trying their best to imitate them with silly guitar music, but alas there is no imitation ... Shortly after gracing the silver screen with their presence in the immortal classic MORTUARY ACADEMY,......the original group disbanded due to "political reasons". Nikolas Schreck moved on to the European Theatre and continued to release information using this same name, Evil Wilhelm and James "Filth" Collord formed SYMPHONY OF TERROR (1989-1998)...... and Paul F. Antonelli went on to continue his composition in other media. Enjoy looking back through the broken window of time at some of these photos and remember before you go to bed each night to .... HAIL GRIMSLEY!........Radio Werewolf has 666 friends..... ..

Members

.......... Nikolas Schreck - Vocals..Evil Wilhelm - Percussion..James "Filth" Collord - Bass..Paul F. Antonelli - Lycanthropicord........

Influences

The Dominant Frequency

Sounds Like
Bio:
..
..1984-1988..
Before the overused term "Goth", when GOTHIC was an actual style of literature, architecture, music and melancholia, there arose from the polluted streets of Los Angeles a savior. There has never been another band like the Original (1984-1988) RADIO WEREWOLF.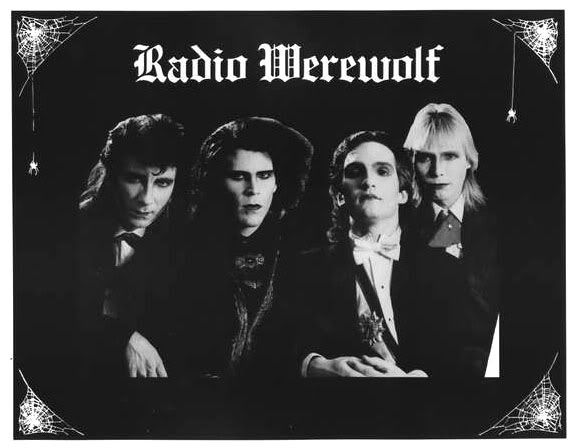 The peerless theatrical and musical contributions of this group drew sold out crowds to every major venue in the L.A. area. The legend has only grown over the years due to the fact that the initiated recipients of this true greatness have shared the emotional/spiritual transformation received at these rallies with the generations that followed. Pretenders to the throne such as Rob Zombie, Marilyn Manson, and the countless others who once stood in line to gaze in awesome wonder at RADIO WEREWOLF, are now trying their best to imitate them with silly guitar music, but alas there is no imitation ... Shortly after gracing the silver screen with their presence in the immortal classic MORTUARY ACADEMY,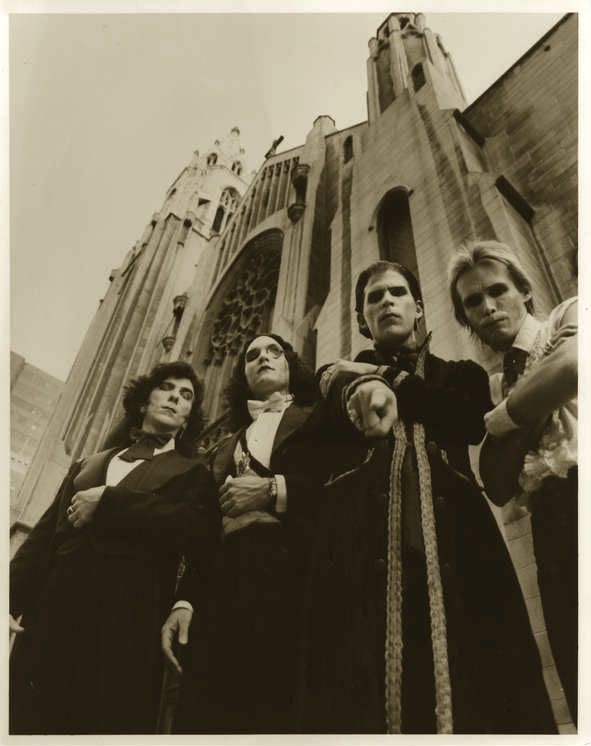 the original group disbanded due to "political reasons". Nikolas Schreck moved on to the European Theatre and continued to release information using this same name, Evil Wilhelm and James "Filth" Collord formed SYMPHONY OF TERROR (1989-1998)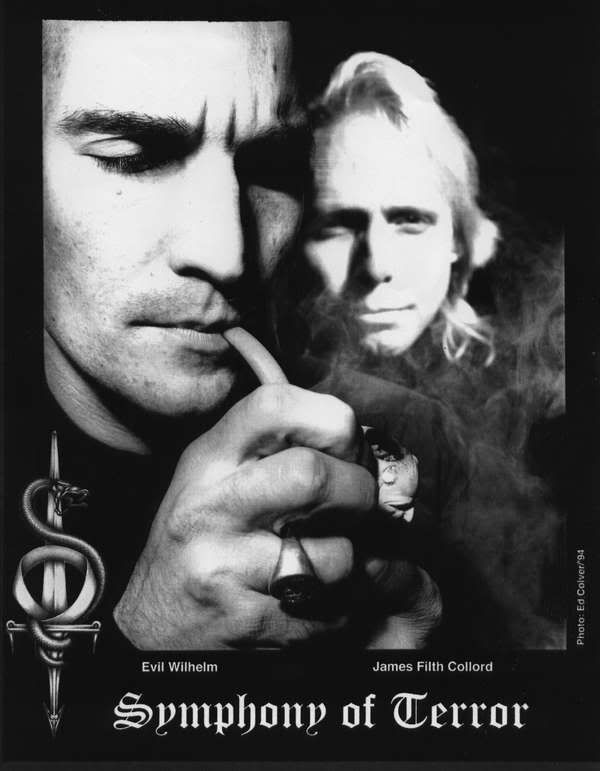 and Paul F. Antonelli went on to continue his composition in other media. Enjoy looking back through the broken window of time at some of these photos and remember before you go to bed each night to .... HAIL GRIMSLEY!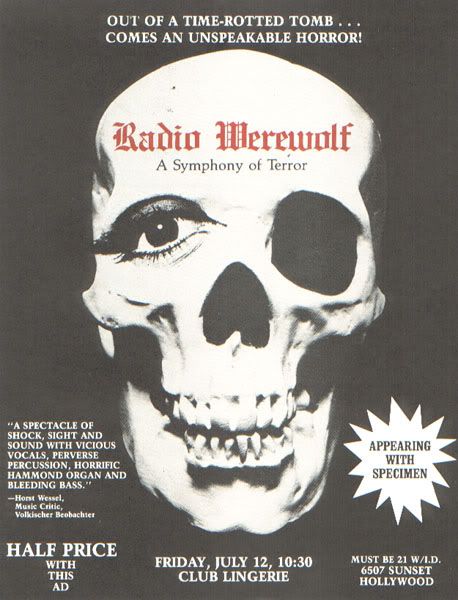 Radio Werewolf has 666 friends. ..
Member Since:
May 28, 2006
Members:
Nikolas Schreck - Vocals
Evil Wilhelm - Percussion
James "Filth" Collord - Bass
Paul F. Antonelli - Lycanthropicord
Influences:
The Dominant Frequency