No recent updates in this category.
Why not...
Victor Montañez hasn't earned any badges yet... have you?
Play

Play Next

Add to queue

Play

Play Next

Add to queue

Play

Play Next

Add to queue

Play

Play Next

Add to queue

Play

Play Next

Add to queue
About me:
My name is Victor M. Montañez
I am a huspand, a father, a son, a brother, a neighbor, an advocate, a wrtiter, a painter, a dj, and an educator. I am best known as a Chicago public school reformer. Some argue that I am better known as a Lowrider. Any association is an honor. Thanks for reading about me. I look forward to learning about you.
Education Reformer
I am a nationally recognized expert on educational policy and urban school reform. I have been key presenter on education leadership issues at national and international conferences sponsored by the World Bank, The Ford Foundation, The Hazen Foundation, The Annenberg Foundation and the Kellogg Foundation. I presented throughout the United States in major urban areas and represented the United States at the International Conference for Education Reform in 1994 in Santiago, Chile South America. I was working at Designs For Change. Working at DFC is a badge of honor that I carry with me. 13 years I spent there as a volunteer, organizer, co director of leadership development, co-director of policy and consultant. I am very proud to have been a part of the team that led the movement for school reform. Our work in school reform is still revolutionary almost two decades later. I served two terms as community representative in my local school council and won one term in the local middle school. I walk my talk and have been very lucky to work with others who do likewise.

My start in Education
I started out my professional work in education at the age of eighteen. I left the midwest after three very long years at Sterling high school in northwest Illinois. I made my way to Los Angeles and joined forces with a Catholic Priest,
Brother Modesto Leon
. Together we restarted the
SEA Schools, Soledad Enrichment and Action
, in East Los Angeles. At SEA, I taught high school algebra, writing, and social studies to kids we ourselves recruited out of juvenile hall. Today there are more than twenty schools in the nation based on the original SEA model. I thank God for landing that extended gig with
Br. Modesto and Father Richard Estrada
. They continue to walk the Walk with very little need for the cheap talk in the city of Angeles. They are two real life angels who guieded my life and learning while I was there in the early eighties.
Click Here
for more on SEA
Soledad Enrichment an Action
, Ca. USA
What I do Now
I am now a consultant, helping high performing schools as well as struggling schools to enhance performance and community participation. I work with administrators, teachers, students and parents to bring about school wide change and academic improvement. I also consult as the Special Projects Coordinator for Northeastern Illinois University's GEAR UP Humboldt Park Network. Through that capacity, I founded a unique student advocacy center in Roberto Clemente High School rich in academics, arts, and music. As
El Rebel X
, I spearheaded the Art and Music components of Northeastern Illinois University's Enlace Leadership Institute Camps. ENLACE is a Nationally recognized program that trains Latino leaders locally and nationally. The initiative is funded by the Kellogg foundation.
The A.M. Theory
Through my experience and those who influenced me, I extended my work in educational reform into organizational development. I am the author of a cutting edge development tool entitled The
Agricultural Model (AM): A Process Theory for Systemic Change. AM
is used by high performing organizations both in the public and private sector. I have been guest speaker and led workshops on
AM
at numerous educational institutions including the University of Chicago, University of Illinois, Northeastern Illinois University, Malcolm X College, University of New Mexico and New York University.
Stand Up for Our Neighborhoods Campaign
Selected Media on the Stand Up for Our Neighborhoods Campaign
Click Here
for article of
Captured on Camera
In October of 2006, I launched the
Stand Up for Our Neighborhoods Campaign
, a volunteer effort aimed at civic ownership of problems such as gangs, drugs, and crime in Chicago neighborhoods. I had a lot of help from hundreds of people, some I have not yet met. It was very different but very effective campaign. My allies and I, organized and joined organized groups to restore peace in our neighborhoods being torn apart by drug and gang warfare. We used old organizing methods and I heavily used my Blackberry phone and a local list serve to mobilize. We had unprecedented success. The stand Up Campaign convinced me of the power of the net and in a direct way convinced me to build this site. Several Media outlets carried the story, local and national media covered our campaign and broadcast or published the story. Here Is the broadcast that beat Bush's address to the nation for top story by Telemundo's Enrique Garcia Fuentes preceeded by two print articles. One is from Chicago By Mellisa Lou, followed by one from Florida, by Dana Treen, originally printed on Sunday, June 11, 2006. Extra News wrote the following: Posted on 01-26-2006
Resident Allegedly Threatened For Standing Up To Gangs
by Melissa Lou
Victor M. Montañez of Logan Square
, says he was defending his family and neighborhood from gangs, violence and drugs when he and his neighbors set up 911 phone-trees and put up video cameras to intimidate the gangs that were taking over their lives. In retaliation, he said, someone attacked his property and threatened his family, but
he won't stand down
.
Click Here
for full Extra News article.
What Jacksonville can learn from other cities
By DANA TREEN, The Times-Union
CHICAGO -- Violent crime couldn't strike any closer to home than Victor Montañez's sidewalk. That's when the seemingly intangible numbers behind Chicago's status as the nation's murder capital became real. "They were stopping cars, selling drugs, fighting," Montañez said. About two dozen members of the Maniac Latin Disciples gang had set up shop outside his Logan Square home. They smoked blunts -- marijuana-stuffed cigars -- and threatened him as he returned home to his wife and 4-year-old daughter. They broke windows in his house and the windshield on his Durango. "They turned a beautiful neighborhood into a war zone," Montañez said. It was a stereotypical image that the city fought for years to overturn. Through a concerted effort that drew upon sophisticated data systems, specialized police teams, partnerships with federal prosecutors and community-based organizations, the city that led the nation in murders for two of the past five years went from 654 murders in 2002 to 447 last year. By the end of 2003, it had reached a 36-year low. It became a role model for fighting violent crime.
Click Here
for article of
What Jacksonville Can Learn from Other Cities
. by
dana.treenjacksonville.com
, (904) 359-4091
Telemundo's Enrique Garcia Fuentes
on Stand Up for Our Neighborhoods Campaign
....
My five minutes of fame on HBO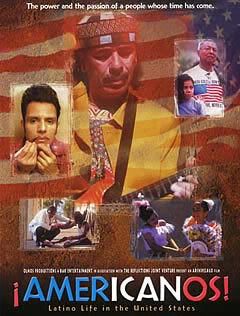 ....
HBO's Americanos, Latino Life In the US
I was one of fourteen stories featured in the award winning HBO documentary:
Americanos, Latino Life in the United States
. My entire familia, hometown and several thousands of our Lowrider friends challenged the stereotypes about Latino Culture with our three day gatherings. Long before that, and more so since, I represent Lowriders with pride and honor. I also urge everyone to support Edward J. Olmos and his Productions. He is truly the real deal "A True People's Champion".
La Pocha's Tribute To Eddie Olmos:

....
Happy enough to make friends around the world
I am begining to be recognized as an important and innovative artist
as well as a respected life long advocate,
organizer, and educator in educational,
artistic and activist circles locally and nationally.
But the fame has not brought fortune.
I guess you can't always get what you want.
I have all my needs met and the furure seems bright.
I would like to travel more, to work on the Cause or just because.
Mainly I want too show my kid and wife the planet and help create a more just world.
¡SI SE PUEDE!
Who I'd like to meet:
Calling All Revolutionary Party Leaders!
I want to meet people who care about the planet and everything in it.
I want to meet people who have depth, confidence, dreams, and enjoy life.
I want to meet real people, real artists, poets, actors, singers, lowriders,
photographers, filmmakers, movers, and shakers,
and cool people who know how to chill and know how to party and get the party started.
I want to get to know the people who walk the talk and dance up a storm.
I am not a Party Animal.
I am more of a political animal,
but Logic tells me that the revolution needs a revolutionary party,
and what a party needs is party leaders.
Revolutionary Party Leaders,
I know you are out there.
Add me as your friend. If any of you know
..Cheech Marin..
Hook us up, 'cause you know his Art collection
is so in-complete without one of my Know Art pieces.
That goes for all collectors you know out there.
Sponsor an overweight starving artist.
For latest News, Rants, and Art Visit My Blog
El Blog De Rebel X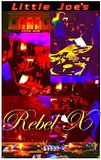 Status:

Married

Here for:

Networking, Friends

Hometown:

Sterling, Illinois

Orientation:

Straight

Ethnicity:

Latino / Hispanic

Zodiac Sign:

Gemini

Children:

Proud parent

Occupation:

Artist, Writer, Educator, Advocate, DJ
Know Art School

Chicago, Illinois US

Founder

2000-present

RPM Independent Productions

1995-present

Know ART Gallery

Chicago, Illinois US

Owner

2006 - present

Colectivo 18

Chicago, Illinois US

Founding Member

2008-present

Chicago GEAR UP Alliance

Chicago, Illinois US

Special Projects Coordinator

2001-present

eXtra Newspaper

Chicago, Illinois US

Contributing Reporter

2006-present

Milwaukee Avenue Arts Festival

Logan Square - Chicago, Il US

Chairman Artists Recruitment

First Weekend of August

2009-present

2009-present

I am Logan Square

Chicago, Illinois US

Founding member

1-2010-present

Avondale Artists Collective

1-2010