No recent updates in this category.
Why not...
Records hasn't earned any badges yet... have you?
General

The interview with DJ Shadow that appears in the film "Scratch" was shot in our basement.

We are starting some email lists. We currently have email lists for: Punk, Indie, Metal, and Hip-Hop. If you want to join our email list(s) please send an email to :

maillist@rare-records.net

or send a message through my space.

Please include the list or lists you would like to be added to in the subject line. This list is to inform customers of new arrivals in each category. If you would like to request a new category for an email list please send a suggestion to:

maillist@rare-records.net

or a message through my space with "suggestion" in the subject line.

Movies

Television

Books

Heroes

NO MORE HEROES ANY MORE!
About me:
"RECORDS" is at 1618 Broadway. We've TOTALLY gone from the K Street location FOREVER and we've signed the lease on Broadway and we are done moving the LPs, CDs, shelves, fixtures, and everything else.
The new space is pretty awesome; it's the old Tower Video spot.
WE ARE NOW OPEN 7 Days a week, including Sundays. Also, we are open late too, so stop by soon!
We recently moved out of a 100-yr old building on K Street!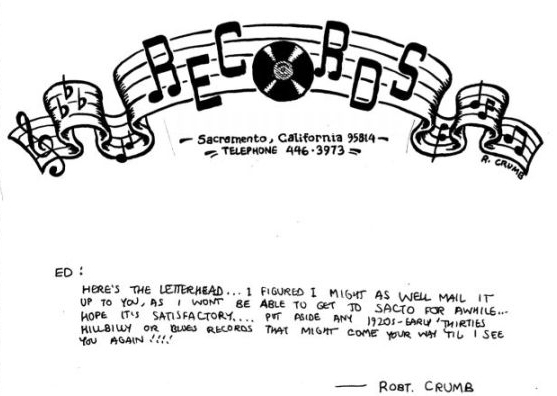 Interesting facts about Records known to discriminating vinyl connoisseurs of Northern California (also known as K Street Records):

* We are the Record store that appears on the cover of the DJ Shadow LP "Endtroducing"

* We have the biggest treasure trove of vinyl in California

* Our massive basement of 800,000 records appears in the film "Scratch."

* The legendary artist Robert Crumb designed our logo in exchange for rare 78s from our basement (or so the legend goes)
* Lux Interior and Ivy of the Cramps got their start here, working for Ed in the 70s, as documented in the book 'The Wild World of the Cramps'

* We just moved out from a haunted 100-year-old historic building with many leaks and other issues

* We are now located at the OLD Tower Video location of 1618 Broadway. * We are ALWAYS getting new and used vinyl in stock. We have surprised many with what you can still find digging in Sacramento. Visit us.

(916)446-3973
email:

records-AT-rare-records.net
We have tons of vinyl.
PUNK...ROCK N' ROLL...INDIE...METAL...JAZZ
HIP-HOP/RAP...FUNK-SOUL-RN'B....COUNTRY-FOLK-BLUES-INTERNATIONAL
AND MORE!
WE ARE COMMITTED TO KEEPING ANALOG ALIVE!!! And we will continue to do so in the new store.
We also carry CDs, DVDs, VHS, posters, video games, game systems, etc.



Our website URL is www.rare-records.net




Here is a link to our Ebay store. We are selling items here as auctions and store inventory.

http://stores.ebay.com/k-street-records

..

I edited my profile with Thomas� Myspace Editor V3.6!

..
Who I'd like to meet:
People that want RECORDS!
And we've got CD's and DVD's too, along with the largest quantity of records in one store.
Status:

Single

Zodiac Sign:

Capricorn
River City Senior High

West Sacramento,California

Graduated:

1986

Student status:

Alumni

1984 to 1986