About me: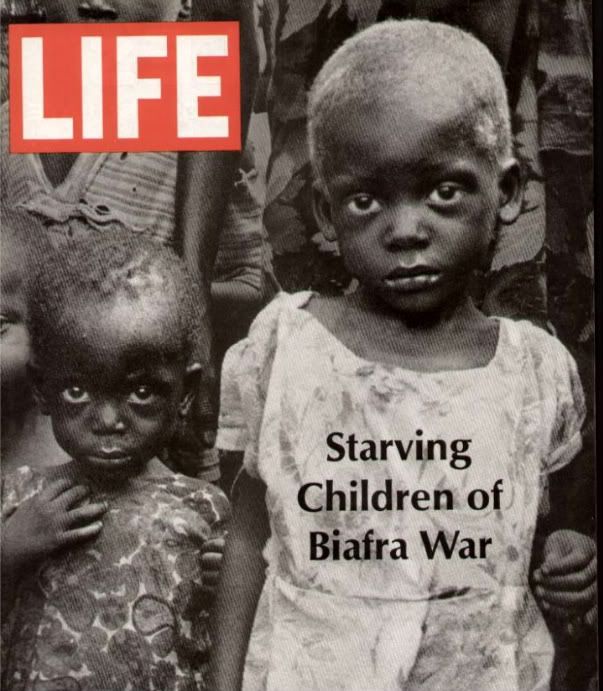 The Republic of Biafra was a secessionist state in south-eastern Nigeria. This portion of the country was inhabited primarily by Christian Igbo people and the Republic existed from 30 May 1967 to until its fall on 15 January 1970. The creation of this new political entity was driven by economic, ethnic, cultural and religious tensions among the various peoples in a post colonial Nigeria, which was an artificial creation of British cartographers. The country derived its name from the Bight of Biafra, a bay located on the Atlantic Ocean just to the south. In January of 1966, a group comprised primarily of Igbo tribesmen led a military coup against the Nigerian Federal government. Some 30 political leaders including Nigeria's Prime Minister, Sir Abubakar Tafawa Balewa and the Northern premier, Sir Ahmadu Bello were killed. In response to the coup and murders, in July officers and army units from the majority Hausa tribe in the north of the country staged a successful counter-coup against the new government. Hundreds of high ranking Ibo army men were killed. The Islamic dominated junta named a Christian from a small ethnic group (the Anga) in central Nigeria, Lieutenant Colonel Yakubu "Jack" Gowon, as the head of the new Federal Military Government (FMG). The fallout from the violent overthrow of two succesive governments in Lagos significantly deepened Nigeria's ethnic as well as religious tensions. In September of 1966, approximately 30,000 Christians were murdered and hundreds of thousands more mutilated in northern Nigeria in ethnic driven attacks. This was followed by the retaliation killing of hundreds of Muslims in eastern cities. As a result, millions of Igbos took flight from the northern provinces back to their ancestral homeland seeking safety from futher religious / tribal persecution. The FMG proposed a reconciliation plan with the Igbo leadership, which was rejected.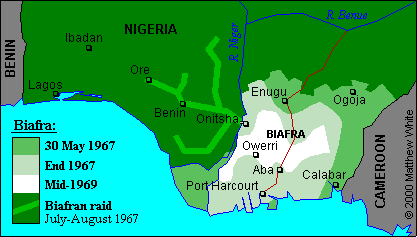 On May 30, 1967 Lt Col. Chukwuemeka Odumegwu Ojukwu, the Eastern Region's military governor, announced the creation of the Republic of Biafra, citing the need to protect Igbos from any futher post-coup violence and mayhem from the majority Hausa and Yoruba tibesmen. As with most wars, however, money became a key driver in the conflict, as there were large deposits of oil around Biafra. However it might have really felt about the succession of the Igbos, the Federal government of Nigeria could scarcely stand to lose such its most important source of income. War was inevitable and Federal Nigeria had the full backing of arms and funds from unlikely allies Britain, Egypt, and the Soviet Union. Tiny Biafra found now found itself in the gun sights of three major military powers. Biafra was recognized as an independent several African nations such as Gabon, Haiti, Ivory Coast, Tanzania and Zambia. Other nations did not give official recognition, but provided covert assistance. Israel, France, Portugal, Rhodesia, South Africa and the Vatican City were allies in the Biafran cause. Biafra also received food and provisional aid from NGOs such as Joint Church Aid, Holy Ghost Fathers of Ireland, Caritas International, MarkPress and U.S. Catholic Relief Services.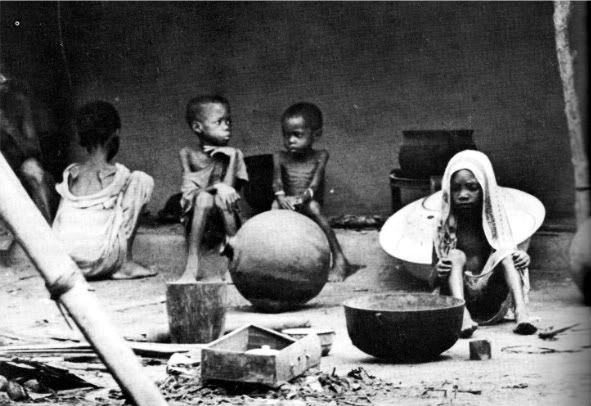 The Federal Military Government in Lagos launched "police measures" to annex the Eastern Region. The FMG's initial efforts were unsuccessful; and the Biafrans mounted their own counteroffensive, even taking land in the Mid-Western Region. But in 1967, the FMG had regained all of the lost territory, and in 1968, unrelenting attacks by the FMG had shrunk Biafra to one-tenth of its original size. Biafra suffered from a lack of heavy arms, military vehicles and ammunition, with its soldiers being often sent to the front with rusty rifles and only ten bullets each. But the Federals underestimated the resolve, and fear, of the Igbo people that they would be exterminated. In March of 1968, Federal troops massacred 300 people seeking shelter in the Cathedral at Onitsha. This senseless act only strengthened the resolve of Biafra to fight on. In September 1968, the federal army planned what Gowon described as the "final offensive" which was initially neutralized by Biafran troops. But with outgunned Biafra being hammered on every front, eventually a southern FMG offensive managed to break through their lines. With fresh supplies now being flown in secretly from France, the Biafran army went on a counter offensive and midway through the year seven-eighths of the country had been recovered. A major battle took place at Owerri, where 1900 Federal troops were killed. On 30 June 1969, the Nigerian government took steps to ban all Red Cross aid to Biafra. "Let them keep their bloody relief supplies" said Nigerian President Gowon. With the food supply cut in half, the result was starvation on a massive scale. Many saw Lagos as using food as the ultimate weapon to finally crush Biafran resistance. It is estimated that as many as 1000 children were now dying on a daily basis. In October, Biafran President Ojukwu appealed to the United Nations to mediate a cease-fire between the two states. He was ignored. The federal government's response was to call for Biafra's unconditional and total surrender. The IRCC estimated that 14,000 Biafrans were starving each and every day.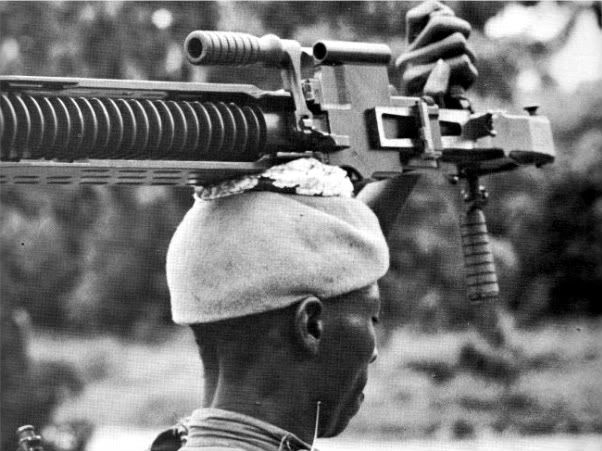 In December, the FMG managed to cut Biafra in half, primarily by the efforts of Third Marine Commando Division of the Nigerian Army, led by then-Colonel Olusegun Obasanjo. 120,000 Federal troops attacked Biafra from all directions. Using the tactics of the British Army, instead of mounting guerrilla raids, the Biafran soldiers were mown down in the face-to-face combat with the Federal Army. Dispirited and weakened by hunger, many Biafran soldiers began to shed their uniforms and melt into the Bush. Ojukwu had been betting that tribal and religious rivalry would tear Nigeria apart in time to save Biafra. But his men had run out of food before this could take place. In the final moments of the Republic of Biafra, President Ojukwu fled from Uli to the Ivory Coast, leaving his chief of staff, Philip Effiong, to act as the "officer administering the government". Effiong called for a cease-fire 12 January and submitted to the FMG. Biafra became a human tragedy of monumental proportions; more than ONE MILLION people had perished from starvation or in battle. Some have estimated that it could perhaps be double or even triple that number. No one will ever know. Images of Biafran children with swollen bellies and reddish hair suffering from kwashiorkor, a protein deficiency, due to the Federal food blockades touched hearts all over the world. However, from the catastrophe that was Biafra would emerge the humanitarian organization Médecins Sans Frontières (Doctors Without Borders). A group of French physicians, frustrated by the lack of action from the International Red Cross (who would not fly relief supplies into Biafra without clearance from Lagos), vowed to create an organization that would rise above the politics of future conflicts and focus only on treating the victims. This page has been posted only in to honor our borthers and sisters in Christ who perished in the conflict and has absolutely no political agenda. Si kele onye nti chiri; enu anughi, ala anu.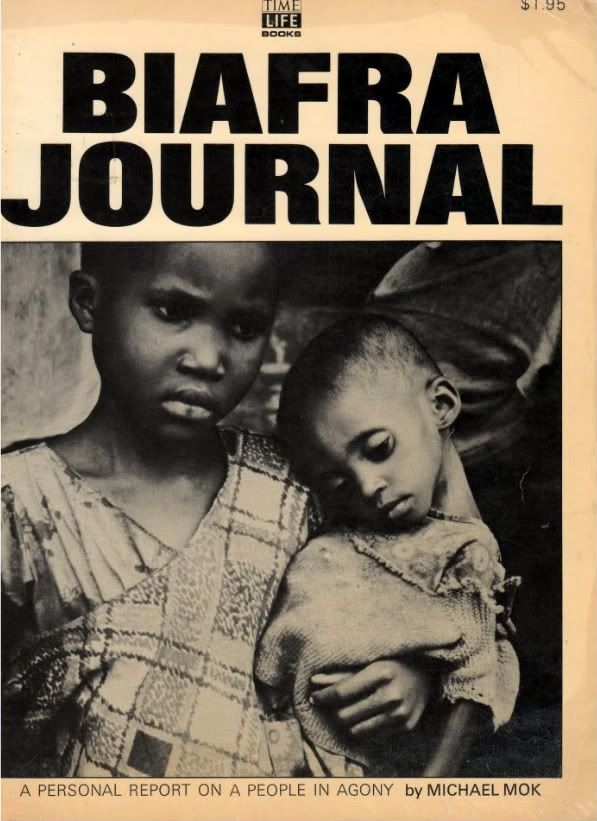 (Photos from Biafra Journal by Michael Mok, text thanks to Wikipedia, Time Magazine January 26, 1970, Life Magazine July 12, 1968 and STAFFORD, Michael R., Major, United States Army "Quick Kill in Slow Motion: The Nigerian Civil War")
Who I'd like to meet: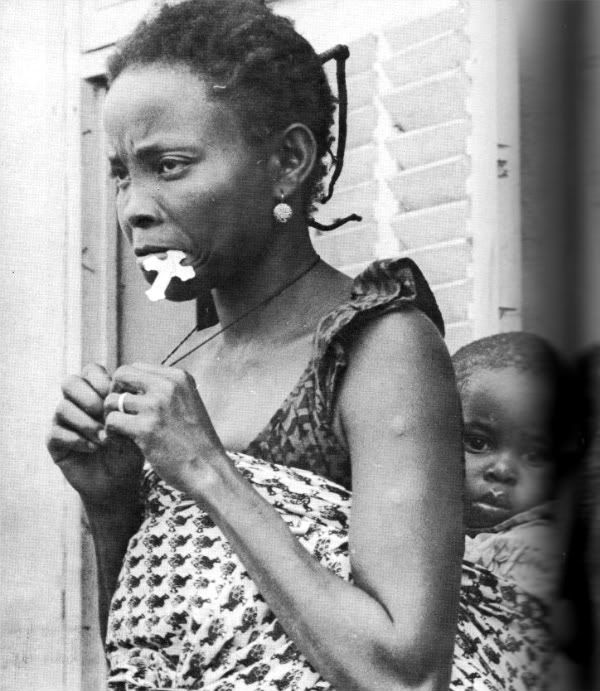 A Biafran woman finds solace in her faith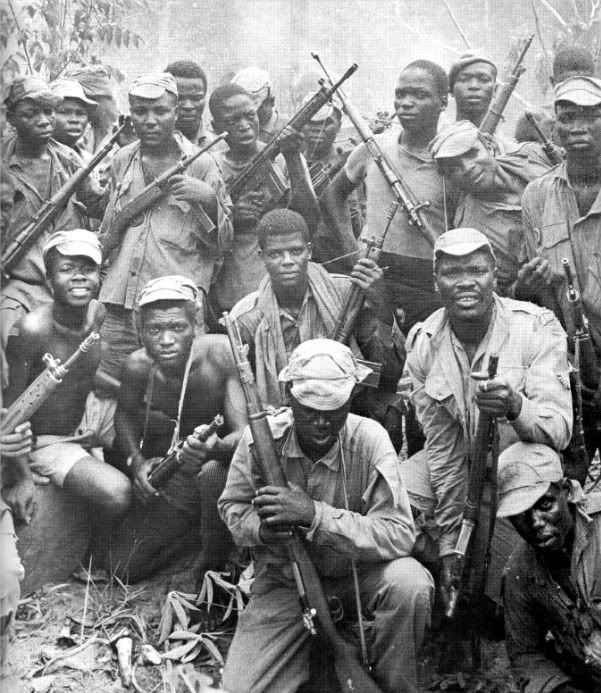 Biafran soldiers pose in a jungle clearing near Asaba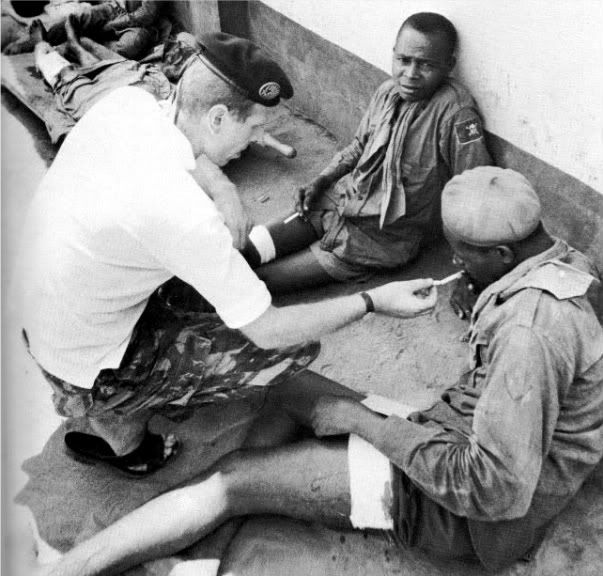 Biafran brigade commander Rolf Steiner offers a cigarette to a wounded soldier.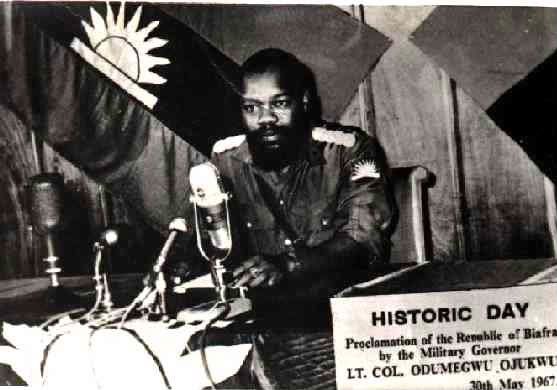 Lt. Col. Chukwuemeka Odumegwu Ojukwu, President of Biafra declares the country's independence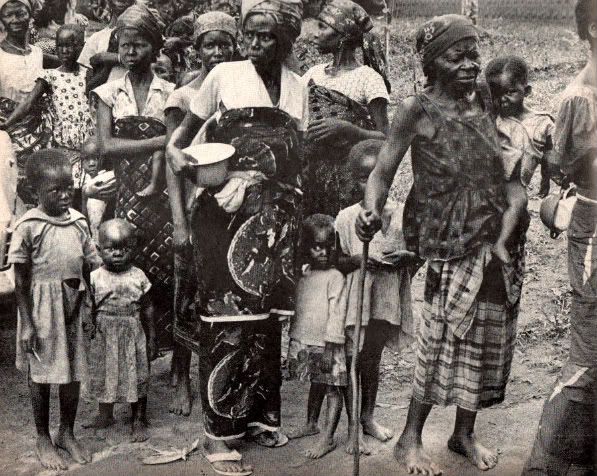 Biafran mothers queue up patiently in hopes of receiving medical treatment for their children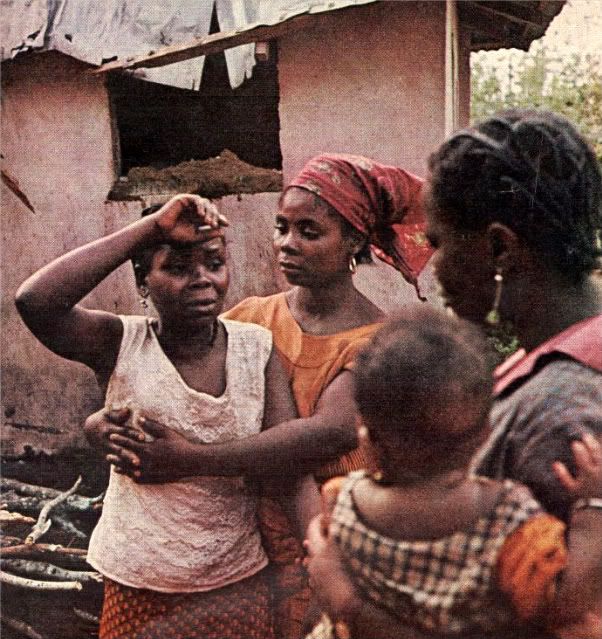 Women comfort one another in Aba, after a bombing raid. The Federal government commissioned Egyptian, and later East German, pilots flying Soviet equipment to break the will of the Biafran populace.
Civilians flee Federal bombardment in Awka, in northern Biafra. The Federal Army would frequently bombard a town into submission first before moving in with armour and troops.
General

Irish priest Father Joe Prendergast, pastor at Airstrip Annabelle - Biafra's fragile life line to the outside world, tries to coax a smile from a young boy in his care

Dr. M.M. Tyndall, the physician in charge of Holy Rosary Hospital near Emekuku, comforts a Biafran child who is close to death from starvation

Biafran Sister Joseph Theresa examines a baby whose mother has sprinkled it with "magic" chalk to try and ward off the suffering from hunger. Sister Theresa was responsible for serving up meals at Airstrip Annabelle.

Biafran Currency

Postage stamp of Biafra

A Biafran family in a Federally occupied town prepares to bury their youngest child

Biafran troops celebrate an early victory with Taffy Williams, a Welsh soldier of fortune. Williams was the only European mercenary to remain with the Biafrans until the very end of the war, eventually becoming a Major. His bravery under fire was legendary and he is thought to be a major inspiration behind Frederick Forsyth's book "The Dogs of War".

A Federal convoy which had been ambushed and destroyed by Biafran troops

Biafran refugees travel in both directions on a highway in a desperate effort to escape the fighting, not knowing where to find safety

Separated from his family, a terrified elderly Igbo awaits his fate as the Federal Army approaches

Biafran soldiers comfort an abandoned boy after his village was retaken from Federal Troops

Biafran soldier in the bush

Biafran child soldier and former French Foreign Legionnaire Rolf Steiner. More on Lt. Col. Steiner below.

American Soldier of Fortune Ron Archer, from San Francisco, awaits instructions before flying a plane load of supplies to Biafra from Lisbon, Portugal. Pilots flew at night to avoid the Nigerian MIGs landing on Biafra's tiny "Airstrip Annabelle" at Uli which they nicknamed "The Sidewalk". There was only eight feet of clearance on either side of the planes' landing gear.

The airstrip was repeatedly bombed during the day and required constant repair. Because of this, the landing lights could only be switched on for ten seconds at a time. The private air carrier which supplied most of the aid was called JCA - Joint Church Aid, but the pilots referred to it as "Jesus Christ Airlines". The Uli airstrip was reported to be the busiest on the African continent, at one point receiving more than fifty "illegal" flights daily....25 pilots and crew paid the ultimate price to help keep Biafra from starving to death. Legend has it that one such pilot had appeared in the "Little Rascals" series of films as a child actor. Following the war, the Nigerian government bulldozed their graves.

On the island of Sao Tome, chartered planes were loaded with beans, sugar, and rice for Biafra, mainly on aging Lockheed Super Connies. So many lives were saved thanks to the work of a small group of charities and dedicated volunteers.

A pilot known only as "Mark" talks to his copilot before making a run.

American Hank Wharton ran a charter service into Biafra so successful that the Nigerians put a $100,000 price on his head (more than $600,000 in today's dollars). Originally only running munitions at night, he later also chartered relief supplies.

Lt. Col. Chukwuemeka Odumegwu Ojukwu, 34, President of the Republic of Biafra. Described as intelligent, charming, and ambitious, Ojukwu was the son of a very wealthy Nigerian family and graduated with a BA in History from Oxford as well as studying at Sandhurst Military Academy. Part of Biafra's downfall was due to Ojukwu's paranoia, and after each military defeat he would often arrest commanders in his own army as "traitors and saboteurs", blaming them for the loss. Indeed Biafra lost the war(please refer to map on website) partly because of Sabotage. Consider that Biafran Soldiers had captured the entirety of the Mid-Western Region and parts of Western Region at one time during the War, only to be ordered by their General Officer commanding that Sector (Brigadier General Banjo, who was from the Youruba Tribe of Western Nigeria) to retreat back to the banks of the River Niger without firing a bullet... In fact, Biafran soldiers were getting within launching strike distance of Lagos, the then Federal Capital of Nigeria. The other main reason that Biafra lost was because of the Sea Blockade that led to mass starvation of the Biafran Population. The Nigerian leaders saw hunger and starvation as instruments of warfare. To his credit, Ojukwu was very urbane and enlightened relative to his Generalship of the War. He also was not greedy, as all the realizable assets of his family's immense wealth were thrown into defending Biafra and her Citizenry. After living a decade in exile, he was pardoned in 1980, and returned from exile to Nigeria, acutally running for President of the country in 2003. He lives a quiet life in eastern Nigeria today.

Rolf Steiner, 4th Biafran Commando Brigade. Steiner was the stuff of legend. Born in Germany in 1933, he enlisted in the French Foreign Legion when he turned 17. Steiner originally served in Viet Nam against the Viet Minh, then in Algeria against the FLN, but was dismissed from the Legion after his membership in the anti-government OAS was revealed. While living in France, he heard of the Biafran cause, and enlisted with their army following independence, becoming a Biafran citizen in the process. Unlike other Soldiers of Fortune, Steiner was passionate about Biafra, and did not receive any pay for his efforts beyond room and board. After achieving a level of success and rising to the level of Lt. Colonel in the Biafran Army, he eventually quarreled with President Ojukwu and his staff. Some say it was driven by jealousy from other Biafran commanders, who resented the preferential treatment given Steiner. Steiner was dismissed along with five other mercenaries and led out of the country in handcuffs. He later organized and led rebel Anya-Nya Christian forces in the Sudan, because of his belief in their plight, doing so for very little pay. He was arrested while traveling back through Kampala, Uganda and flown to Khartoum, Sudan, where he was imprisoned. After being beaten and sadistically tortured for three years, he was finally released following pressure by the West German government. His autobiography, The Last Adventurer, was published in the 1970s. It is a fascinating read if you can find a copy.

Gen. Philip Effiong, the second and last President of the Republic of Biafra, surrenders to General Gowon of the Federal Army

The movie "Tears of the Sun" was loosely based on the story of Biafra
Play

Play Next

Add to queue
Status:

Single

Zodiac Sign:

Gemini