Reviewer Magazine hasn't earned any badges yet... have you?
General

info@reviewermag.com

Join our Facebook page here.

Twitter.com/ReviewerMag






Click HERE to see our
recent YouTube videos.


The website's got a new look, so check it out: ReviewerMagazine.com

You can email REVIEWER right here,
editor@reviewermagazine.com, to send your greetings or inquire about submissions and new material to review. This is faster than sending your hello through the magic of myspace.

Go to ReviewerMagazine.com and view our amazing content online.

REVIEWER MAGAZINE
P.O. Box 87069
San Diego, CA 92138
USA


Create your own visitor map!



Too Many TUNEWIDGETS. Do NOT post your auto-start tracks in the comment section here or it will be deleted and your profile will be ..blocked... :|

Music

DON'T ASK, JUST SEND your music/book/dvd/cd review submissions here:
REVIEWER MAGAZINE
PO Box 87069
SD CA 92138
USA!

Movies

Okay

, let's see here. I've watched most of the Coen brother's movies and have liked them all. Bruce Willis' post-

DIE HARD

movies like

12 MONKEYS

are pretty much uniformly exceptional. I'm a fan of Nicholas Cage's movies. There's several Ah-nold movies that were appreciated (we're into all that action-hero stuff), but I didn't vote for the Gubinator when he was installed as Fuhrer of Kalifornia. There's

ETERNAL SUNSHINE OF THE SPOTLESS MIND, LORD OF WAR

,

INTO THE WILD and GRIZZLY MAN ... Hmm

,

other than that

,

way too many to list

,

but ABOUT SCHMIDT - good movie. THE TRUMAN SHOW

,

with Jim Carrey

,

good too. THE NINTH GATE

,

with Johnny Depp - great... All sorts of war movies

,

THE THIN RED LINE being one (the modern remake of course

,

not the corny vintage version)

,

MUNICH... I'm into movies derived from good literature

, like Tolkein's

LORD OF THE RINGS

or even a short story adaptation like

BARFLY. RUNAWAY TRAIN, THE USUAL SUSPECTS ...

There's a movie I've been wanting to see again with Sting playing a small cameo,

forgot the name

,

but I've been looking for it for a while now. APOCALYPSE NOW

,

one of the classics

, rest in peace Mr. Brando. So many more... I could go on all night.

Check out the RCs below,

in yet another great retro video brought to you by the good people at Reviewer TV

, the "Classics" station. Woof woof:

.... [Videos by

Reviewer Rob

, America's greatest and most amazingest rock'n-roll photographer and alterna-journalist.]

Television

Books

Some books I like: LEXICON DEVIL from Feral House, THE STRANGER by Camus, THE ART OF WAR by Chinese military writer Sun Zsu, WELCOME TO THE MONKEY HOUSE and SLAUGHTERHOUSE FIVE and anything by the humanitarian Kurt Vonnegut Jr., TOUGH GUYS DON'T DANCE by Norman Mailer, BILLY BATHGATE (the fictional story of a boy growing up in Prohibition era New York) by E.L. Doctorow, a book of prose and poetry called HIGH ADVENTURE IN THE GREAT OUTDOORS by Henry Rollins, PULP and THE MOST BEAUTIFUL WOMAN IN TOWN and anything by Charles Bukowski, THE KILLER ANGELS (twice, eight years apart) by Pulitzer Prize winner Michael Shaara, CASINO ROYALE by Ian Fleming, HELL'S ANGELS by Dr. Hunter S. Thompson and HELLS ANGEL by Sonny Barger (I'm not a biker nor do I even own a motorcycle yet, but find the secret hierarchy of clubs like this interesting), HEART OF DARKNESS by Joseph Conrad, I WAS A MURDER JUNKIE (about touring with GG Allin) by Evan Cohen, THE DAVINCI CODE by Dan Brown, TIME MACHINE by HG Wells (I know... it's an old classic), THE GAME by Neil Strauss (that's right, I'm guilty of being interested in learning new techniques for meeting women). Other than these... I read compulsively and find it difficult to stand in line at the bank or somewhere like that without a magazine or the paper. I've been wanting to re-read CANNERY ROW and THE PEARL by John Steinbeck. The former has a real good part where La Jolla, one of the best areas of San Diego, is mentioned.

Heroes

Myself. Well, and I also admire the truly moral and honest, not the hypocritical, and have a lot of respect for the self-taught, self-made wealthy like Donald Trump (especially for his genuine showmanship and loyalty to his friends), Larry Flynt for fearlessly defending the first amendment, entreprenuerial American pioneer railroad builder Minor Cooper Keith, Lt Col George Armstrong Custer for his daring bravado and example of personal leadership in the Civil War and in the wars of the frontier, various military figures throughout history, Abraham Lincoln, John F. Kennedy and his brother Robert "Bobby" Kennedy, Dr. Martin Luther King, and really anyone else who fits the above criteria and thinks for themselves. Like the song says: I am not your rolling wheels/I am the highway/I am not your carpet ride/I am the sky/I am not your blowing wind/I am the lightning/I am not your autumn moon/I am the night.


Reviewer Magazine has 27181 friends.
Play

Play Next

Add to queue

Play

Play Next

Add to queue

Play

Play Next

Add to queue

Play

Play Next

Add to queue

Play

Play Next

Add to queue
About me:
NEW TALENT SOUGHT: writers, models, cool folks email us at info@reviewermag.com and add our Facebook page at http://tr.im/reviewer RIGHT NOW! :D
This profile was created using: ProfileTweaks Editor Ver.2


Skype name: reviewermagazine.
"About me"
... Talking about myself always carries the risk of sounding conceited, but here it goes. My name is Rob and I work as the publisher of Reviewer Magazine, which is a periodical of news and entertainment-industry review. I recently started writing an informal Editor's blog about stuff, currently it's mostly politics and consumer issues, at
Reviewer.cc
.
Reviewer magazine covers new music, books and other literature, film and video, news and satire, and prints over 10,000 free copies every three months that are distributed nationwide.
Reviewer Magazine wants you to perform to your full potential.

..
Email
editor@reviewermagazine.com
to get in the next issue.
Reviewer Magazine enjoys the Earth and its dependably predictable patterns of behavior. At sunset we witness the ritual of its daily rotation, from the edge of the North American continent, just a few hundred feet from the Reviewer headquarters office in San Diego, California.
Reviewer magazine does videos now... Email
editor@reviewermagazine.com
to be in one...
What's important to Reviewer magazine?
Hmm, let's see...
Hey, I know! Bands, nightclubs, labels, publishers, and anyone whose business interests are cool - you should
click here to get rates and BUY AN AD.
Yes, it's true, we've got over 10,000 copies in print, which people grab for free, guaranteeing a 100% distribution pick up rate, and advertising in Reviewer is a lot cheaper than making and distributing your own fliers!
Other than that...
Send mail or review submissions like CDs, DVDs or books in duplicate (one copy is for a writer and one copy is for the office as backup) with copies of bios and press, etcetera, to Reviewer magazine at:
REVIEWER MAGAZINE
P.O. BOX 87069
SAN DIEGO, CA 92138
Address ALL letters and packages to "Reviewer magazine" ONLY or else they may not be accepted.
All ads contracted for the print version of Reviewer will also be posted on the website immediately upon payment, or at the earliest possible time.
Labels and bands that want to advertise, EMAIL us right away.
[NOTE: this is only for ad deal requests. If you have a submission for review, just mail it. If you ask a question like, "How do we go about getting a review?" you'll just be told the same thing. Then your CD may get lost for a few months.]
You can contact a Reviewer magazine rep by
text message here
.
Click here for our web version.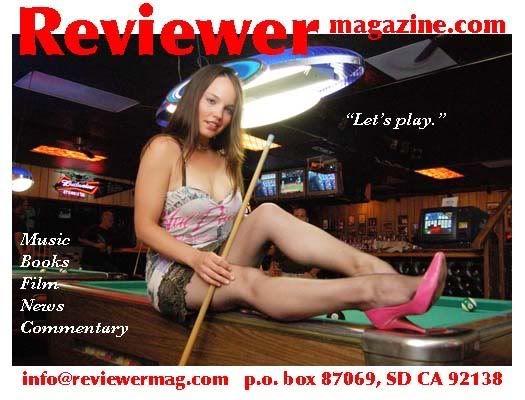 Michael Moore speaks out
http://www.cnn.com/video/?JSONLINK=/video/bestoftv...
CNN's Larry King talks with filmmaker and activist Michael Moore about his thoughts on the proposed U.S. auto bailout.
MySpace Music - Want some music? playlist by Reviewer Magazine on MySpace Music - listen to
http://music.myspace.com/index.cfm?fuseaction=musi...
Status:

Single

Here for:

Networking, Serious Relationships, Friends

Orientation:

Straight

Zodiac Sign:

Aquarius

Occupation:

media publisher