Richard Stiles hasn't earned any badges yet... have you?
General

I am an editor for the

Big Comic Book DataBase

.



My Facebook


Timescape Fantasy is my all-shit-serious channel on Youtube.


Wanagi Akicita is my fucking around channel on YouTube.

Music

Movies

The Retaliators™!

(Note: As I continue to make progress on the Retaliators graphic novels, these t-poses will gradually be replaced with panel art.)

Two capes, which one he wears depends upon which one it is his mood to flaunt. One represents his power, the other represents his glory.He commands kings, emperors, presidents and generals to kneel before him. And, they humbly do. He is accountable to no one, no one can make him answer for anything he does. His ways are dark and brutal. He thinks of himself as benevolent, but the legends that have portrayed him as otherwise are not entirely without basis. If he says he's on our side, go along with it, it's preferable to the alternative. In my imaginary universe, the S.P.I.'s don't answer to the Establishment, it's the other way around. And, it's a better world because of it. Most of the other companies have had some scenario where the Establishment sought to register and regulate S.P.I.'s. In my world, something similar was on the verge of coming about. Then, my mythical legend Retaliator came on the scene and declared "You will not!" So... they will not. Yeah, it's like that. What about the bad guys? Leave that to the good guys, that's what they're here for. To make this as realistic as possible, I imagined our own world, then I imagined our world with Super Powered Individuals. Would such beings be outcasts, freaks, in our world? Hardly. Try demi-gods. Then an actual god comes to lead them. Not only would the S.P.I.'s not be fucked with by the governments, they would actually be in a position to tell the governments who to and who not to fuck with. "Who will save us?" is a no-brainer. A question that would never even need to be asked. How would all the militaries in the world deal with an invasion by an advanced alien race? Hope the germs will get them or maybe upload a computer virus? Ha! What if the aliens have advanced immunities or ultra-secure computer systems? My mythical legend Retaliator destroyed their flagship, single-handedly! They had a force field, but it wasn't designed to withstand a mace the size of a small moon, swung with power immeasurable. Like my #2 Retaliator, he is not size-limited. In fact, my #2 Retaliator is size-limited compared to him. He is not watered down for this, he is what he was. The alien admiral from one of the surviving ships asked him "Are all Terrans like you?" And he replied, "No. Even the other gods are not like me. But even if there were a million like me, the others would only need to stand back and watch me destroy your entire fleet. You made a fool's choice. Get the fuck out of our space." And, they do. Years later, they'll come back with their own god. Wouldn't've figured they'd've had one, but they sure as hell did. That's a whole 'nother story. I'll just say the S.P.I.'s will get a chance to show their stuff, and that's all I'll say about that. (I have to be careful about balancing my teases. Have to leave enough out so there's still reason to buy the books, plus, I'm being spied on, by people who are in a position to beat me to press, and/or production, so when they fill in the blanks with their own limited imaginations, it will come out ridiculous, and the good version will still be mine.) How would the human militaries deal with the insane time traveler's attempts to unravel the timeline? The only place they could even begin to deal with that is just to bend over and kiss their asses goodbye! In the Retaliators' world, the S.P.I.'s get their due respect. Realistically, if there were Superior beings in our world, Homo-Sapien-kind would be like the pet in a pet-master relationship, standing close to its master, trembling at the sound of lightning, or other things it doesn't understand. Think about it. Am I not right? Hell, we're almost like that now, with celebrities. How would we be with superheroes, if they were real, and among us? I'd say I nailed it with my analogy, that's what I think. The representation of them by the greatest of the ancient gods would be the cincher. There are no elections for the position of Chairman of The Retaliators. He is the uncontested leader. Of course he is! Who could lead him and who would he follow? There is a hierarchy for the job of Acting Chairman, when he's not around.

("S" can rotate the planet. That's as powerful as a guy can get,

right? Nope. If "S" and my guy fought

,

they'd have to take it off the planet

,

to keep from destroying it. My guy is both irresistible force and immovable object

,

on solid ground and in space. Any part of space

,

any planet

,

with any kind of sun

,

or no sun at all. The bonus powers (heat ray

,

etc) are no comparison whatsoever. My guy has the same godly powers he had in the mythologies

,

he's not watered down for this in the least. In the Star Trek mythologies

,

he is the father of both the Vulcan and Romulan races. I'm not part of that

,

so I don't play on it

, but I don't deviate from it either. It is so that it could also be that way in this. The gods are only vulnerable to the power of other gods,

and he is the greatest of them

,

third only to his father and mother. According to my own mythology which I created for this

,

my own fantasy universe

,

the S.P.I.'s are mixed breed descendants of the gods

,

born with a latent potential for power

,

which is triggered by whatever is the catalyst of their origin

,

which by my rationale would include "S"

,

even though he belongs to a different company. As such

,

his power can affect even one of the gods. But

,

even though some equate them as gods themselves

,

S.P.I.'s are not true gods

, and would not stand a chance against a full blooded one. My mythical legend Retaliator's power is that of the source from which all lesser beings derive their powers. In space,

both of them at full power

,

no one weakened by green rocks or anything like that

,

my guy makes "S" his bitch

,

makes him put on a pretty dress

,

then ass rapes him.)

- Note: The preceding is a completely hypothetical scenario

,

that will never actually happen. Reason #1; they are both on the same side

, and probably wouldn't fight. Reason #2; there is a stipulation in the Retaliators Charter forbidding ass rape of conquered foes. Because of this guy,

yes

,

it was actually necessary to put that in there. He's not gay

,

he just has strange customs. Centaurs owe their existence to him doing it with a horse

,

if that gives you any idea. "Horses

,

humans

,

what's the difference?" Like I said

,

totally different frames of reference

, for him. Reason #3; the owners of "S" would never permit "S" to fight a character from another company that outmatches him to the same degree that he outmatches common superheroes. To put that in perspective; power-wise, he is to #2's "S" what #2's "S" is to the current #1's "S-M". He might've been kidding about the ass rape,

but he did bring it up

,

and it was unanimously vetoed. He wasn't kidding about the Centaurs.

("#2

, current #1"; my position on positions and positioning: It is my intention to be #1. I don't have a problem with #2 staying #2,

I'd even be willing to be #2 to them. #2 was #1 in the 40's and 50's

,

and they didn't suck at it

,

they were great. It is my life's mission

,

top priority

,

to see the current #1 out of the top 4

, preferably out of business altogether. I have my reasons... The public will not lose anything from this,

in fact

,

they will gain. Nothing will be lost

, that won't be replaced with something better. The free ride of coasting on former glory ends in the valley. Change is inevitable. I predict that #2 will enjoy a brief,

long overdue and much deserved return to the #1 spot

,

during this changing of the guard process

,

but they won't be able to maintain it

,

against me. I will be a benevolent #1. The only thing #2 has done to me

,

at this point

, has been to take the current #1's side against me on the Captain Superhero trademark dispute issue. I can forgive #2 for playing such a minor role in the current #1's evil plots against me, but I will not forget. I will be watching them with narrowed eyes.)

It wasn't my idea for his costume to be his civilian clothes with a Robin mask, it was his. Y'see, I develop the characters in my head, then let them pick their own costumes. He's a no nonsense guy, he takes off his lab coat, puts on his little black mask, and that's it, he's ready to go bust some heads. After he gets the girl, she takes him to the superhero costume shop, gets him a form-fitting "clown suit", as he calls it, but after he's established himself enough with her to wear what he wants, he'll go back to this.The purpose of a superhero costume is to make a statement that you are a super powered individual. Well, who needs to make such a statement, when the ability to do this pretty much leaves nothing left to be said?She was powered when she met the Retaliators, including the one she'll end up with. She met him when she met the others, at the incident that brought them together as a team.I'm not promoting smoking, and neither is he. These are not the Marlboro Retaliators. But, on this team, in fact in this entire imaginary world, the ratio of smokers and non-smokers is about the same as it is in the real world. That's the point. What good is a fantasy, if it's not realistic? After a grueling super-brawl, some of them light up. Or whenever. And not just cigars, though that is more glamorous, and therefore more acceptable by Hollywood standards. This ain't about glamour or what is or isn't acceptable, it's about making it count, by making it real.The eagle is a tribute to his childhood hero, Captain Superhero. And, he's entitled, because his grandfather actually designed Captain Superhero's armor. He's the one who first met the others and helped found the Retaliators, but he is not the only one who wears the armor. Even in the beginning there will be three, eventually four. I won't always specify to the reader which one is in there, I'll leave it to them to glean it from the things he or she says or does. Yes, one of them is a woman. It won't be easy to figure it, because they share notes with one another between transfers of the armor, and none of them are dumb enough to be overly revealing. Hey, even the Retaliators don't know who's in there, until the end of Act 5 of the film series. This way we get to share in the mystery. At least we'll have it narrowed down to being one of the three or four, we just won't always know which one. There'll be some instances in which I won't know, if I don't bother to decide. Other times, it'll be shown to us which one it is, or hinted around about which one it is, or only hinted around about which one or ones it isn't. Like if he/she appears with one or more of the others. To others, he/she would refer to his/her alter ego in the third person, as any sensible person with a secret identity would, so referring to one or more of the others doesn't prove anything. It might, if he/she is talking to himself/herself, but not necessarily, if there's a state of mind issue.I'm not Kenyan or African or even black. So, left to my own resources, I'd certainly get this wrong. I'm researching Kenya, and consulting with as many real Kenyans as I can get to help me. (Special thanks to YouTube user kenyandamu.) Left to my own resources, I would try my best to get him right, but that's not good enough. I don't just want him to be my interpretation of what I think he should be, I want him to be what Kenyans think he should be. This may all be a fantasy, but that's no reason for me to go about it half-assed. I want this fantasy to be, down to the last detail, exactly what it would be, if in some alternate reality it were real.He's not a super-sprinter, per-se, although with his super power he could outrun anyone in our world. I mainly put him in running shoes just to break the superheroes wear boots rule. I'll be shattering a lot of the tired old formulas. Really, what would you rather wear in a fight, some lightweight shoes with traction, or some heavy slippery boots?Big gun, big bullets. It's called the Decapitator, because blowing off heads is not a figure of speech, with this gun. It's not his primary weapon, it's his last resort weapon. Because, in matters of defending one's country, and even their planet, on occasion, sometimes you just gotta damn shoot somebody. These aren't the superheroes for the mindless booger-eating bed-wetters, these are the superheroes for us grown-up kids.He's not an alien, he's a sea dweller. This is just as much his planet as it is ours, and the Retaliators are all about defending the Earth. His race isn't super powered, they can't even survive out of the pressurized depths, much less on land. His power comes from this magic pendant. With it, he can fly, has super strength and durability, and that's just for starters. It enables him to do pretty much anything he sets his mind to. Including live past his natural lifespan. In his 150+ years, some have correctly guessed the source of his power. A few were friends, a few were enemies that would love to take that pendant from him. Easier said than done. He has a mental power, similar to telekinesis. Not just over objects, but also his own body. He can use mind over matter to make himself as strong and tough as his willpower allows. Before he was powered, he was already one of the coolest most popular guys in school. Actually, something happened after he was powered that made him not so cool and popular anymore... He's here to show that a character doesn't have to be a lovable loser to be relatable and human.He was dumb as a brick and could uproot a medium sized tree, before he was transformed. He's still dumb, but now he can shatter a large tree into splinters with one punch. He has only one skill, the insult, and he is a master of the craft. Because of his simpleness, he grew up being the brunt of many insults. So, his foulmouthed and sharp witted grandmother taught him the art of the verbal joust. We'll be having loads of fun with his insults. The funny thing about it is, he's big enough to back it up. Usually. There're one or three Retaliators he can't whup, the two above him would be at a very slight disadvantage in a physical fight, but because of their bonus mental powers, they'd win eventually, and he has no chance whatsoever against the one up top. No one does. That doesn't stop him from running his mouth, though. It's even more funny when he can't back it up, because that shows how dumb he is.

(No physical being in any fiction or mythology can beat my top guy. That's why I picked him. "T" of the current #1 and "S" of #2,

working together

,

can't beat him

,

without coming up with a helluva trick

,

or the assistance of some higher power

,

and there are very few higher powers than him. His father and mother are two such higher powers

,

and they're on his side. So

,

if you did somehow manage to beat him

,

you'd then have to beat them. Good luck! To other writers

,

working for other companies

,

a "beats all" character is a dead end

, unless you give him a vulnerabilty. Good. I got this niche all to myself. It's easy for me to write for a character that can't be beat,

all I hafta do is think of me. Heh

, heh... )

The origin story is centered around the Retaliator pictured just above this text. The live-action trilogy is centered around the divergence of the guy below. The Powers That Be take a great interest in this particular divergence,

because it provides an intense analogy of good versus evil

, in what was once the same man.

"He is me as I am he, but we are not the same." - Master Of Time.

"It cannot be... This never happened!" - Doom's Dawn.

"No matter how far we diverge, there but for the Grace of God goeth I." - The Gemini Wars.

Television

Books

Descent Into Hell #1: "High School Ghoul"

Heroes
Play

Play Next

Add to queue

Play

Play Next

Add to queue

Play

Play Next

Add to queue

Play

Play Next

Add to queue

Play

Play Next

Add to queue
About me: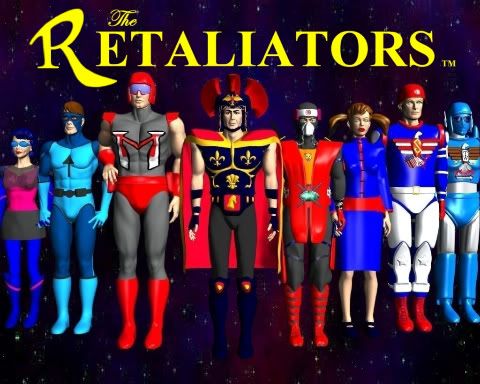 Enter The Retaliators®:Retaliators #1 - #5: "The Origin Of The Retaliators"

..Synopsis:..

Chapter 1: "Sins Of The Gods" begins with the ancient god Vulcan, in his workshop lair, in the god realm equivalent of 1982 (modern day, by the Retaliators perspective, as this story is set in 1982), lamenting the past, and how he has been wronged by the gods, held back from his full potential, mainly by his father, who, in Vulcan's opinion, wrongfully chose Mars for the prestigious role of "god of war". More than he was betrayed by his father, he was betrayed by his wife, who forsook him for his brother, Mars, now the god of war. Naturally, he considers his greatest transgressor of all to be his brother, Mars, who permanently maimed him, thus not only preventing him from attaining his full potential, but causing him to be even less than he formerly had been. Vulcan relives the memory of the fight, which happened thousands of years ago, between himself and Mars, after he had caught Mars and Venus sleeping together. Mars is abruptly awakened by the hands of his brother, jerking him up out of the bed, and throwing him naked into the far wall, breaking chunks of rubble out of the white marble wall. Mars gets up, and conjures his battle armor, sword and shield. Vulcan shakes his head, disapprovingly. Mars doesn't yet have the power to materialize things that don't exist, only to transport things that do. Vulcan is the armourer. He created the armor, sword and shield. Vulcan: "You would fight me with my own creations?" Mars: "No." Mars vanishes the armor, sword and shield away, and is only wearing his pants, belt and boots, which apparently weren't created by Vulcan. Mars: "You would fight me unarmed?" Vulcan: "You are free to choose anything in this room as a weapon, as I do see that my wife's private chambers are conspicuously devoid of anything which my hand has touched. With the exception of her body, of course, which was touched by me in every place, before it was ever touched by you, brother." Venus: "That's what the bath is for." Vulcan: "Bitch, whore! Vanish from my sight, or die!" Vulcan conjures a spear, and throws it at her, but she disappears, before it reaches her. He turns his attention back to Mars. Vulcan: "Choose a weapon!" Venus' room is not exactly an armory. Mars takes a tiara from a dressing table, breaks it, and collects four very large diamonds from the debris. He then removes his belt, wraps it around his right hand, with the buckle on top of his knuckles. He presses each of the four diamonds into the bottom of the metal buckle, until the pointed ends protrude from the top. The job is done perfectly, with no bending, stretching or splitting of the metal, because that only happens to mortal craftsmen. He then fastens the clasp of the buckle onto the leather strap, so the makeshift weapon will stay in place. Vulcan: "That's it? You intend to pit that against all my power, and all my arsenal?" Mars: "I am the god of war. What more would I need?" Vulcan: "You need to be shown otherwise, I'd say!" During the course of the fight, it is shown that Mars was correctly selected for his position and title, but being a stubborn god, Vulcan would never concede to that point. At this point, Vulcan would prefer to believe that Mars must've had his strength and skills enhanced by Jupiter, but it will be revealed later that that was not the case. Vulcan, swinging his axe, only managed to cause one scar, on the edge of the right side of Mars' jaw, which might explain the Amish beard we see him wearing in modern times, and the full beard he wore in Roman times. (This fight occurs at a point when the Roman Empire was relatively new.) Vulcan, on the other hand, has received many facial contusions, and a badly broken nose, from the diamond-studded belt buckle. His face and beard are drenched with his own blood. His helmet is off his head, and too mangled to put back on. Mars gets around to the back of the weakened Vulcan, as Vulcan is struggling to stand, after being flung into the wall, which actually put a hole in the solid marble wall. Mars wraps his powerful right arm around Vulcan's neck, and proceeds to choke him. Mars: "Concede defeat. I have no wish to kill you. Don't force me to." Vulcan: "You fool. I don't care if I die, if I can take you with me. I am the master of fire. It serves me, and would not harm me. A fire, powerful enough to burn even me, would surely consume you." Vulcan produces from his entire body a flame so strong it engulfs the entire room. The two mythical figures in the center heat up to white intensity. Both gods scream. Mars breaks away, and dives into Venus' spa, the aforementioned "bath". When he emerges, he is smoking, and his hair is shortened to half its previous length. Vulcan is walking toward him, with an insane smile. His hair and beard are still afire, and it appears that he has hair and a beard made of flames. Vulcan: "What? It's just a little fire. I live for it and it lives for me. But look at you, so nervous! Could it be that the god of war is afraid?" Mars: "Never!" Mars leaps out of the spa, and into his brother, and commences fist beating him on the floor, again, making a third break in his nose, and putting a few more scars on his face. By now, the flames have died out, and Vulcan is completely bald, no hair, no beard, no eyebrows, no eyelashes. Vulcan gestures with his hands, which begin to turn red, and Mars gets off of him, avoiding the plume of lava, just before it would've hit him square in the chest. The lava comes back down on Vulcan, and he gets up pissed off more than he can bear, cursing and breaking things, including the spa, to assure Mars doesn't take refuge in it again. Vulcan: "Fear me, god of war! I have the power! I am your master! FEAR ME!!!" He shoots the lava at him again, but this time Mars uses his transposing power to avoid it. Vulcan screams with rage, and accuses Mars of cowardice, for not standing still to be burned by him. Mars is stung and offended by the accusation, and criticizes Vulcan's fighting skills. Venus returns to the scene, to address Mars about her concerns over the situation. Venus: "You must destroy him. He will never allow us to be together." Vulcan: "I give you to him, freely! I wouldn't have you, if you were the only goddess in all the heavens! I only seek vindication. I want my REVENGE!!!" Venus readdresses Mars. Venus: "If that is the case, then you still must destroy him. Or, he will not rest until he has destroyed you." Mars: "He is my brother. No matter what our differences may be..." Mars turns to Vulcan, removes the studded strap from his hand, and discards it. He then extends his hand to him. Mars: "We are brothers." Vulcan: "I... am... your..." Vulcan conjures a large club, held in his hands like a baseball bat, and swats Mars through the ceiling of the palace. Vulcan: "...DOOM!!!" Above the palace, Mars' momentum stops, and instead of falling, he hovers in place. He conjures giant eagle wings on his back, and they outstretch. (Part of Mars' born power is the ability to assume animal forms, in whole or in part, he prefers eagles and wolves.) He raises both fists, his left up to shoulder level, the right one level with the top of his head. He strikes a mighty warrior's pose. He turns and descends toward the hole he made in the roof of the palace, using his mighty eagle wings to build up speed. He dives into Vulcan, and embeds him ten inches into the marble tile of the floor. The wings vanish, and Mars is ready for more, as he points his left fist in the direction of Vulcan's grimacing face. Vulcan writhes in agony, inside the shallow crater. Vulcan: "You've disjoined my back! I can fight, no more. Get me out of this hole. " Mars helps his brother sit partially upright. Vulcan: "Oh, my back! Don't pull me up, just let me pull up on you." Vulcan gets his left leg stretched out in front of himself. With his torso turned to his right, his left leg is actually out to his left, from his perspective. His right hand is still in Mars' hands, and Vulcan conjures a knife in that hand, so it's automatically piercing Mars' hand. Mars stomps hard on Vulcan's left knee, and Vulcan's left leg bones shatter from the hip to the ankle, leaving the leg with nothing inside to give it structure. Vulcan: "Aaaaaaahhh!" Venus gives Mars a golden brace for his right hand, shaped a bit like an eagle's claw, with golden spikes for talons. She tells him it won't heal his wound, but it'll stop the bleeding and reinforce his hand for the duration of the fight. Mars: "This fight is over." Venus: "Not according to him." Vulcan has already made a makeshift back brace out of his ruined upper armor and is in the process of making a makeshift leg brace out of the metal of one of Venus' decorative pieces. He flies back to them, sideways, with the knife back in his hand, offering Mars a merciful death. Venus makes him fall. He aims his fire at them, and she makes it backfire on him. Venus: "I never had power over him, before. He's stronger than me, usually. He's weakened, half dead, already. You'll never have a better chance. Kill him now, while you still can." Mars: "I will not." He turns back toward his much suffering brother, and bare-fists him on top of his head, knocking him out. Then, he turns back to Venus, to finish their conversation. Mars: "With Jupiter's help, I will take him captive. In his captivity, I will strive to reason him out of this madness which has consumed him. He will see me again as his brother. Or, spend eternity in captivity. But, I will not kill him." Venus nods acceptance of that alternative, and approaches Mars, but he rebuffs her advance. Mars: "Stop. I will not hold you again, until I have decided if you planned this." Venus: "I only planned to be with you, my love. Did I foresee this? Of course, I did. Did you not know this day would come?" Mars: "I didn't foresee it, no. Though it would seem obvious that I should've. Perhaps, I'm not thinking clearly. Perhaps, my mind has been clouded. By you?" Vulcan is in the background, stirring awake. Venus is facing his direction, but she may or may not be too distracted by the conversation, to notice. Venus: "Your mind is not clouded. Your thinking is perfectly clear. You love me and nothing else matters as much." Mars: "I... I don't know..." Vulcan is sitting on his right leg, his left leg still as formless as a worm, inside a metal cocoon. He puts his hands in the position of pulling a bow that isn't yet there. First, a flame appears, in front of his left hand. Vulcan is in excruciating pain, and is struggling to concentrate, and not make any sound, to alert his victim. When the bow and arrow appear, the flame is on the arrowhead. He's aiming for the center of Mars' back, but he's unsteady. He launches the arrow, and it embeds in the back of Mars' left tricep, still aflame. Mars turns, and in a speed faster than the eye can follow, he dives at his brother with a right jab, with the new brace Venus made for his injured hand, which also includes spikes, and he drives his fist so hard into Vulcan's jaw, that the entire jaw is cleaved right off the head. Vulcan has such terror in his eyes, but he cannot speak it, his tongue is hanging straight down, a grotesque sight, resembling not man nor god, but some unearthly, inhuman, ungodly creature. Vulcan: "...wwwwghkghkghkghkghk..." He disappears. Mars also has terror in his eyes. With his brother's disappearance, he'd have himself believe this didn't happen, but for the evidence left behind. He picks up the severed jaw, which so resembles his own. It's broken in the middle, and the unsupported side dangles and swings like a pendulum. Then, it turns to rotten dust and dissipates in the air. (Even when the gods were this young, they were already ancient. Any part of their body which becomes separated from the immortal whole reverts to its natural state, which is way past the point of decay. Pierce their heart, and they will heal. Remove a piece of their body, and it's just gone. Also, it's important to note that only the gods can harm other gods. Mars can swim in the lava of an active volcano, and not be harmed. But, Vulcan's fire burns him. You can shoot him with a nuke, and he won't get a scratch. But, Vulcan's weapons penetrate him. The limited vulnerability of the gods is explained in more detail, in part2. As for the weapons of the gods; it's not the weapon itself, but the hand that wields it. Vulcan's weapons in the hands of a mortal are just as harmless to Mars as manmade weapons, unless it's a special weapon, enchanted to retain certain qualities, even in the hands of a mortal, and then there'd probably be some ritual involved, to unlock the power. Inert weapons of the gods usually wouldn't fall into the hands of mortals, anyway.) After this scene, we'll switch back to Vulcan's house. He is undressed down to his skivvies, and has his back brace and leg brace removed. He has a metal exo-spine grafted and bolted onto his back. He is seated in a chair, and has his mangled unusable left leg propped up on a chopping block. He has a large axe rigged so that when he pulls a chain, it will come down and amputate his left leg. He screams so widely from the pain, that it causes stress in the weld between the flesh of his face and his metal jaw, and some blood leaks from the seam. The severed leg rots and dissipates, but he uses his power to gather the dispersed energy, and transforms it into a living flame. He causes a prefabricated robotic leg to levitate in front of him, and he merges the living flame with it. The leg glows from the flame, and transparent windows in the leg show the flame moving around in there. He gestures the leg closer to him, and places the hollow part at the top over his stump. Fire erupts from the seam, as the metal leg is grafted onto him. He stands up, and savors a sense of totality, which he hasn't felt in millennia. He then assembles his new "revenge" armor, which is basically a variation of his old armor, with a bunch of extra gear and spikes added onto it, a new demonic looking full-face helmet, and that robotic left leg. He wraps himself in a blanket of fire, and the narrative, which is spoken in third person, but from his perspective, vows for him his revenge. Chapter 2: "The Family Curse" takes us to Jupiter's house. Vulcan enters the hall of statues and sees one he made for his father when he was still very young, only a couple thousand years old. He has a flashback of his younger self flying in with it, to present to his father as a gift. Mars is already there, with a large vat of wine. Mars is also much younger than we've previously seen him. Jupiter appears about the same age Mars and Vulcan are, in modern times. The statue of him appears much, much older, almost elderly. Jupiter: "A statue of my elderly self? Why? I prefer images of me at the height of my glory, when I defeated my wicked father, and became master of the universe." He gestures toward a painting of himself looking even stronger and younger than he does here in the flashback. He goes on to explain about the Curse Of Saturn, that the gods are to remain impervious to all, except one another. They were always impervious, but Saturn needed to make the gods vulnerable to one another, because even though he had eaten his children, he had not consumed them, and Jupiter was able to free them. The new law came too late to change Saturn's fate, but he made it anyway, as a spite to his own oversight, and as a foil for the gods. Saturn was a Titan, a giant, and could swallow the babies whole, because they weren't Titans, they were the gods, much smaller in their natural state, about the size of a human, though after maturing to full power, they can size change. It was prophesied that the gods, Saturn's children, were to supplant the Titans as the masters of the universe, that's why he ate them. Jupiter didn't get eaten, because his mother had given Saturn a stone to eat in his place. After freeing his brothers and sisters, Jupiter sent his father straight to hell. Vulcan explains that he meant no offense by offering this statue of Jupiter's older self as a gift, he did it because this elderly Jupiter came to him in a vision, touched him over his heart and said "My son, my son." Vulcan: "He is my gift to you, because his gift to me was your love." Jupiter: "Does this future Jupiter still rule the universe?" Vulcan: "Of course, Father." Jupiter: "Then, it is good. I will give it a place of honor, in my hall of statues. Your brother has brought wine. Let us drink to the sons of Jupiter, and the splendid gifts they have given me." The scene switches to cyborg Vulcan, in modern times, staring at the statue. He melts it, and proceeds to the throne room. Inside, Jupiter is now the same age as how he appeared in the statue. Vulcan will use his power of metal on Juno's throne, to entrap his mother, so she can't interfere with his confrontation with his father. (This is an homage to an ancient mythology, which told that Vulcan made a gift of a throne, to give to his mother, but it was enchanted by his metal power, and entrapped her. When she got free, she tossed him out of the heavens, and he landed hard on Earth, shattering both of his legs. In my version of the story, that couldn't have happened, because all of the gods have the power of flight, and I found it much more interesting to make Mars the one who crippled Vulcan, during that first fight, in Chapter 1.) Vulcan at first accuses Jupiter of giving Mars the power that was used to maim him, which would make Jupiter indirectly responsible. Jupiter explains: "There is born power, and there is given power. After you refused to make Mars' weapons, I gave him the power to materialize anything at will. It is an awesome power, greater than any power belonging to any of the gods, except for your mother and myself. Greater even than your fire power. But, at the time of your fight, Mars didn't yet have that power. His only given power at that time, was an efficacy to grow fruits and vegetables. Unless he found a way to assure victory, by the use of produce, he defeated you, not with my power, but his own. Even against your fire power, he prevailed. Realization of that should be explanation enough of why he was the obvious choice for his appointment. He was born to be the god of war." Vulcan: "I see. You don't owe me what I thought you owed me. But, you do owe me. I was ever as much your son as he. As much as you've done for him, you could've done more for me than you have." Vulcan puts his hand on his father's face, and burns an etching of his pincer symbol onto Jupiter's left cheek. Exiting the building, he passes by the melted statue. He turns and restores it. But he gives it the same emblem on its cheek, to match the real Jupiter. Vulcan then leaves, to confront Mars. Juno releases herself from the chair, with an ease that would imply that she could've done so, earlier. She goes to Jupiter, and touches the branded symbol, on his face. Jupiter: "I'm glad he gave me this. I need to remember my son, and his pain. Particularly, the pain which was wrought by me, though never did I intend it. Even the father of the gods can grow wise enough to see how unwise he has been." Juno: "You may indeed need a remembrance of him, if our son insists on constructing his own demise. Does your wisdom proffer you insight to prevent it?" Jupiter shakes his head. Jupiter: "To attempt to deny Vulcan his revenge would only make him worse." This Chapter also features a Tech War flashback, the strange and mysterious death of Samuel Reddingfield, when his son Arthur was only seven. There's more to this than is told here, the rest will be told elsewhere. Chapter 3: "The Revenge"; After the confrontation with his father, Vulcan will confront Mars, in Mars' own house. Mars tries to avoid the fight, but Vulcan insists. Vulcan is holding his own in this fight, better than he did in the first fight, even though Mars' given power, the power to materialize anything, provides a perfect defense against anything Vulcan can throw at him. Vulcan is more aggressive, angry, and is not only attacking physically, but with his fire power. In fact, throughout the fight, he's not only throwing flames and lava, but he's fully lit, making him hard to handle. The spikes all over his armor also serve in that capacity, like a porcupine's quills. He also has spikes on his gauntlets, probably for the purpose of inflicting injuries on Mars similar to his own. Mars can't even fight him in his usual armor, he has to create a full body armor, just to be able to handle an opponent who is fully lit. Mars is the one on the defensive, this time. Fire and metal are Vulcan's born powers, and he hasn't had them enhanced by Jupiter. He enhanced them himself, by spending 3000 years in a meditative process of self-development, self-enhancement. (The source he tapped into as a result of that meditative process may have been his own dark half, which would mean he was enhanced by the dark gods, which would give him rank in the dark realm. Rank enough to command the demon hordes, if he so wishes. If such a thing comes about and you see it, be assured it's not a retcon. I started writing this stuff in 2004. By the time it gets to you, it's already fully formed in my mind, and in my text documents, and registered with the WGAE. J.R.R. Tolkien retconned his Hobbit tetralogy after the first printing. Thanks to my blessing-in-disguise setbacks, all my revisions are already out of the way. Oh, and the Retaliators series is my LOTR, definitely. One writer = 1 vision. True literary integrity does not permit greedily milking characters for every dime they're worth, to the point that we see them similar ages in different eras, lest we should have to endure the Wild West adventures of Hamlet, for cryin' out loud. I even chose to age the gods 5 years per millennium. The humans age at the same rate we do, and the S.P.I.'s, varying degrees between.) If not for Mars' given power of materialization, he'd have no defense against this fiery, molten onslaught. This is no common brawl. It's like the final boss of a video game versus the final boss of another video game. As before, Venus is watching the fight. She seems to be impressed by this new and improved Vulcan. Mars notices that. While he's thus distracted, he appears to be hit and vaporized, by a lava blast. Venus: "You... destroyed Mars?! I would not have thought it possible. It stands to reason that you would now inherit his title. And, his woman. I am yours again, my love." Vulcan removes his helmet, revealing his face as grotesque as it was, and will ever be. Vulcan: "The title, I accept. You, I do not. In spite of all your beauty, and my lack thereof, you repulse me. You are the most innately vile woman I have ever known." Venus gets close to him, intent to seduce him. Venus: "I don't care about your appearance. Only your greatness matters to me. You are a masterful god. Worthy of my great beauty, and all the pleasures I have to offer one so great as you." Vulcan gets angry. Vulcan: "Any so great as I would suit you, is that right? Do you not mourn for Mars? Do you have no feelings for one who was for so long your mate?" Venus: "You would pretend to be so righteous that you could accuse me so? I'm not the one who killed him!" Vulcan: "You played your part in it!" He clamps his left hand around her neck, and draws back his right fist, as if he will punch her with those spikes. Venus: "Aaaagh!" She flickers a bit, as if she's trying to vanish. His hand around her neck also flickers, denoting that her will to depart the scene is being overridden by his greater will for her to remain. Vulcan: "I will disfigure you, so that you will no longer have the power to set brothers at odds!" Mars appears, in his regular armor, knocks Vulcan away, and entraps Vulcan in a transparent casing. A hard punch with a spiked glove makes only a tiny chip in the casing. He cannot easily break free of it, but he will, in time. (The vanishing is a matter to energy, and energy back to matter transference. The adequacy of the trap will be demonstrated in the comic and the animation as a fade of Vulcan's form to a wispy vapor, then a return to solid form. There's no getting past the transparency, till it's cracked. It was intentionally made to be too molecularly dense to transport out of. Air supply is not a factor. These gods travel through space, without a vessel.) Vulcan: "Deceiver. You vanished inside the armor, and left it behind, to be destroyed in your place." Mars: "Without subterfuge, there would not be war, only conquest, the victor determined by a tally of size and strength." Vulcan: "Your excuse for using trickery to defeat me, now that you are outmatched by me!" Mars: "I'm not feeling very outmatched." Mars taps on the casing, with his fingernail. Vulcan punches the casing again. Venus: "I knew you weren't dead. I didn't mean any of those things I said to Vulcan. I was only providing a distraction, so that you could escape." Mars: "Shut up. I needed no distraction to escape Vulcan, I only needed to be free of you." Venus: "What do you mean?" Mars: "Figure it out." Mars addresses Vulcan. Mars: "Thank you, for my freedom." Vulcan: "I'm happy for you, brother, that you are finally free of the witch. But, my vendetta with you remains as unchanged as my disfigurement by your hand. As long as you can stand unaided on your own legs, your body is whole, and your face is unmarred, you are a bane to me. Ever will it be so, till your debt is paid, or one or both of us are dead." Mars: "I'm sorry to hear that." After that scene, we get to see how Trevor Wade saved a scrawny human kid from himself, but made an enemy out of the kid in so doing, and though the kid is weak and unpowered, he is very bitter and very persistent, and he will hound Trevor relentlessly, causing him problem after problem. Chapter 4: "Innocent Blood" starts out with the death of Jackson Race's girlfriend, at the hands of an enemy, even while Jackson had thought he had saved her. He goes into a blind rage and shows us this isn't the mickey mouse version of the superhero story. We then transition to the main storyline, as we follow Mars to Diana's house, where she refuses Mars' proposal, because he is stained with Innocent Blood, and he vows to cleanse himself of the stain, and make himself worthy in her eyes. Chapter 5: "Incident At Gilboa Dam" brings the eight together, finally. There is a special report on all the TV stations. The military is requesting the assistance of the S.P.I.'s, to deal with some mutated creature, which is threatening an upper New York state rural community. He's entrenched near the dam, and if he breaks it, the entire community will be flooded, and evacuations are still in progress, many of the older folks are refusing to be evacuated, lives will be lost. The military can't fire their heavy weapons at the creature, without risking damage to the dam. Only the S.P.I.'s can handle this. And, they must do so cautiously, to take out the creature, without taking out the dam. Five enhanced S.P.I.'s and one artificially enhanced human, who happened to be within relatively short flying distance, answer the call. Curiously, when they get there, the military has the creature pinned in on all sides. If the main objective is to get the creature away from the dam, why are they not allowing him a route of escape, away from the dam? Mars has been monitoring a seeing pool, scanning the Earth for some opportunity to pay on his debt to the innocent. He sees the news report of the trouble in upstate New York. When he gets there, he finds six others, who got there before him. Three of them are unconscious on the ground, the other three are fighting... the military? They must be in league with the creature. He'll deal with them, after he destroys it. This is where Mars faces his first task of protecting the innocent from the threat of an evil entity. It ends up being more of a test of his worthiness of Diana. After all these thousands of years, learning from his many mistakes, growing and maturing as a godly figure, has he gained wisdom and nobility enough, to discern which is the true evil, and which is the true innocence?

The Ultimate Science-Fiction Series:
The Gemini War Trilogy, the first half of the live-action series (7 part series = two trilogies with an alien invasion transitional story in-between), is like nothing that's ever been done before. Bits and pieces might seem familiar, but the story overall? Yeah, it's unique. It's like the "upright man", in a time-travel movie evolutionary chart. Or, a time-travel
theory
evolutionary chart, for that matter. I took what others have only beat around the bush about, and I completed it. Which makes ..this.. story solely mine. I solved Einstein's unfinished Chaos Theory, for the first installment of my Time-Travel Trilogy, and for the trilogy as a whole, I solved the Everything Theory. There're baby geniuses out there, still working on that. Well, they can stop, I got it, already. I finished it for some movies I wrote. Chaos: "The Butterfly Effect" = "The Domino Effect" x every feasible contingency x Infinity. Everything = 1 Universal Recyclotron, made up of many smaller ones. It's all about perpetual motion: Energy = Mass = Energy. Lemme expound: As Mercury draws nearer the sun, it becomes fissionable. When it falls into the sun, it will feed the sun. Not with ordinary fire, but with nuclear energy. "Nothing is lost". That solar energy spreads out, and invigorates the remaining planets. A new planet is forming, on the outer edge, awaiting its turn, in the cycle. In Earth's distant history of astronomy, a planet called Vulcan was the first planet in our solar system. (True story, look it up.) Centuries later, astronomers couldn't find Vulcan, and presumed their predecessors must've been mistaken. I wouldn't have presumed that. I would've presumed Vulcan fell into the sun, and someday Mercury will follow. With the evidence of Vulcan and Mercury, coupled with the evidence offered by Pluto and Planet X (which may or may not exist beyond Pluto), the cycle I'm describing is very likely the mechanics of a regenerative solar system. And as surely as black holes chew up galaxies and spit out new ones, the same thing is happening on a universal scale. There too, "Nothing is lost". Oh, and to the "scholars" who theorize that the microorganisms found on Mars are the remnants of former life: Dumbasses! Those are the progenitors of FUTURE LIFE, duh! Which might come in handy, by the time Mars becomes the third planet, wouldn'tcha think? The Gemini War trilogy is not about Mercury falling into the sun or black holes recycling galaxies, it's about the Big Bang. Not the way you expect. In this fantasy (the fantasy itself is pure supposition, based on the sound theories I worked out, which I previously described), the Big Bang is not an explosion of matter that happened in the distant past, but an explosion of reality, created by a converging of an infinite number of unraveled realities, which happens across all-time. It's happening right now. What is and what will be, becomes what was, before what was became what is and what will be. The matter which makes up the universe had to come from somewhere. It comes from this explosion of reality. The negative creates the positive, and the positive creates the negative, reciprocally. The positive matter of what is is formed from the negative matter of what is not, and negative matter of what is not is formed from the positive matter of what is. In other words, when what was is made to have never been, that energy has to go somewhere. And in turn, isn't that false reality made from the energy of reality, when it had been a reality? That is the origin of the recycling effect. Don't frown though, The Gemini War trilogy is not a boring documentary about my theories, oh no, far from it, it is a grand play of human drama, tragedies and triumphs, and the eternal struggle of good versus evil, which just happens to result in the creation of reality. Thrills and wonder abound, along the way. I mentioned at the beginning of this paragraph that nothing like this has been seen before, and now you see, the like can't have been seen before, since I myself devised the scientific theories that give my fantasy feasibility. My theories can't be proven, but it's just as true that they can't be disproved, which is close enough for me to present this seemingly impossible spectacle, as something that is in fact possible, somewhere, somewhen. This is the lengths to which I will go, for my story. The feasible fantasy is not a common thing, they are scant and afar betwixt, but such I have, and such I offer. Enjoy.
Who I'd like to meet:
People who believe in me and what I'm doing, and want to see these movies as badly as I do. + Indy Dobermans like myself, who want their own chunk o' that ass. Indies unite!! Pissed off Argonauts vs. Blind Cyclops, Blind Cyclops loses!

Comment about me and/or what I'm doing, willya?
HIS MOTIVATION: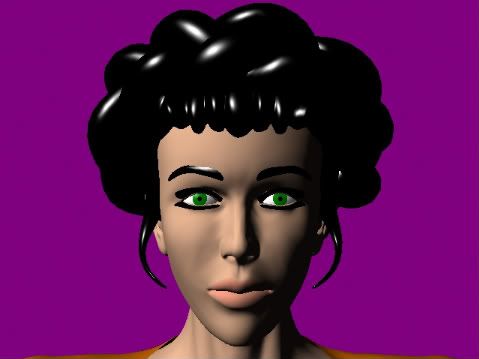 When they were together, he was the god of agriculture and she was the goddess of the hunt. When he became the god of war, he changed. He betrayed her for his brother's wife. The goddess of the hunt became the goddess of virtue, sort of the mythical equivalent of joining a convent. Now that he realizes his mistake, he wants a second chance, to put things back to the way they were before. But no, he is now unworthy of her. Not just because of the betrayal, but because she ..is.. now the goddess of virtue, and he is stained with the blood of the innocent. Not one who is known for giving in to defeat, he will defend the innocent, save the Earth as many times as it takes to cleanse himself of the stain, and redeem himself in her eyes. If you look at the chestplate of his new armor, you will see her emblem, the Lily Of Peace. His constant reminder of what he is fighting for.HIS MISTAKE:
She never cared for him, only for his power and title. Now that her wickedness is clear to him, he no longer wants her. But, she is not accustomed to rejection, nor is she inclined to become so. And, hell hath no fury like a goddess scorned.HIS NEMESIS: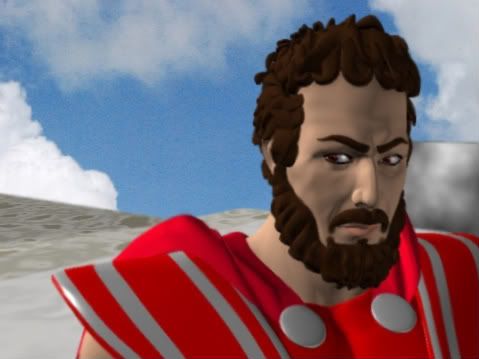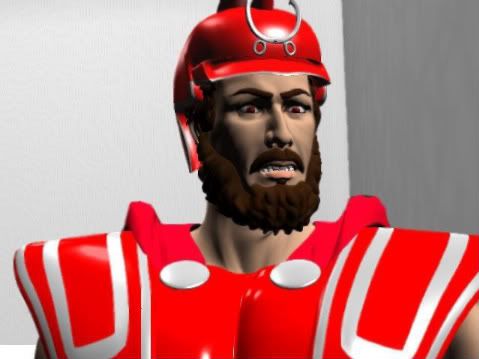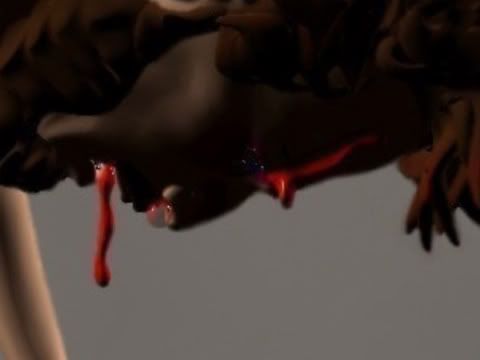 She may be the type of goddess that mortals write songs about, paint birth portraits of, and make armless statues of, but that's no excuse for treating a brother this way. Fire and metal are his to command, and he will have his revenge!
Just a preview teaser of the opening sequence of The Retaliators #1. The rest won't be revealed until it hits the stands.
PAGE 1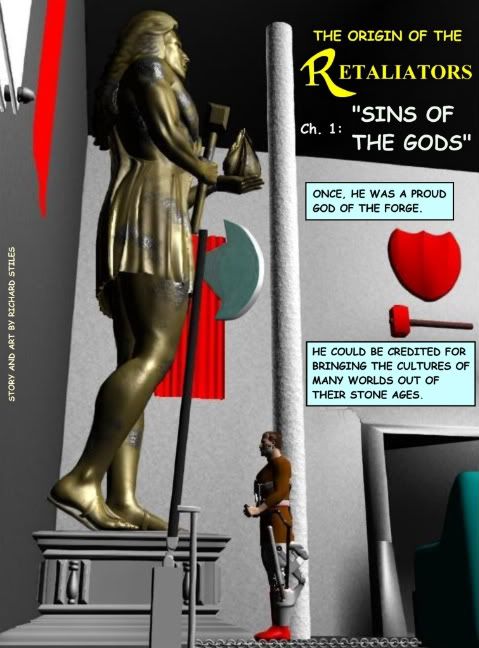 PAGE 2
PAGE 3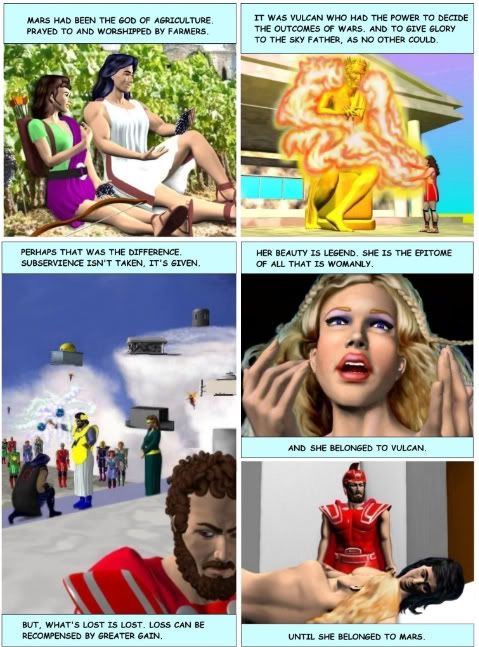 PAGE 4
PAGE 5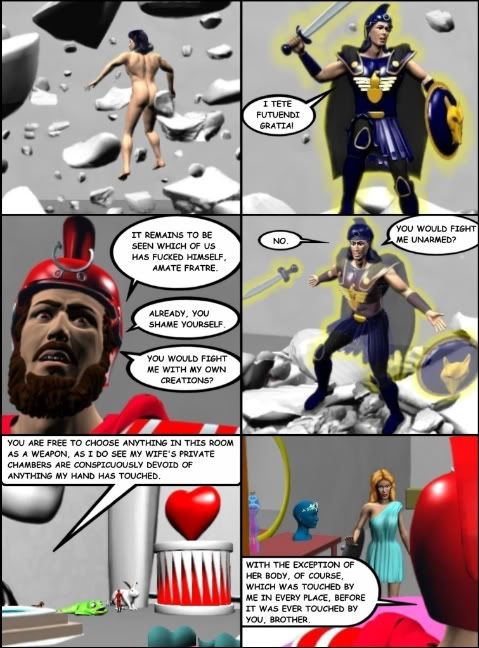 PAGE 6
PAGE 7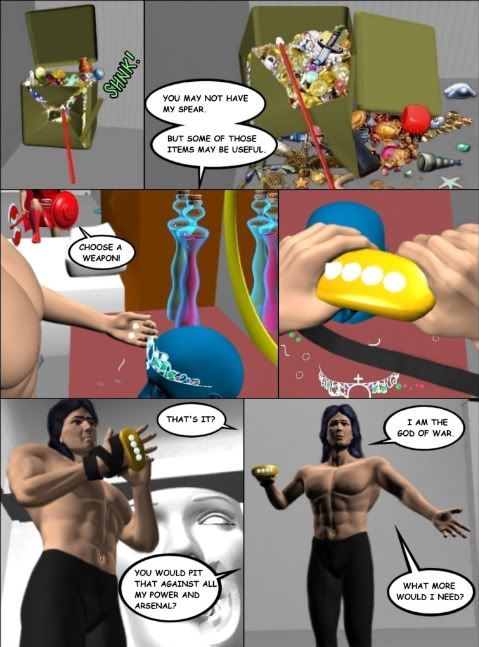 PAGE 8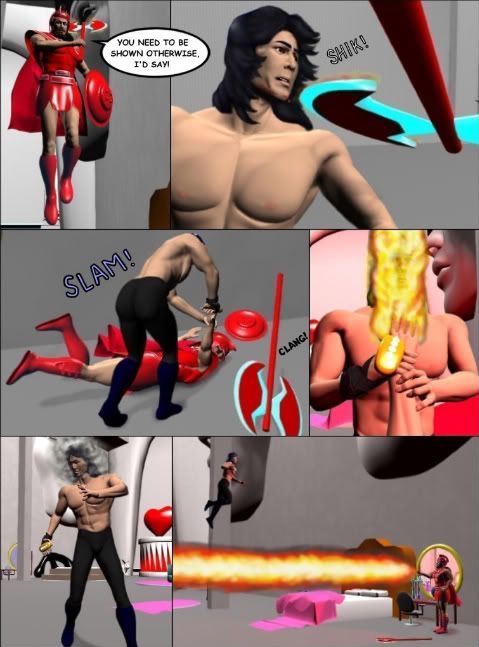 PAGE 9
PAGE 10
30 Minutes
One Man Wrecking Machine - Guster
You're my friend and I'm yours, but I just don't do MySpace apps. Everything on my page is about what I'm doing. Even the music player tracks are each from one of my eight movie soundtracks. The music videos are of tracks which are especially key to my cinematic series, and are therefore on my page somewhat permanently, rather than changed out every week, like the player tracks. Besides, MySpace apps are against the Retaliators Charter. Because, what if they were called up for one of their many world-saving missions, but were caught off guard playing with MySpace apps? Luv ya. Still friends?
If you are my fan, I am your fan. And, if you are not... what's wrong with you?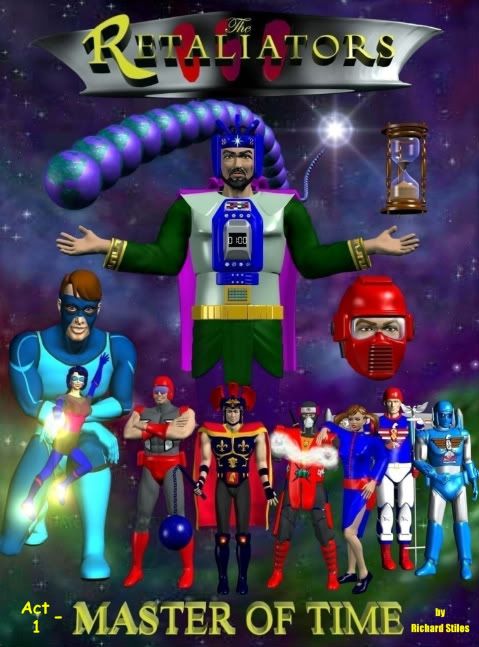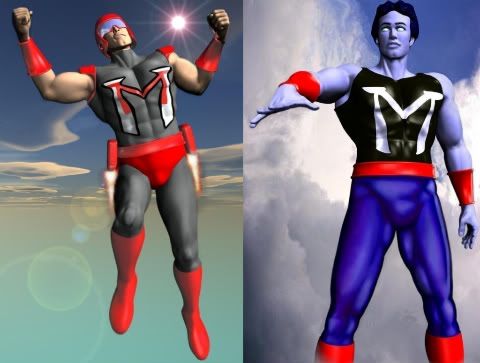 The comic series and the animated origin story are primarily about my mythical legend Retaliator. But the live action series mainly follows the storyline of this guy. Even though he's not really in part 2 or the first half of part 3, but his storyline is. And, Mars is always the #1 Retaliator no matter which format they are seen in, and the primary plot of the live action series, the first trilogy anyway, is the Gemini War, Doom's Dawn and the rise of the man-gods, as if there were a distinction between those three things, they are essentially the trinity of creation, itself. Who said creation happened in the past? Time is relative, right?





(Reach Up For The) Sunrise
Status:

Single

Here for:

Networking

Zodiac Sign:

Scorpio

Occupation:

Artist/Writer
Southern Arts Federation

Atlanta, Georgia US

Member

1990 to Present

Tennessee Arts Commission

Nashville, Tennessee US

Member

1990 to Present