Robert Kurtzman hasn't earned any badges yet... have you?
Music

Movies

Television

Heroes

My Parents, Sam Raimi, John Carpenter, Walter Hill, James Cameron, Sidney Lumet, Ridley Scott John Woo, Dario Argento, Don Coscarelli, Sam Peckinpah, Mario Bava, Michael Mann, Steven Spielberg, Stuart Gordon, Wes Craven, Francis Coppola, Martin Scorcese, Rick Baker, Dick Smith, Lucio Fulci, Stanley Kubrick, and especially all indipendent filmakers who have the drive and the balls to raise money and make a film against the odds.

....
About me:
A MESSAGE FROM ROBERT KURTZMAN:

Years ago my wife had given me a little reminder, something I could always look at when the pressure of following my dreams became overwhelming.


"It is not the critic who counts, not the man who points out how the strong man stumbled or where the doer of deeds could have done them better. The credit belongs to the man who is actually in the arena; whose face is marred by dust and sweat and blood: who actually strives valiantly; who errs and comes short again and again; who knows the great enthusiasms, the great devotions, and spends himself in a worthy cause; who, at the best, knows the triumph of high achievment: and who, at worst, if he fails, at least fails while daring greatly, so that his place shall never be with those cold and timid souls who know neither victory nor defeat."  - THEODORE ROOSEVELT

Always follow your dreams!

Robert Kurtzman

Please Note: I cannot read any unsolicited screenplays, manuscripts, queries, or other materials, nor accept headshots & resumes via email or myspace. Any such materials will be deleted and/or returned to sender without being opened, SO DO NOT SEND THEM HERE. This is for legal reasons that protect me and you.

..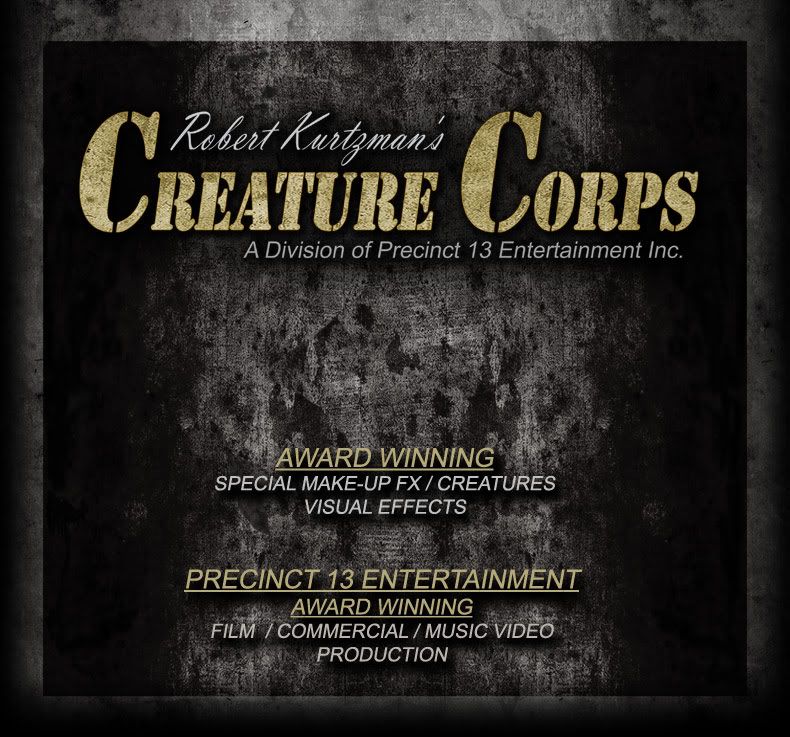 .... ...... .. ........ ...... .. .. .. ...... ..
Status:

Married

Here for:

Networking, Friends

Hometown:

Crestline, Ohio

Orientation:

Straight

Body type:

Average

Religion:

Catholic

Zodiac Sign:

Sagittarius

Children:

Proud parent

Education:

Some college
Precinct13 Entertainment

Crestline, Ohio US

Director / Producer / Writer / Visual Effects