About me:

VERSIONE ITALIANA / ITALIAN VERSION

Robert Thomas Pattinson nasce a Londra il 13 maggio del 1986.
Sua madre Clare lavorava per un'agenzia di modelli e suo padre Richard importava auto d'epoca dagli Stati Uniti.
Ha frequentato la Harrodian Private School a Londra.
Ha due sorelle: Lizzy, cantante inglese di medio successo, e Victoria Pattinson.
La sua carriera inizia come attore di teatro quando aveva 15 anni. Prende parte alle interpretazioni teatrali del Barnes Theatre Company di Londra, partecipando a delle rappresentazioni del Macbeth di William Shakespeare e ad altre rappresentazioni come Anything Goes e Our Town.
Prende parte con un ruolo marginale nel musical Bulli e Pupe dove viene notato dal regista che gli affida successivamente il ruolo del protagonista nella produzione di Tess dei D'Urbervilles, tratto da un romanzo di Thomas Hardy.
Questa sua interpretazione cattura l'attenzione di un agente in cerca di giovani talenti e da quel momento comincia ad ottenere ruoli professionali.

Il 17 dicembre del 2006, Robert Pattinson prende parte alla campagna fotografica della collezione autunno inverno della nota azienda di moda inglese Hackett.

Grazie alle sue esperienze teatrali, Robert riesce ad avviare la carriera cinematografica quasi immediatamente e con ruoli quasi sempre legati al filone fantasy.
Nel 2004, il suo primo ruolo importante lo vede protagonista nel ruolo del Principe Giselher nel film per la TV fantastico diretto da Uli Edel La saga dei Nibelunghi, accanto ad attori del calibro di Max von Sydow.

Nello stesso anno, la regista indiana Mira Nair lo sceglie per il piccolo cameo finale nel ruolo di Rawdy Crawley nella pellicola La fiera delle vanità, tratto dal romanzo di William Makepeace Thackeray.
Robert interpreta il figlio della protagonista Becky Sharp, intrepretata da Reese Witherspoon.
Le scene in cui appare verranno poi eliminate nel montaggio finale, ma vengono comunque incluse nella versione uscita in DVD.
Nel 2005 Mike Newell lo sceglie per interpretare Cedric Diggory nel quarto capitolo della saga di Harry Potter in Harry Potter e il calice di fuoco.

Nel 2006, ottiene il ruolo del protagonista principale accanto a Julian Sands nel film tv The Haunted Airman, diretto da Chris Durlacher.

La pellicola è andata in onda sulla BBC inglese in lingua originale e la storia è stata tratta dal romanzo di Dennis Wheatley intitolato The Haunting of Toby Jugg.
Robert interpreta il ruolo di un giovane pilota della seconda guerra mondiale rimasto vittima di un abbattimento, nel quale perderà l'uso delle gambe.
Nel 2007, viene accreditato nel film Harry Potter e l'Ordine della Fenice diretto stavolta da David Yates, dove però apparirà solamente per pochi secondi in un flashback nei primi minuti del film e in una fotografia nei minuti successivi.
Sempre nel 2007, il regista inglese Robin Shepperd lo sceglie come co-protagonista nella produzione indipendente The Bad Mother's Handbook, dove interpreta Daniel Gale, un simpatico nerd.

Il 2008 è un anno carico di impegni: Rob partecipa al lungometraggio indipendente diretto dall'inglese Daisy Gili, The Summer House, del quale non si conosce ancora l'uscita italiana.

Nello stesso anno Robert viene ingaggiato come protagonista nel film indipendente How To Be, diretto da Oliver Irving.

La pellicola partecipa a diversi Festival internazionali del cinema, facendo infine vincere a Robert il premio come miglior attore protagonista al Festival Internazionale del Cinema di Strasburgo.

Sempre nel 2008, interpreta Salvador Dalì in Little Ashes, un film diretto da Paul Morrison, che tratta della presunta amicizia-love story del pittore con il poeta Federico Garcia Lorca.

Sempre nel 2008 viene scelto dopo un travagliato casting, come protagonista di Twilight, diretto da Catherine Hardwicke, dove interpreta il ruolo del vampiro Edward Cullen. Il film è il primo di una serie di quattro pellicole, tratte dai romanzi di Stephenie Meyer.

L'attore è stato ingaggiato per il secondo episodio della saga di Twilight, New Moon diretto da Chris Weitz.
L'uscita della pellicola è prevista per il 18 novembre 2009.

Il 25 marzo 2009 la Summit Entertainment, casa di produzione di Twilight ingaggia Robert Pattinson per un nuovo progetto cinematografico.
Il film si intitola Remember Me.

La pellicola che vedrà protagonista Pattinson tratta l'amore tra due ragazzi messo in pericolo da alcune tragedie familiari. Uscirà nelle sale il 26 marzo 2010.

Nello stesso anno Pattinson riveste i panni del vampiro Edward Cullen nel terzo capitolo della saga di Twilight, Eclipse. Le riprese di Eclipse si effettueranno tra il 17 agosto e il 31 ottobre 2009. Uscirà nelle sale cinematografiche il 30 giugno 2010.

Da febbraio del 2010 Pattinson sarà il protagonista del film biografico tratto dal romanzo di Guy de Maupassant intitolato Bel Ami accanto all'attrice statunitense Uma Thurman. Le riprese si svolgeranno in Ungheria e a Londra e dirigeranno la pellicola i registi Declan Donnellan e Nick Ormerod. Il film verrà prodotto dalla Redwave Films e i diritti per la distribuzione per l'Italia sono stati acquisiti dalla RAI.

Dal 20 maggio del 2010 Robert prenderà parte alle riprese del film "Water for Elephants" la cui sceggiatura è stata tratta dal libro omonimo della scrittrice Sara Gruen. L'attore interpreterà un giovane veterinario in un circo degli anni '30.
Accanto a Pattinson ci saranno attori del calibro di Christoph Waltz e di Reese Witherspoon e il film sarà diretto da Francis Lawrence.
Nel corso del 2011 ha preso parte al progetto di David Cronenberg dal titolo Cosmopolis, nel quale interpreta Eric Packer.



ENGLISH VERSION / VERSIONE INGLESE
Pattinson was born in London, England. His mother, Clare, worked for a modeling agency, and his father, Richard, imported vintage cars from the U.S. Pattinson attended Tower House School and Harrodian School.
He became involved in amateur theatre through the Barnes Theatre Company. After some backstage experience there, he took on acting roles. He caught the attention of an acting agent in a production of Tess of the D'Urbervilles and began looking for professional roles.
Since then he has performed in an amateur version of Macbeth at the Old Sorting Office Arts Centre, as well as trying his hand at modeling.
He began his modeling career when he was twelve years old, but it wound down only four years later. He has blamed his lack of work as a model on his masculine appearance. Pattinson explained in December 2008, "When I first started I was quite tall and looked like a girl, so I got lots of jobs, because it was during that period where the androgynous look was cool. Then, I guess, I became too much of a guy, so I never got any more jobs. I had the most unsuccessful modeling career."
Pattinson appeared in the advertising campaign for Hackett's Autumn 2007 collection.
He had supporting roles in the made for television film Ring of the Nibelungs in 2004 and in director Mira Nair's Vanity Fair, although his scenes in the latter were deleted, and only appear on the DVD version. In May 2005 he was slated to appear in the UK premiere of The Woman Before at the Royal Court Theatre, but was fired shortly before the opening night and was replaced by Tom Riley.
Later that year he played Cedric Diggory in the film Harry Potter and the Goblet of Fire. Consequently, he was named that year's British Star of Tomorrow by The Times.
Pattinson played Edward Cullen in the movie Twilight, based on Stephenie Meyer's bestselling novel of the same name, which was released on 21 November 2008 in North America. According to TV Guide, Pattinson was initially apprehensive about auditioning for the role of Edward Cullen, fearful that he wouldn't be able to live up to the "perfection" expected from the character.
He will reprise his role as Edward Cullen in the Twilight sequel, New Moon, which began filming in March 2009.
Pattinson also had lead roles in the short film The Summer House, in How To Be (a British comedy) and the feature films Little Ashes (in which he plays Salvador Dalí). In 2010, he will appear in a theatre production for producer David Pugh.
He appeared and presented at the 81st Academy Awards on 22 February 2009.
On 25 March 2009, the Summit Entertainment engages Robert Pattinson for a new film project.
The film is entitled Remember Me.The film, which will star Pattinson, is the love between two guys endangered by some family tragedies. It was released to cinemas March 12, 2010.
In the same year Pattinson plays the role of vampire Edward Cullen in the third chapter in the saga of Twilight, Eclipse. The shooting of Eclipse made between August 17 and October 31, 2009. Will be released in theaters June 30, 2010.
Since February of 2010 Pattinson will star in the biopic based on the novel by Guy de Maupassant Bel Ami headed next U.S. actress Uma Thurman. Shooting will take place in Hungary and London and will direct the film directors Declan Donnellan and Nick Ormerod.
Since May of 2010 Robert will star in a film adaption of the Sara Gruen novel, Water for Elephants, with Christoph Waltz and Reese Witherspoon.
In 2011 he took part in the project of David Cronenberg entitled Cosmopolis, in which he plays Eric Packer.
Who I'd like to meet:

AFFILIATES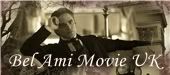 CONTACT ROBERT
UK Address:
Robert Pattinson
c/o Curtis Brown Group Ltd.
Haymarket House, 5th Floor, 28-29 Haymarket
London SW1Y 4SP
England
LA Address:
Robert Pattinson
c/o Endeavor Agency
Stephanie Ritz
9601 Wilshire Blvd. Floor 3
Beverly Hills, CA 90210
USA

Rob IS NOT on Twitter, Facebook, Myspace or any other social networking site. Don't be fooled. Never give out your personal information.
------------------------------> DISCLAIMER <-------------------------------
Robert Pattinson_fanspage is not affil­i­ated with Robert Pat­tin­son or his man­age­ment in any way. There is no copy­right infringe­ment intended on this site. If you are the orig­i­nal owner of any media used and would like it removed, I will be happy to do so, please con­tact me.
I don't post inva­sive pap pics. The only pap pics I do post are those taken dur­ing events or on set. I sup­port Rob's right to privacy.