Play

Play Next

Add to queue
Play

Play Next

Add to queue

317 plays

Play

Play Next

Add to queue

4,755 plays

Play

Play Next

Add to queue

2,143 plays

Play

Play Next

Add to queue

716 plays

Play

Play Next

Add to queue

627 plays
Genre: Alternative / Electroacoustic / Indie

Location St. John's, Ca

Profile Views: 53854

Last Login: 12/14/2011

Member Since 3/1/2005

Website http://www.msplinks.com/MDFodHRwOi8vd3d3LnJvemFsaW5kbWFjcGhhaWwuY29t

Type of Label Indie

Bio

FLUTE LOOPS FROM THE ROCK Rozalind MacPhail's music is in a genre of it's own, that of sound painting. She seamlessly blends organic instrumentation, such as the flute, voice, guitar, toy instruments, omnichord and electronics by way of an intricate looping system she built through the aid of Ableton Live and her MacBook. MacPhail's music is modern but also rooted in traditional songwriting - a perfect blend between the past, present and future. She has managed to distill a lifetime of experience travelling across the country into a number of very personal and emotionally affecting songs. Her life on the road, with all its joys and hardships, is in plain view for all to see. This Toronto Island raised flower-child sang and danced throughout her childhood for anyone who would listen. The flute came into Rozalind's life at the age of thirteen, after her grandmother read an article about how playing the flute helped asthmatics learn how to control their breathing better. In fact, it did. "Rozalind MacPhail, St. John's troubadour flutist, best flute on both coasts." Wavelength Music Series Rozalind has performed on flute with: AA Sound System Abigail Lapell Ace Kinkaid Alpha YaYa Diallo Amir Amiri Amy Honey Ana Miura Andrea Simms-Karp Ascot Royals Ayla Brook Brad Jefford Carolyn Mark Catherine Thompson Chris Picco Coco Love Alcorn Constantines Craig Cardiff Curtis Andrews Dan Ficken Danny Michel Dave Bidini Dave Carmichael David Braid Doug Hoyer Elliott Brood Eugene Skeef Flotilla Genevieve Legault Great Lake Swimmers Greg Hobbs Hank and Lily Harley Card "Harmonica" George McConkey Ian Foster Ian Sherwood Idlers In Support of Living JD Edwards Japan Batteries Jason Bajada Jason Collett Jeremy Proctor Jessica Stuart Jill Zmud Joe Belly John Carroll John Gillies Jon and Roy Jon-Rae and the River Justin Rutledge Kevin Grant Kobayashi Lindsay Ferguson Lis Harvey Lou Barlow Matt Hopper Matthew Barber Meatdraw Melwood Cutlery Mélissa Laveaux Michael Burritt Mike Yates Mir NQ Arbuckle Pathological Lovers Patricia Rodi Peter Katz Peter Webb Pick a Piper Purple Rae Howell Raising The Fawn Reid Jamieson Ron Leary Sarah Greene Sherry Ryan Sonora Tim Harrison The Acorn The Mountains and the Trees Trevor Tchir Trike Wayne Omaha We vs. Death Wednesdays Yael Wand Yo La Tengo

Members

Rozalind MacPhail - voice, guitar, flute, toys and more, all looped with Ableton Live. Available for performances and looping workshops worldwide

Influences

Sounds Like

"A kaleidoscopic salad by trance inducing heart a flutter futuristic flutist, Rozalind MacPhail" Don Pickles, Wavelength curator
Rozalind's full-length album "Edgework" is available for purchase online through clicking on this CD Baby link: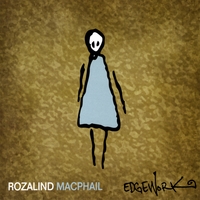 ___________________________________________________________

or for digital dowload through iTunes:



___________________________________________________________

ROZALIND MACPHAIL

"Rozalind MacPhail, St. John's troubadour flutist, most beautiful flute on both coasts." Wavelength curator, Doc Pickles

Rozalind MacPhail has become one of Canada's most unique and captivating multi-instumentalist singer-songwriters. She effortlessly loops guitar, flute, voice and toy instruments into her own blend of songs and soundscapes about the people and places she has connected with.

This Toronto Island flower-child sang and danced throughout her childhood for anyone who would listen in an environment that nurtured that. The flute came into Rozalind's life at the age of thirteen, after her grandmother read an article about how playing the flute helped asthmatics learn how to control their breathing better. In fact, it did.

Rozalind pursued a performance degree for flute at the University of Toronto, studying with Douglas Stewart. She then moved to Ottawa to pursue a Masters Degree in Flute Performance with Robert Cram. As Mystery Flute Girl, she has made spontaneous guest appearances with celebrated indie music artists including Yo La Tengo, Great Lake Swimmers, Constantines, Lou Barlow and many others. With a yen for travelling, she has acquired fans from the most surprising places in Canada and abroad, having become both a long-term resident at the Banff Centre and an Artist-In-Residence at The Atlantic Center for the Arts in Florida, studying with Robert Dick (NYU).

In April 2009, Rozalind was invited to the prestigious Dawson City International Short Film Festival where she was an Artist-in-Residence, composing and performing original works in cooperation with Victoria filmmaker Scott Amos. Flexible and intuitive, she collaborates with experimental filmmakers and artists of all sorts.

Rozalind is currently recording a new album in St. John's, Newfoundland as she prepares for further tours across Canada and the rest of the world.