Play

Play Next

Add to queue
Play

Play Next

Add to queue

262 plays

Play

Play Next

Add to queue

200 plays

Play

Play Next

Add to queue

204 plays

Play

Play Next

Add to queue

141 plays

Play

Play Next

Add to queue

216 plays
Genre: Garage / Psychobilly / Rock

Location KNOXVILLE, Tennessee, US

Profile Views: 33812

Last Login: 2/27/2013

Member Since 10/6/2005

Website www.rudestreetpeters.com

Record Label none

Bio

.. .. .. .. .. .... MOONSHINE SWILLIN', DOPE SMOKIN' PUNK ROCK FOR THE WHOLE FUCKIN' FAMILY ! WITH THE I.Q. OF A RETARDED MULE AND THE LIVERS OF 49 GEORGE JONES' , THE PETERS MAKE MUSIC THAT BELONGS IN A SNAKE HANDLIN' CHURCH JUST AS MUCH AS IT'S AT HOME IN THE SMOKIEST OF DIVE BARS. BUY OUR SHIT HERE ...... OR HERE .............. .. .... .. .... I edited my profile with ..Thomas Myspace Editor V3.6..! .... .. .. .. .. ..

Members

.. MIKE : hollerin' and drinkin' .. RICK : bass and vocals .. BEAU : guitar and vocals .. STEVE : guitar, harmonica and vocals .. JOEL : drums .. OL' BLUE : Keeper of the rock n roll juice .............. ............

Influences

RAMONES, CHEAP BEER, HANK WILLIAMS SR., GOOD SHINE, FAIRLY CHEAP ELECTRICITY AND LACK OF ANYTHING ELSE TO DO WHEN DRUNK.

Sounds Like

A SHARK EATING A HELICOPTER
Bio:
.. MOONSHINE SWILLIN', DOPE SMOKIN' PUNK ROCK FOR THE WHOLE FUCKIN' FAMILY ! WITH THE I.Q. OF A RETARDED MULE AND THE LIVERS OF 49 GEORGE JONES' , THE PETERS MAKE MUSIC THAT BELONGS IN A SNAKE HANDLIN' CHURCH JUST AS MUCH AS IT'S AT HOME IN THE SMOKIEST OF DIVE BARS. BUY OUR SHIT HERE
OR HERE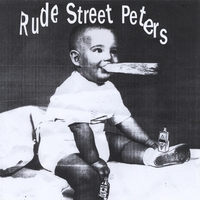 ..
..
I edited my profile with
Thomas Myspace Editor V3.6
!
Member Since:
October 06, 2005
Members:
MIKE : hollerin' and drinkin'
RICK : bass and vocals
BEAU : guitar and vocals
STEVE : guitar, harmonica and vocals
JOEL : drums
OL' BLUE : Keeper of the rock n roll juice ..
..
Influences:
RAMONES, CHEAP BEER, HANK WILLIAMS SR., GOOD SHINE, FAIRLY CHEAP ELECTRICITY AND LACK OF ANYTHING ELSE TO DO WHEN DRUNK.
Sounds Like:
A SHARK EATING A HELICOPTER
Record Label:
none