Play

Play Next

Add to queue
Band Members: Dean, Rya, Chip,Tanner, Jason

Location: Saint Louis Area

Management: Voodoo Queen Management
www.voodooqueenmanagement.com

Record Label: Unsigned

The nights moon souls of the dead dreams of the living and the power of music gives us SAENCE. This heavy, ambient, dark rock band is based just outside of St. Louis and consists of five members SAENCE'S music is used as a powerful medium to communicate with the unliving.

Born of smoke and shadows, Saences music is a twisted journey through cloaked memories and stark realities. The raw, intricate guitar work and melodic throbbing drums blend effortlessly with provoking lyrics to paint a rich portrait of mysticism, lifes daily struggles, and the often painful choices required to overcome those struggles. Far from depressing, Saences heavy, ambient sound is the perfect backdrop for the uncovering what lies ahead on the journey through modern life.

Formed in 2007, Saence has toured the Midwest, playing to crowds of thousands at events like PointFest and shared the stage with the industrys biggest names, such as Staind, Hollywood Undead, and Shinedown. With a dynamic and unforgettable stage show, the bands performances highlight the dedication and craftsmanship that these professional musicians have committed to their art.
Nimbit OMT - Sell Everything Direct to Your Fans
BOOKING INFO
VOODOO QUEEN MANAGEMENT
YVONNE LOVELAND
EMAIL: VQMANAGEMENT@YAHOO.COM
PHONE: 314-395-9146
Available Albums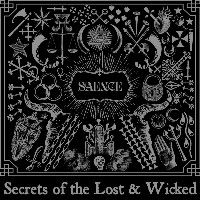 ..
SAENCE-Secrets of the Lost and Wicked
(2010)