TV Shows

Tossing Alice Sketch Comedy Television, The Worlds Astonishing News NTV, Playground Earth Fox Sports Net/KPIX Mag, Budweiser Commercial, Sprint Phone Commercial, Tell Cell Commercial

Films

Comedy Ain't For the Money, Bee Season, First Date Faux Pas, Do Over, Online Dating, Filter, The Apartment-student, Goodfellas-student, Hewlett-Packard Industrial, Openwave Industrial, Sequoia Hospital Industrial

Albums

Gas Money (Comedy DVD) Life Sucks, The Hacks Rock (Music CD)

Website

salcalanni.com, tossingalice.com, myspace.com/thehacksrock

Influences

Chris Rock, Eddie Murphy, Bill Hicks, Richard Pryor, George Carlin, Bill Cosby, Dave Chappelle, Chris Farley, the Simpsons, Bill Burr, Tecmo Bowl, Jimi Hendrix, Nirvana, the Ramones, Jesus
About me: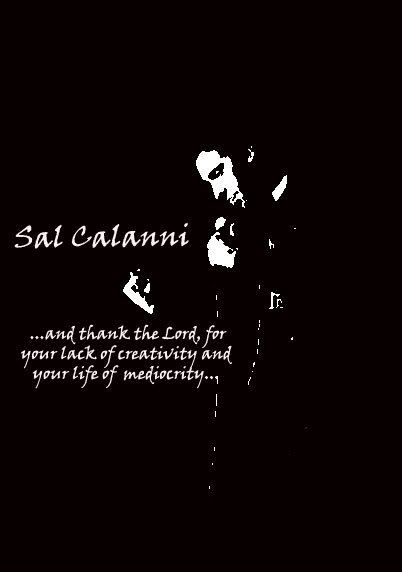 www.salcalanni.com
I used to flip burgers, then pump gas, then clean rodent shit at a bio lab (Lucky), then i was a corporate whore. Well, not no more. I left the brothel behind and Madame The Man is sorry that I'm gone. Now I tell my story as an artist....... a STANDUP COMEDIAN. I am a starving-artist-class HERO, who grew up in the burbs of Cleveland in a Sicilian household (that means my dad busted balls) then moved out west cuz i was bored.
Along with being a professional stand up comedian, i am part of the great sketch comedy group, Tossing Alice, and the punk, indie rock band, The Hacks.
..
I edited my profile with
Thomas.. Myspace Editor V3.6
!
Who I'd like to meet:
fans, friends, muses


Status:

In a Relationship

Here for:

Networking, Friends

Hometown:

land of the cleve

Orientation:

Straight

Body type:

6' 3" / Athletic

Religion:

Other

Zodiac Sign:

Taurus

Children:

Proud parent

Smoke / Drink:

No / Yes

Education:

College graduate

Occupation:

Comedian
Cleveland State University

Cleveland,Ohio

Graduated:

2000

Student status:

Alumni

Degree:

Bachelor's Degree

Clubs:

Future Farmers of America & the Happy Hands Club

1996 to 2000

North Olmsted High School

North Olmsted,Ohio

Graduated:

1995

Student status:

Alumni

1991 to 1995