Dolemite! (a.k.a. Rudy Ray Moore) has kicked his last ass.

Once again, I come to serve that confused segment of my audience that comes here for breaking news.

I would have had this up yesterday, but Dolemite! was so bad, I had to scan the ad THREE TIMES because it keep kickin' my scanner's ass! The digital revolution just can't handle Dolemite!

From Sleazoid Express by Bill Landis and Michelle Clifford:

[Rudy Ray] Moore started his career in the army, when someone asked him to tell a few jokes at a nightclub. He put out his first blue-humor record,

Eat Out More Often

(1970) through Dolphin's Record Store in Hollywood. His material was so rauchy that airplay was ridiculously impossible, so Rudy sold his records city to city through word of mouth. On the cover of

I Can't Believe I Ate the Whole Thing

, he appears flanked by nude and natural sistahs. Rudy is physically out of shape but not afraid to flaunt it- bein' real always made him the funniest.

So now, we mourn Dolemite!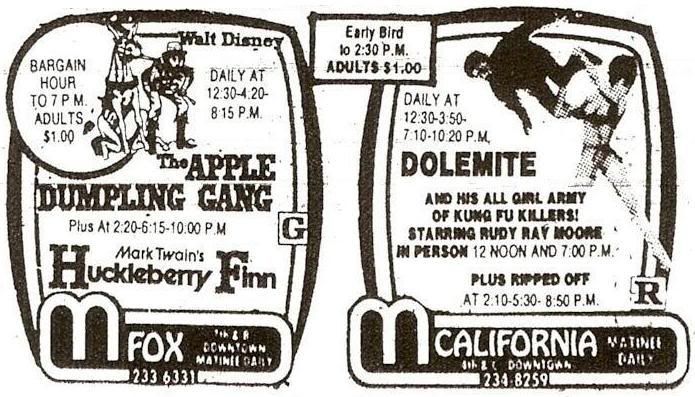 San Diego Tribune B-11. Wednesday 06 August 1975 (?!- Hiroshima Day).