Most of you probably don't know who Gerard Damiano is so... (second ad)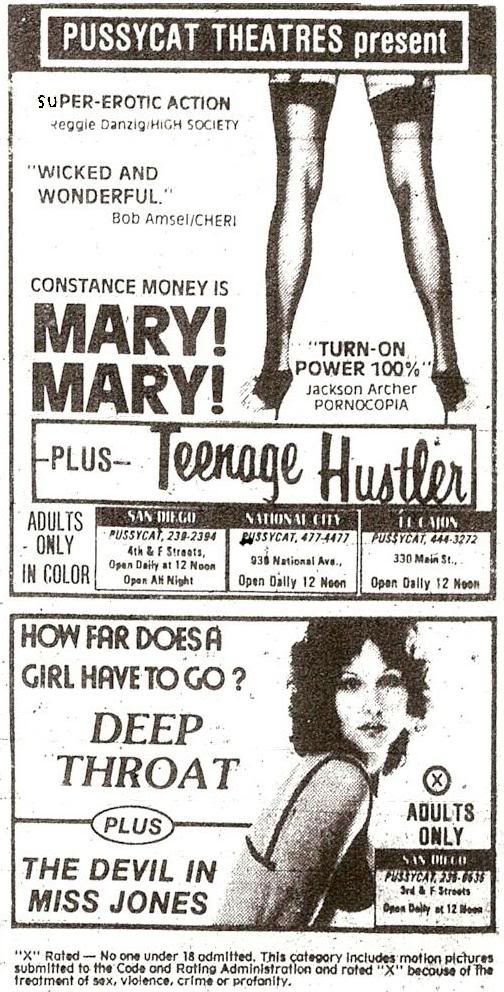 (SD Tribune 20 April 1977)

Got an idea now?
He directed

Deep Throat

.
And

The Devil in Miss Jones

.
And a sloppy mess of others. And oddly, there're very few taking time to mourn his passing outside the adult film world (and only a few inside that knew or even know of him). So, fans of sleaze and slime, take a few minutes to think well of a guy that really got lucky and made a gigantic contribution to the cultural landscape. Try not to think of the borderline criminal nature of the circumstances behind Deep Throat. Or the fate of Linda Lovelace after the 1970s. Or the largely artless nature of porn today.
Just think of a guy that did a lot with not a lot.

(For more information on the rise of Pornography in the 1970s, check out The Other Hollywood by Legs McNeil and Inside Deep Throat. Both are works of depth and humor about a medium not known for either.)


San Diego Tribune B-6. Monday 18 July 1977.

And while he didn't direct it...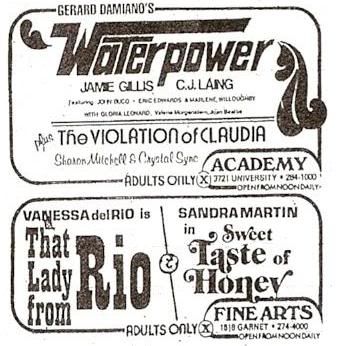 San Diego Tribune C-12. 19 July 1978.

I've included a couple of ads for films not directed by Damiano- but they do advertise the PussyCat Theatres chain which wouldn't have existed without the success of

Deep Throat

and its successors. For more information on the PussyCats and Downtown San Diego in the 1970s, check out Before it was the Gaslamp [it was called Stingaree] by Jay Allen Sanford.