No recent updates in this category.
Why not...
The Original Nashville Santa Rampage hasn't earned any badges yet... have you?
General

Toys, Reindeer, Mrs. Claus, Elves, Dancing On Bars ..

Music

Movies

Television

Heroes

Batman ..
About me:
..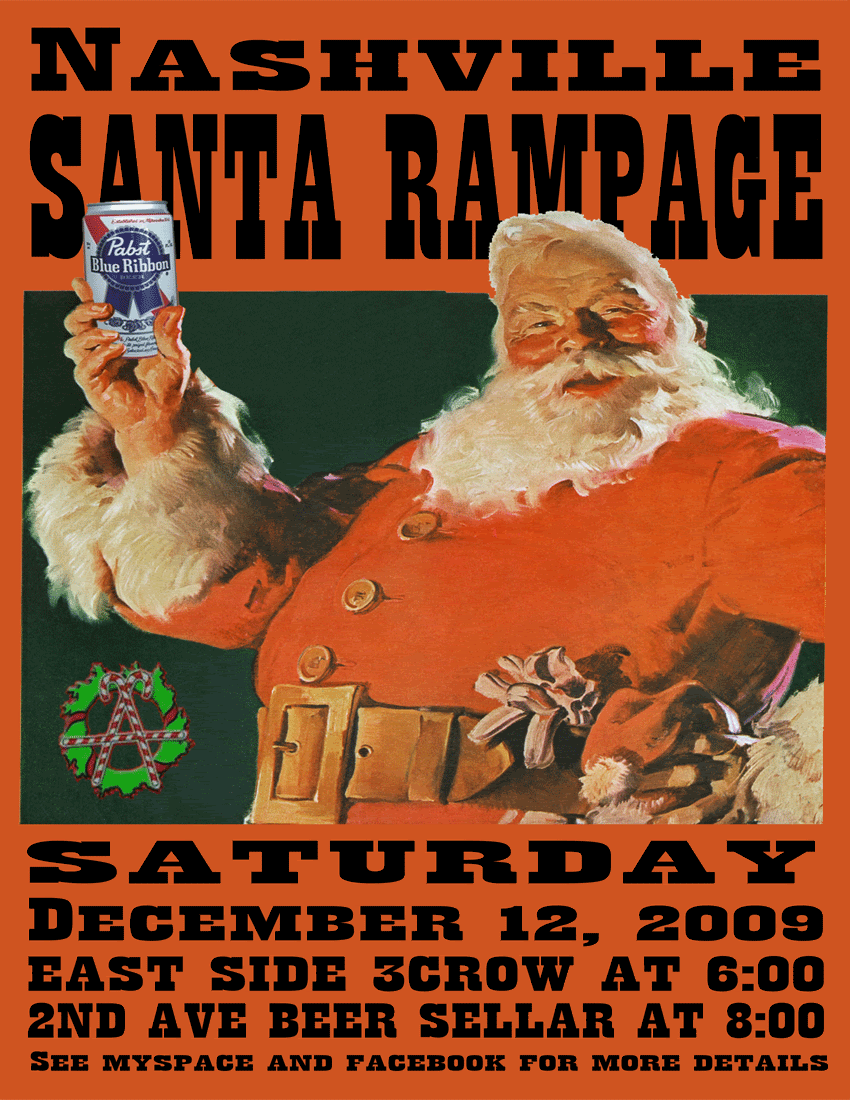 Every year Santa Claus descends on our fair city of Nashville to bring presents to all the good girls and boys. In celebration of his yearly visit we don the uniform of the jolly one and spread our own brand of Christmas cheer through the streets. Here is a statement from our Alpha Santa:
this is a santa rampage. read "santa" rampage. you must wear a santa suit. they're cheap. under 20 bucks at some places. if you can't afford that then steal one. if you ain't got the balls to steal one, then you aint no santa anyway.
Here's some great information about Santarchy from the Washington cacophonists:
Santa's Rules:
Be Jolly.
Santa apparel is mandatory. A Santa hat is not enough. Get a Santa suit. Make a Santa suit. Steal a Santa suit. Buy a Santa suit. If you don't have any money, be creative. If you don't have any creativity, slap yourself three times and ask your mom to help you. Glue cotton balls to red long johns. Already have a Santa suit? Make a spare so Santa can assimilate strangers. Past examples: pimp Santa/Santa garcia/Santa's naughty little helper. Traditional suits can be bought at local party stores or ordered online for $12 and up.
Santa's Reminders:
The schedule is open to liberal interpretation by Santa. If you can't show up for the start, get the cell number of someone who can talk you in later.
Santa does not make children cry (unless they whine, snivel, or otherwise deserve it). Really - If you see kids, give them nice toys, candy, or something pleasant. Feel free to urinate on their parents.
Watching Santa get drunk and obnoxious is fun. Babysitting Santa while they vomit in an alley is not.
Twisting the holiday paradigm until it screams for mercy is fun! Getting arrested is not. Santa Claus is friendly and cooperative with cops, security guards, park rangers, and secret service agents, and doesn't break any laws (unless they're stupid and deserve to be broken).
Bring gifts -- Naughty gifts to give grown ups; nice stuff to give kids. Throwing coal at the white house is discouraged (see ..4 above).
Pay your own damn bar tab.
The answer to important questions that may arise:
Q: Who's in charge?
A: "Santa"
Q: What organization are you with?
A: "Santa"
Q: What are you protesting?
A: "Shitty holiday parties"
Q: How did you get here?
A: "A sleigh and eight tiny reindeer"
Q: Where are you going?
A: "I'm only allowed to tell you if you dress like Santa"
< "
..
Status:

Married

Here for:

Networking, Friends

Hometown:

North Pole

Orientation:

Straight

Body type:

5' 11" / More to love!

Ethnicity:

Other

Religion:

Christian - other

Zodiac Sign:

Capricorn

Children:

Proud parent

Smoke / Drink:

Yes / Yes

Education:

Some college

Occupation:

Toy Maker

Income:

$250,000 and Higher