No recent updates in this category.
Why not...
RiGGS hasn't earned any badges yet... have you?
General

Clown
Rude
Mean
Immature
Impolite
Vulgar
Risqué
obscene
Raunchy
Savage
Malicious
Appaling


Music
Play

Play Next

Add to queue

Play

Play Next

Add to queue

Play

Play Next

Add to queue

Play

Play Next

Add to queue
About me:
-RIGGS-
Rigormortis...
One of the characters you might want to avoid while you are at the
FRIGHTDOME
inside the Circus circus.. Every Weekend in October.. The Adventuredome transforms into a haunted Theme Park hosting 5 gut wrenching haunted houses you wouldn't want to wander into alone, our anywhere alone for that matter. Riggs is one of many Characters that lurk in the shadows throughout
FRIGHTDOME
, making no place inside safe for the squeamish. This Clown is often seen wielding a Chainsaw, Megaphone and of course those annoying little horns, Riggs isn't new to the game of scaring and the reason you'll need to bring a change of shorts.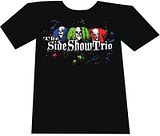 Visit my youtube page
www.youtube.com/rigorclown
The thoughts and expressions by Rigormortis the Clown or the Sideshow Trio are in no way in association with Frightdome or the CIRCUS CIRCUS...
..
Who I'd like to meet:
Hometown:

Las Vegas

Occupation:

Scary Clown
University Of Nevada-Las Vegas

Las Vegas, NV

Graduated:

N/A

Degree:

In Progress

2005 to Present
Nightlife
Entertainment
Go-Go Dancer

Photography
Commercial
Other